New Orleans is celebrating its tricentennial in 2018 with the theme of "One time in New Orleans…" where they are asking visitors and locals to share their stories about New Orleans. NCRA Board Member Max Curry shares his story about what he loves about the city, his favorite restaurants and watering holes, activities to do, and invites everyone to come experience New Orleans for themselves during Convention. Max has many, many suggestions on how you can Write Your Own Story in NOLA!
By Max Curry
My family is rich with the tradition and culture of our beloved profession. My sister Betty and I are both court reporters, and my niece Melissa is currently training to become a reporter. Anytime my family gets together, they know there are the obligatory discussions of court reporting, current cases we are working on, and new technology and writing techniques. However, long before knowing this profession, we were steeped deep in the culture of our environment and home, New Orleans and South Louisiana, a.k.a. French Acadiana.
To be from South Louisiana and/or NOLA is to know a deep love of family, food, socializing (it's where I get it from), parties, Mardi Gras, amazing food, amazing drinks, strong friendships, deep spirituality, and a love of nature. My sisters and I all have the commonality of nature and gardening in our blood — a love of flowers, useful plants, vegetable gardens, beautiful yards, Louisiana courtyards, and accessories for such! Think Steel Magnolias + one brother, and you'll get the picture! Note: It is part of the reason I have thick skin and a quick wit.
The number one thing for a party or backyard cookout for NOLA, but especially Acadiana, is to never ever run out of food! You will never go hungry at a Louisiana party or cookout. The food is amazing and a competition among everyone as to who has the best recipes! "God bless your heart, but my grandmother's brother's recipe for jambalaya is much better." You can say anything you want in the South (especially Louisiana) as long as it is prefaced with "God bless your heart…"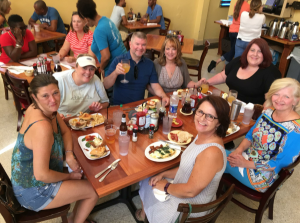 I've asked family and South Louisiana friends (loosely translated to family as well) to share one or two of their individual loves of NOLA and South Louisiana, what they each want you to experience for yourself or learn about us and our culture while our guests in August, and I've incorporated those thoughts into this article. Get ready, 'cause everybody had strong opinions and a lot to share. So here goes!
The common thread everyone touched on is our culture! It is a unique, distinguished culture steeped in proudly being Louisiana Southerners. When people ask me what I love about NOLA, my immediate answer is that it is the only place in the continental U.S. I have been that feels like I have left the U.S. and gone to Europe. Standing in a street in the Quarter, you know exactly where you are, and it feels very different than anywhere else. There is an open-minded vibe for you to just be who you are, to love and celebrate your life, and to let your hair and guard down, breathe, and relax. You can do what we were meant to do, celebrate life and enjoy living. When the stresses of our profession become too much, I occasionally go for a massage; but more often than not, I just plan a long weekend and take off (like right this moment to write this article) and head home to my Lady and relax. If you want and/or need to unplug, recharge, and get your mojo back, you just found it: It's NOLA!
Read Max's recommendations for cultural experiences in NOLA and/or South Louisiana.
Read Max's restaurant recommendations for New Orleans.
Read Max's favorite bars, hangouts, and dance clubs in New Orleans.
Read Max's miscellaneous things to know and fun things to do.
I know Convention can be an expensive investment between the travel arrangements, hotel, event registration, fun events, etc., but convention is a lot more than just getting CEUs. It is an opportunity to further develop your circle of connections in the reporting community — to network and develop those connections that might just yield work you wouldn't have known about or had access to otherwise. It is also an opportunity to grow and challenge yourself as a reporter through introduction of the latest and greatest technology and writing techniques that may just be the thing to help up your game to the next level. It certainly has mine!
I hope you will join us in August as my Beautiful Lady, New Orleans, hosts court reporters from around the world as NCRA prepares to offer an incredible educational and networking experience, all while in a city known for her parties, amazing food and drinks, but ultimately a relaxing escape from the realities of life! If you need a getaway to relax and recharge, I hope you will escape with NCRA in August and find yourself again in NOLA!
Max Curry, RPR, CRI, is a freelancer, official, and agency owner in Franklin, Tenn. He is also on NCRA's Board of Directors. He can be reached at max@elitereportingservices.com.