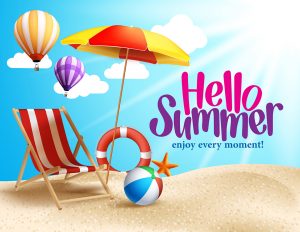 Last month, we asked students to write to Up-to-Speed to let us know how they plan to spend their summer. All of them are taking classes full-time. Several are going to keep up with their practice. Some intend to work hard to reach their certifications. And most of them plan on making time for fun.
Corree Brooks, College of Court Reporting, Valparaiso, Ind.
I live in the beautiful Pacific Northwest so I will definitely be on the water any free time I have between work and school. I'm hoping to get a new paddle board this summer.
Donna Capalongo, College of Court Reporting, Valparaiso, Ind.
I live near the New Jersey shore, so I plan to spend time at the beach with good friends between steno practice. May also do a little traveling. This is a second career for me, so I am very anxious to get to work as a court reporter.
Taneshia Crockett, Steno Train online
One of the fun things I plan to do is attend the Florida Court Reporters Convention. Later on in the summer, I plan to take the kids to Orlando to have some fun at one of the Universal Parks. I will continue to practice at least five days per week. I can't stop, won't stop until I get to the finish line.
Amanda Hernandez, Tri-Community Adult Education, Covina, Calif.
This summer I plan on going skydiving again and running a nighttime 5K fun run.
Tresia Jackson, Brown College of Court Reporting, Atlanta, Ga.
Find a part-time job transcribing notes.
Sydney Lundberg, Des Moines Area Community College, Newton, Iowa
This summer I plan on becoming certified and starting to work as a reporter! I also plan on building my dictionaries, which I find to be fun.
Kimberly Northrup, SimplySteno online
NCRA conference in New Orleans: I can't wait!
Abby Skiles, Neosho County Community College, Chanute, Kan.
The most exciting thing I could think of doing this summer is passing my tests at 140 wpm! As a young student living on my own, I do work a lot. My biggest challenge so far has been staying dedicated to practicing. After attending the Kansas Court Reporters Association's convention last weekend, I got to meet with some reporters who gave me great advice and I am feeling more motivated now than ever!
Jamee Smith, Neosho County Community College, Chanute, Kan.
Continue my studies to improve speed and memorize my theory. Play with my kids and enjoy the weather.
Macy Thompson, College of Court Reporting, Valparaiso, Ind.
My husband and I usually go on vacation every summer, and this year we have canceled our out-of-state vacation plans so I can really focus on building speed, learning all about the RPR certification process, begin an internship, and hopefully have the confidence to begin the RPR certification process by the fall.