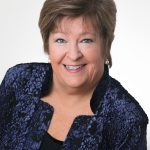 By Marcia Ferranto
NCRA exists to represent, protect, and advocate for the stenographic professions of court reporting and captioning. Here at NCRA, everything we do, everything we fight for, and the very reason we fight are founded by the core belief that stenography is the most effective and efficient means of capturing the spoken word, the best way of providing speech-to-text services in any forum, and the only way to satisfy the needs and protect the integrity of the institutions and consumers who rely on it. This belief has been borne out by the facts time and time again: Stenographic court reporting and captioning is faster, more accurate, and more dependable than artificial intelligence-based alternatives and other alternatives solely based on technology, and, in addition, it is largely preferred by the consumers of these services. Stenographic court reporting is the backbone of the American court system, and stenographic captioning is an invaluable accessibility service to people who are deaf or who have hearing loss.
Recently, Sinclair Broadcast Group has made public their decision to abandon the use of stenographic captions in favor of the cost-cutting measure of implementing the automatic speech recognition (ASR) platform using IBM Watson. This decision is likely to impact hundreds of local news stations and affect millions of captioning consumers and providers. In a message to the public, IBM claims that Watson makes live programming "more accessible to local viewers, including the Deaf community, senior citizens, and anyone experiencing hearing loss." We strongly disagree with the decision to abandon the human element of captioning in favor of automation, which invariably produces subpar captioning and will negatively affect accessibility to local news for millions of Americans.
NCRA's Government Relations Department and Captioning Regulatory Policy Committee, our own member-formed Federal Communications Commission (FCC) watchdog, are working hard to address this issue, to register our concerns with the FCC, and to implore them to uphold important captioning quality standards in light of this new transition to ASR captioning.
But the FCC needs to hear from you, too!
Complain online here about subpar captions.
Sign our petition and tell Sinclair you want live captioners.
If you have evidence of captioning failures, photos or videos of terrible captioning, we want to see it. You can send them to Matt Barusch, NCRA's Government Relations Manager.
With your help, together we can ensure that live programming utilizes the best captioning that can be offered: Captioning by a live, trained, and certified captioner.
Marcia Ferranto is CEO and Executive Director of the National Court Reporters Association.