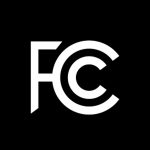 The Federal Communications Commission (FCC) encourages feedback from television viewers. According to the FCC, a complaint is a form of feedback, and the Commission wants feedback from viewers. Any television viewer who cares about captioning quality is encouraged to file a complaint whenever they see poor captioning, and you can easily file a complaint from the fcc.gov website.
Many television stations are now using machine captioning or simply the teleprompter as opposed to human captioning. Several companies provide machine captioning to the television stations. These companies and their products are IBM (Watson), ENCO (enCaption3 and 4),  Link (ACE Encoders), and EEG (Lexi).
To file a complaint, we suggest you focus on accuracy, which is one of the four tenets of captioning quality established by the FCC in 2014 (the others are synchronicity, completeness, and placement).
To be accurate, captions must reflect the dialogue and other sounds and music in the audio track to the fullest extent possible based on the type of programming. Accuracy also requires captions to identify the speakers. We find that automatic captioning violates this standard in many ways:
Punctuation: Machine captioning provides limited, or wrong, punctuation.
Speaker identification: Machine captioning does not identify speakers with >> or names, often including captions from multiple speakers in the same line.
Lyrics and sound effects: The FCC Caption Quality best practices clearly state that lyrics and sound effects must be included when measuring accuracy. Engines don't.
Proper nouns:  Proper nouns are a problem with many engines, especially those engines not properly trained.
When you watch television programming, keep these criteria in mind and make notes of any errors in these areas that you see. When possible, try to take photos or record video on your phone to upload with your complaint. In the complaint form provided by the FCC, you will be asked to elucidate the errors and mistakes that you see. You may also attach a screen shot or video showing what you are making a complaint about.
When you open the complaint form provided by the FCC, you need to fill in the following fields:
Your email address
Subject of the complaint (e.g.: [Station] does not meet FCC quality standards)
Description of the complaint (detail the specific instances)
Accessibility issues (choose "Closed Captioning on TV" for TV programs)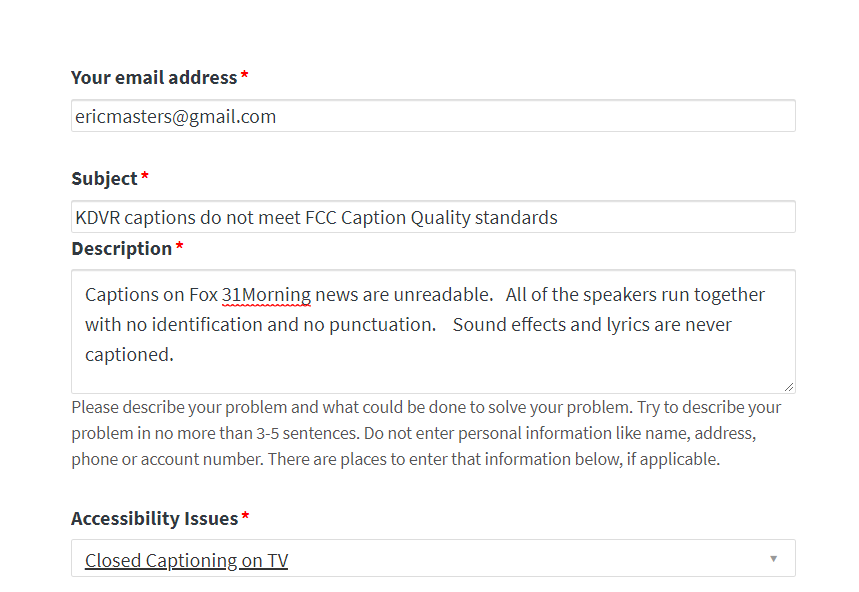 Once you choose your accessibility issue, additional fields will appear. Those with an asterisk are mandatory.
*Preferred method of response: The FCC and the station have to respond to your complaints. This will allow you to choose what medium they use to do so. Your options are email, fax, letter, other, relay service, telephone, and TTY.
Name of company complaining about: Enter the name of the specific station.
City of company complaining about: Enter the city in which the station is located. For national feeds, you may need to look up the station online.
State of company complaining about
ZIP code of company complaining about
Phone number of company complaining about
*Date of your issue: you must enter an actual date, even if the problem is continuous.
*Time of your issue
*Your TV method (cable, satellite, fiber, internet, over the air)
*Name of subscription service (your cable company)
TV channel
Call sign
Network
Name of TV program
*City where program was viewed
*State where program was viewed
*Your first name
*Your last name
*Address 1
Address 2
*City
*State
*ZIP
*Phone
*Filing on behalf of someone? (yes/no)
Attachments: Include here any photos or video you may have taken of the captioning errors
After you complete and submit the complaint to the FCC, the FCC will evaluate the complaints and contact you if more details are provided. After this, they generally reach out to the programmer or TV station. At that point, the station may also contact you to compile their response to the FCC. This can take 30-60 days. When you receive these responses, please forward them to NCRA's Government Relations Manager Matt Barusch at mbarusch@ncra.org, for record keeping.
NCRA believes that machine captioning is not ready for live television programming or any other live events. We know the companies behind this technology will keep working to improve their products. NCRA is committed to providing the best possible access for people who are deaf or hard of hearing.