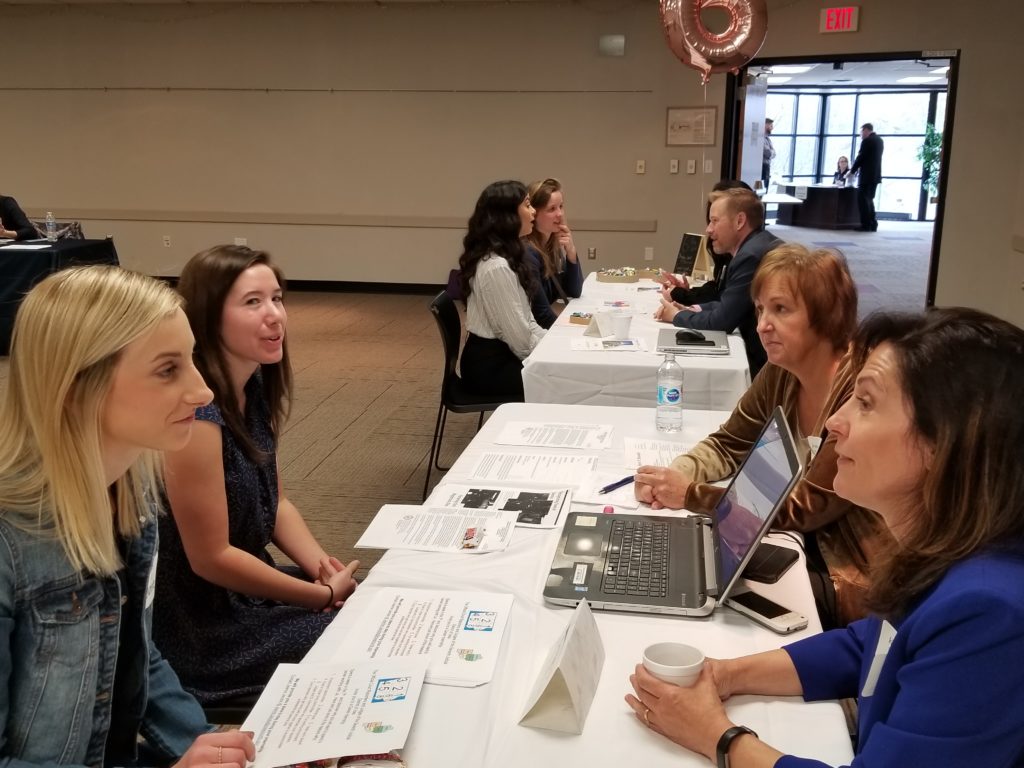 What started out as a request for students to visit District 7 turned into a full-blown court reporting career fair! It all started a year ago when Jeanne Jacobs and Karla Lester, RMR, CRR, members of the Iowa Court Reporters Association (ICRA), invited us to bring the court reporting students to their district so they could show them what a great place it is to work.
That seemed like a great idea and something the students would enjoy. But we realized that other folks would probably request that we visit their districts as well. I could see us traveling in a school bus all over the state. Oh, but we've got classes to teach and tests to pass.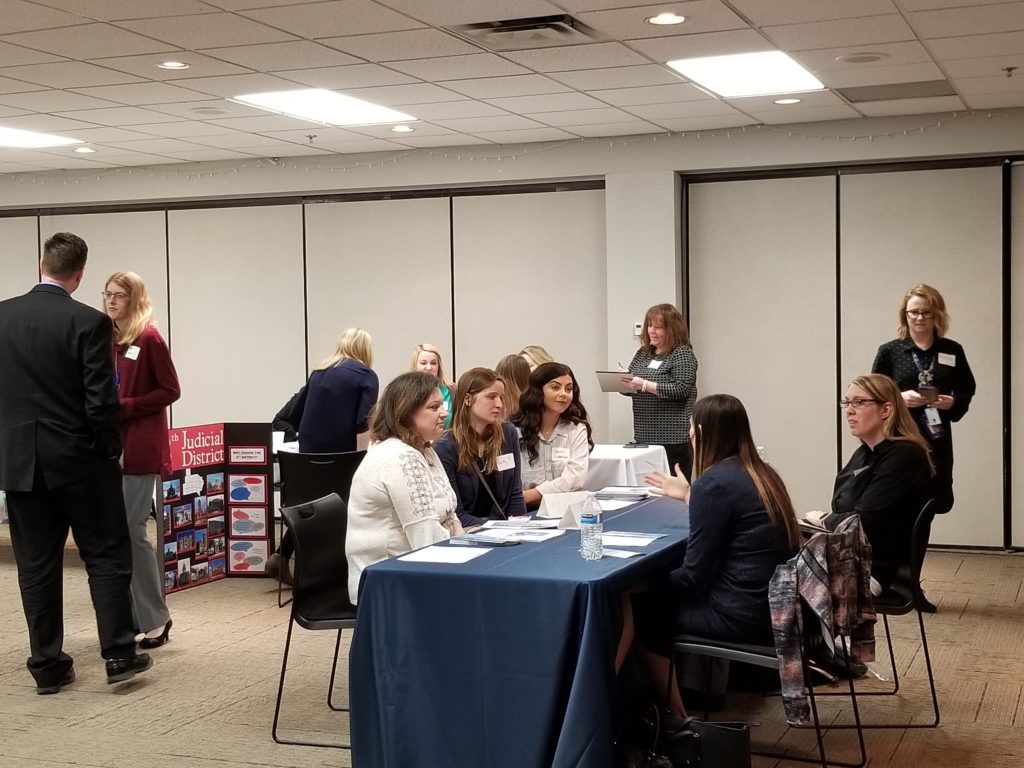 After visiting with ICRA President Rachel Waterhouse, RPR, we decided that a career fair might be a good solution. The event was originally scheduled in February during Court Reporting & Captioning Week but was canceled because of bad weather.
On April 2, six court reporters, one district court administrator, two judges, four freelance firm owners, and the interim director of human resources for the Iowa Judicial Branch came to the Newton campus of the Des Moines Area Community College (DMACC), Des Moines, Iowa. The top speed students talked with employers first; then the middle speed students; and finally, the theory students.
Following the fair, employers and DMACC administration and faculty members participated in a roundtable discussion on strategies for recruiting students and building the college's court reporting program.
Theory students reported feeling a little nervous, even intimidated, at first. However, they all had great comments about how much they learned and how friendly everyone was. Following are sample comments from theory students:
My favorite part was that every single court reporter loves their job.
I truly appreciated the openness and friendliness of everyone wanting to see all of us succeed.
I believe that only good can come out of it. I was intimidated at first, but the conversation was easy and natural.
This was a great opportunity for us to feel a more confident in the profession.
I feel a little more connected in the court reporting community.
It helped me see the "light at the end of the tunnel."
I think it is a great idea to repeat this event annually. It benefits both employers and students. Employers get to "sell" their firm or district and students get to see all of the options they have.
Please have this event annually. I wanted to stay at every table longer!
Second-year students offered these comments:
One thing I really appreciated was that all employers, whether freelance or official, asked me what route I was interested in taking. They were all kind and gracious regardless of whether or not I was considering their area or method of reporting. The overall atmosphere of the job fair was one of enthusiasm and excitement for the new reporters who will be working all throughout Iowa. I feel very fortunate to have been educated in this state filled with professional and welcoming reporters.
All of the interactions I had with different employers were extremely positive and very encouraging. I am anxious to begin the job application process and to see what the future holds. I am confident that whatever path I choose will include seasoned and accomplished reporters willing to help me along the way.
All in all, the experience was nothing short of amazing and much needed for everyone.
I think every table offered the opportunity that if I ever wanted to sit in and shadow for a day, that I am more than welcome to. Everyone was so thoughtful and encouraging. It was great to feel like a professional that day, and I hope DMACC continues to provide this opportunity in the future.
I honestly don't think the day could have gone any better. I really enjoyed talking to everyone. I will keep an open mind, as I get closer to graduation, to both freelancing and official, because both offer great job opportunities.
Everyone I spoke to was nice, and it sounds like there are many wonderful places I can work in the future. I am excited to see where I will end up.
Thank you to all of the employers listed below:
District 5: Chelsey Wheeler, RPR, official court reporter
District 6: Sarah Hyatt, RPR, official court reporter and the Hon. Judge Lars Anderson
District 7: Karla Lester, RMR, CRR, freelance court reporter
Jeanne Jacobs, court reporter
District 8: Kailey Booten, court reporter
Kari Diggins, RPR, official court reporter
Heidi Baker, district court administrator
The Hon. Judge Mary Ann Brown
Iowa Judicial District: Jessica Holmes, interim director of human resources
Sarah Dittmer, RPR, freelance court reporter
Susan Frye, RPR, freelance court reporter and owner of Susan Frye Court Reporting
Andrea Kreutz, CLVS, and owner of Huney-Vaughn Reporting
Sean Sweeney, owner of Sweeney Court Reporting