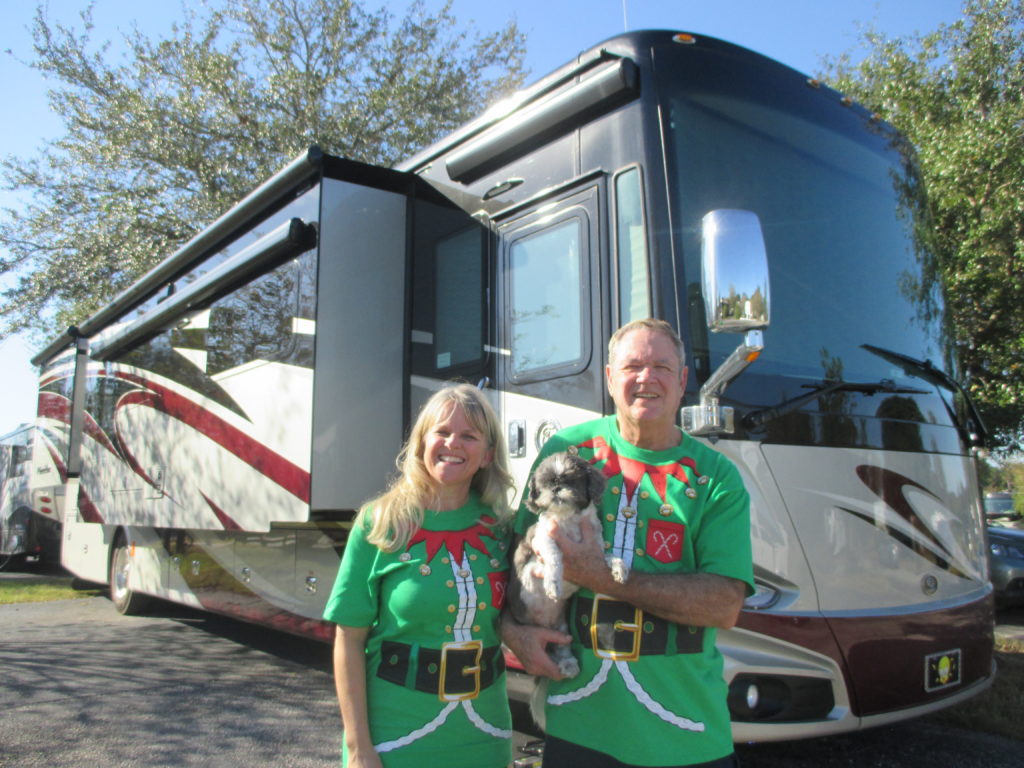 NCRA member Lisa Johnston, RMR, CRR, CRC, casts off ties in Melbourne, Fla., every year to travel across the United States with her husband. Rather than forgo her usual work
as a broadcast and CART captioner, she set herself up to caption from wherever she and her husband parked the RV. Mixing business with pleasure was just right for the two of them.
Johnston spoke to JCR Contributing Editor Deanna Baker, FAPR, RMR, about the journey and all the stops in between.
BAKER | How long was the planning process to make sure you had all the work equipment you needed, as well as possible back-ups?
JOHNSTON | I packed all my equipment as if I were going to an event to work onsite. I have two laptops, two writers, two realtime cables, headphones, etc. Over the years, I have developed a checklist to make sure I have everything before I leave. I also bring the huge notebook of prep I have accumulated over the years. I travel a lot with work, and so, by now, I know what I need.
BAKER | Did you forget anything or wish you had brought something?
JOHNSTON | No, I haven't forgotten anything yet — hopefully, I won't ever forget something! I'm not too proud to admit that I now and will always use a checklist to make sure I have everything I need.
BAKER | Was all of your work strictly through the internet, sending data as well as audio?
JOHNSTON | I do remote CART captioning while traveling in our RV using the internet. I have two wireless routers that act as mobile WiFi hotspots, one with Verizon and one with AT&T; and both work really well. In certain parts of the country, one wireless provider may give me a stronger signal than the other, so I use what I feel gives me the most internet strength at that location.
I get my audio by dialing in using my cell phone. I have also used Skype for audio in the past as well. That can be iffy at times, so I always do some testing before an event starts.
BAKER | Any glitches along the way?
JOHNSTON | When I first started this journey of traveling on the road and CART captioning, before there were cell towers everywhere, I had to take my wireless hotspot and check the strength where the RV was "docked," and if I had bad reception, I would get in my car and drive and see where the strongest service was. Many times, I've had to write on my machine, with the laptop on the seat next to me in the back seat of my car (we have a car we bring on our trips, which we tow behind our RV). I've been in Nowhere, U.S.A., in some unique locations sitting in my car taking down an assignment! Fun times!
Cell towers are the norm nowadays, so I don't have to necessarily always be in a "big city" like I used to be to find a strong internet signal strength. I now can get good internet service most anywhere, thank goodness!
BAKER | Are your clients aware of your traveling, or has it been that they haven't noticed a difference at all?
JOHNSTON | I strive to provide my clients with seamless captioning services and have been able to do so successfully for many years. As long as they are receiving the product they need, they are happy. I provide only CART captioning while on the road; no broadcast captioning which may use a landline and encoders.
I hope my reputation speaks for itself. If I am requested to support someone who needs communication access, I will go out of my way to accommodate. I have been in this profession for 34 years now, I love what I do every single day, and I hope that shows. If I can leave a person or situation and they have a smile on their face, then I'm happy and I've done my job successfully!
BAKER | I'm "assuming" your husband was not driving at the time you were working?
JOHNSTON | No way do I work while my husband is driving down the road. First off, it's not very comfortable doing it that way for me, as not all roads in the U.S. are nice terrain and can get very bouncy and unstable. So, if we're driving to a destination and I need to stop to take a job, we will pull into a rest area or at a truck stop/gas station and that works well for me. My husband is my fabulous support staff!
BAKER | Was there a particular goal for your travels?
JOHNSTON | We have no goals in our yearly travels. One year we head northeast to Maine, with many stops along the way, and the next year we head somewhere west (last year was Washington state; most years to California) with many stops along the way. We've been from one end of Canada to the other. We've been to all 50 states, and 49 traveling in our RV. Maine is one of our favorite states, so every other year we enjoy traveling up Maine's coast and enjoying some lobster!
BAKER | Anything unexpected pop up that you didn't plan on?
JOHNSTON | Nothing unexpected comes to mind right now. Pre-planning pays off!
BAKER | How many other colleagues were you able to visit on your travels?
JOHNSTON | In our travels across the beautiful United States, I try to reach out to some dear friends and colleagues when I know I will be nearby. In Flagstaff, Ariz., I had dinner with you and Lori Yeager Stavropoulos, RPR, CRR, CRC, and their spouses; in Mobile, Ala., spending time with Alan Peacock, FAPR, RDR, CRR, CRC, and Elliot Carter was such a treat and highlight; in Seattle, I just missed seeing Darlene Pickard, RDR, CRR, CRC, as she was out of state the week I was there. And I keep promising Toni Christy, RPR, CRR, CRC, that we will make a trip to the San Diego area soon! Such good friends that I love seeing!
BAKER | Would you recommend this as a way to travel and work at the same time?
JOHNSTON | For me, this is the best of both worlds. I work a lot with clients who have meetings throughout the week. That is all I want to cover while I'm traveling, so while traveling on the road, I choose to work 2-3 days a week, which is perfect, because I can cover their meetings and yet still "play" and explore the areas my husband and I visit.
I choose to keep my workload light and not be constantly working, because I enjoy my time off sightseeing where we are traveling. We usually stay in a location a few days, so in that timeframe, we like to play tourists and see what the area has to show us, so I don't want to always be inside working. But I love the flexibility to do what I want and work when I want!
BAKER | What have you seen on your travels that really stuck out for you?
JOHNSTON | We'd both always wanted to see Mount Rushmore, and the first time was such a treat. We love going to the Albuquerque Hot Air Balloon Fiesta. Living an hour from Walt Disney World, I'd always wanted to see Disneyland in California, and that was fun to go to. Growing up in Florida with no seasons really, it's been a treat for us to see the beauty of the United States. Fall is our favorite time to travel; seeing the leaves change their colors is breathtaking!
BAKER | Anything else you'd like to pass along to the readers?
JOHNSTON | My husband and I have been RV travelers for 15 years now and love every single minute of our adventures. Come join me! The United States is a great place to call your office!