NCRA staff connected with school counselors at their annual convention recently to spread the word about the court reporting and captioning professions.
The American School Counselor Association met in Boston, and Cynthia Bruce Andrews, NCRA Senior Director of Education and Certification, attended, along with Content Manager Heidi Renner.
"Attending the American School Counselors Convention continues to be a great event to get the word out about court reporting and the shortage," Andrews said. "It is especially nice to have counselors who receive our newsletter compliment us on its content. It's great to get that type of feedback; it demonstrates that we are making inroads with this group."
NCRA members from the Boston area volunteered to demonstrate steno writing and talk about what they do with the counselors.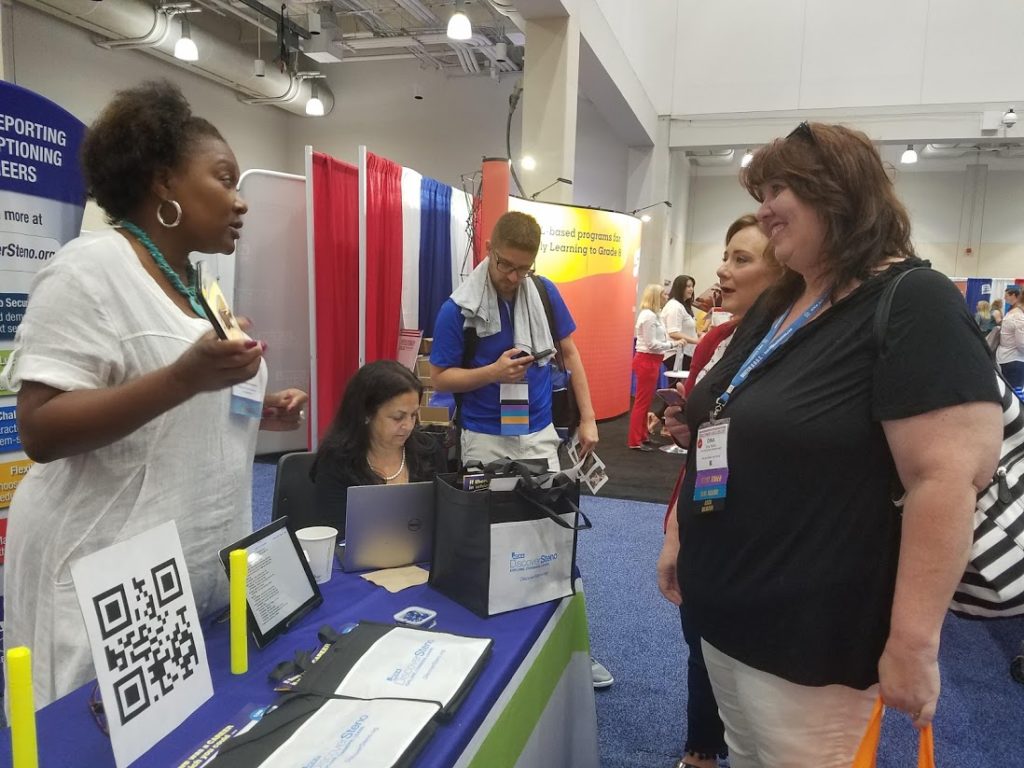 "It was such a great experience," said Joan Cassidy, RMR, CRR, a freelancer from Norfolk, Mass. "I loved explaining what we do to others, unraveling the 'magic' they think we court reporters make. Hopefully school guidance counselors from all over the country will in turn inspire and inform their students about this great profession of ours. Additionally, it was wonderful to be able to give back to a profession that has been so generous to me and my family."
Comments heard most often from school counselors included:
"I didn't even know about this career!"
"My students really need to know about jobs like this."
"Can I have a court reporter come to my school?"
"Is it too late for me to be a court reporter?"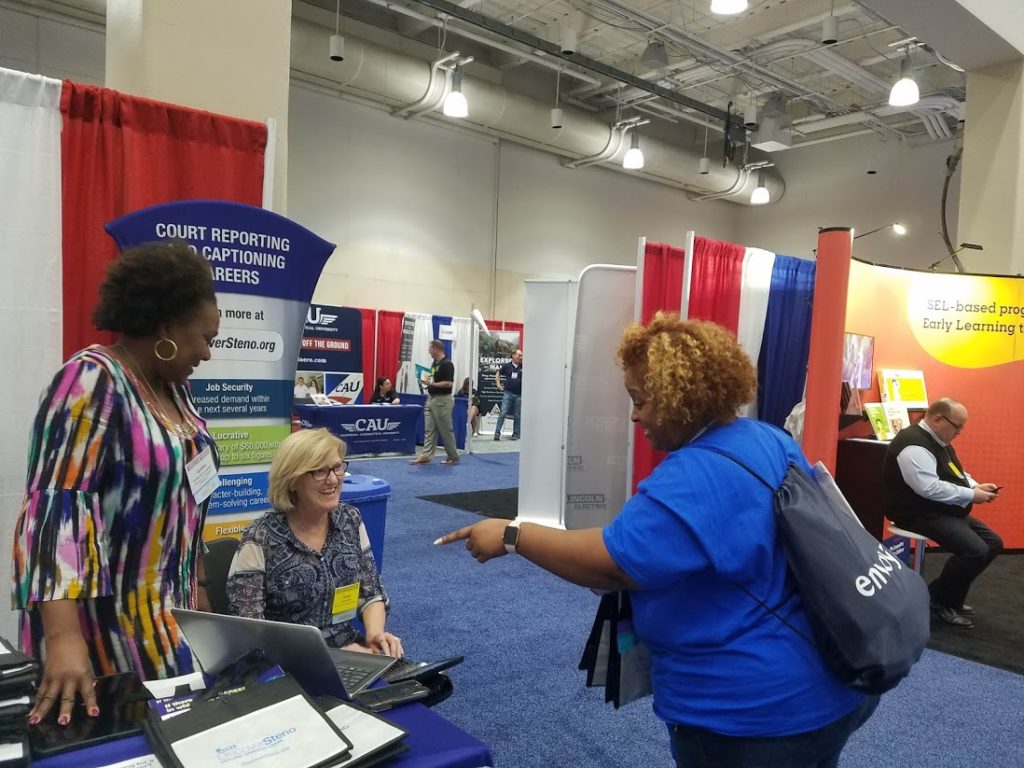 "Getting the word out to educators and school administrators is essential for the future of our profession," said Kathy Silva, RPR, CRR, an official in Andover, Mass., who volunteered in the NCRA booth. "Because of this effort, I am certain school counselors will keep court reporting and captioning in mind when discussing possible careers with students."
Justina Pettinelli, RDR, CRR, a freelancer from Quincy, Mass., also volunteered.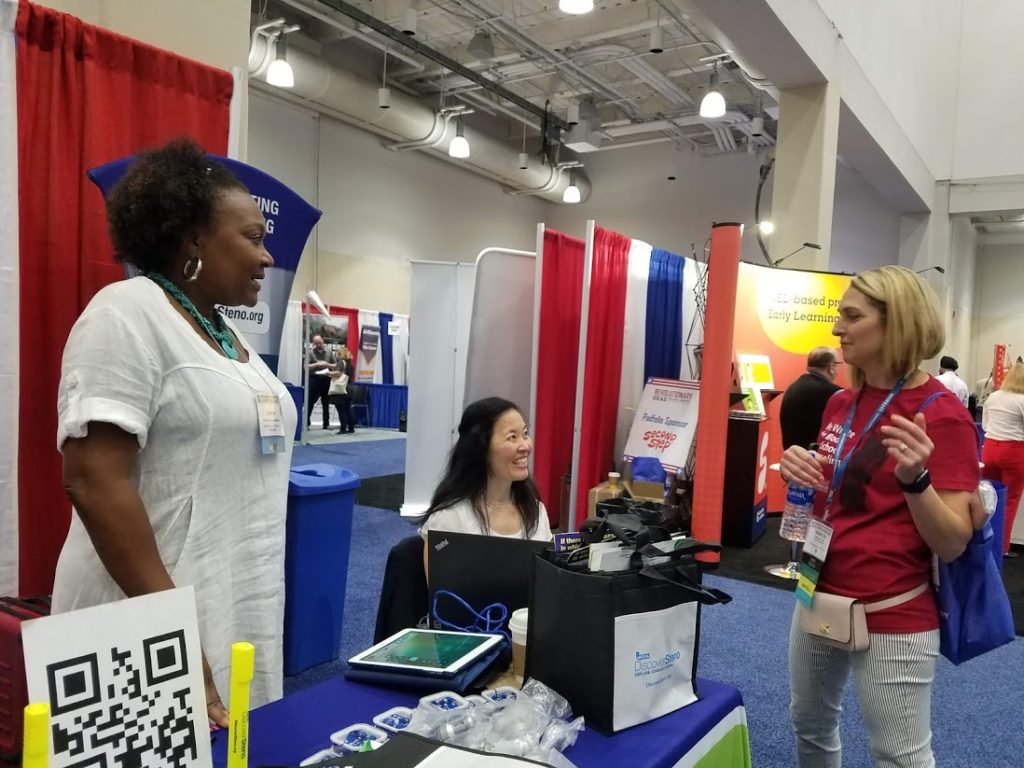 "It was such a pleasure to participate in the American School Counselor Association Conference with NCRA," Pettinelli said. "The NCRA reps did a wonderful job educating everyone about court reporting, a profession that is largely unknown/unfamiliar to the general public. Everyone was both intrigued and impressed with seeing realtime in action with the steno machine, and they responded very favorably to the information provided to them about the profession. Attendance at these conferences is crucial in spreading the word to people who have the ability to reach thousands of children who will be our profession's future, and I'd like to thank NCRA for participating and working so hard on our behalf."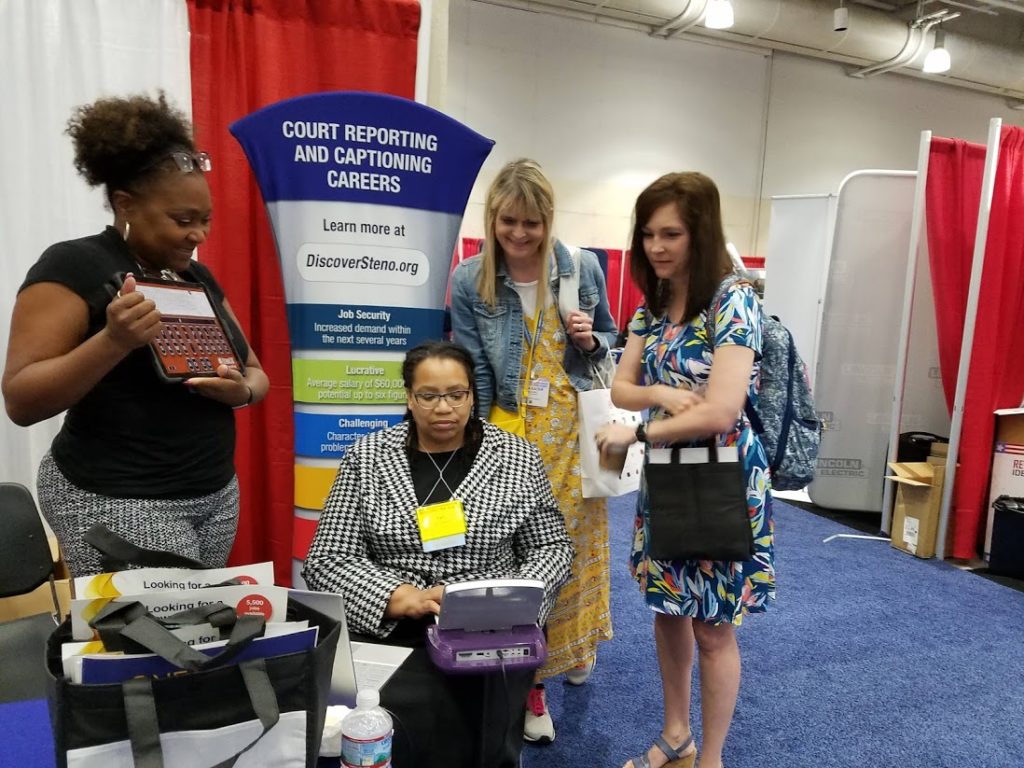 Teri C. Gibson, RPR, CRR, CRC, CRI, a freelancer and CART captioner from Chelsea, Mass., also volunteered.