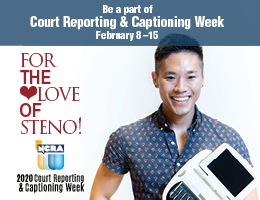 For the love of steno is this year's Court Reporting & Captioning Week theme and one that can be touted year-round by court reporting schools and their students. The 2020 weeklong celebration designed to help showcase the benefits of a career in court reporting or captioning runs Feb. 8-15. To help schools and students celebrate, NCRA has made available a vast number of resources, ranging from press release templates to media messages specific to schools, to help spread the word about this wonderful profession. These and other resources, including many that are customizable, are available at NCRA.org/home/events.
Other resources available to help mark the week include logos and graphics for use on social media platforms and emails, as well as customizable business cards and flyers.
Downy Adult School, Downy, Calif., has already made plans to celebrate 2020 Court Reporting & Captioning Week by hosting a variety of different activities, including a pajama day where students and faculty will enjoy cupcakes embellished with the "For the love of steno" message and a hat day. There will also be an "I scream for steno" day where participants will make T-shirts celebrating court reporting and captioning, enjoy ice cream cones, and watch the court reporting documentary, For the Record. The school also has planned a bake sale, a wear-red-and-pink day, and raffles for students to win prizes.
SimplySteno, an online court reporting program based in Tigard, Ore., will be celebrating Court Reporting & Captioning Week by allowing free online screenings of the court reporting documentary For the Record. According to the program's founder, Marc Greenberg, CRI, who created the documentary, anyone can view the film for free by going to https://vimeo.com/ondemand/fortherecord and selecting the "rent" option, clicking on the "Apply promo code" link, and using SIMPLYSTENO as the code. The free screenings will be available from Feb. 8-15.
In Chicago, Ill., students at MacCormac College will be hosting a Court Reporting & Captioning Week interactive question-and-answer session and reception on Feb. 10 at 10 a.m.  The session will feature guest speaker NCRA member Isaiah Roberts, RPR. According to Selena Scott, J.D., the college's program director, Roberts is "quite popular with younger reporters and even did live captioning at Coachella this past summer.  He will speak to the students and answer their questions about life on the 'other side' of the RPR. There will also be several other court reporters from the professional community on hand to answer questions as well."
The College of Court Reporting (CCR), Valparaiso, Ind., will host NCRA President Max Curry, RPR, CRI, a firm owner and court reporter from Franklin, Tenn., as a guest speaker during Court Reporting & Captioning Week. Curry will speak to students, alumni, and the general public about the importance of the court reporting profession, the role schools play in educating students, and the value of being an NCRA member.
According to Natalie Kijurna, director of alumni and employer relations for CCR, the college also plans to highlight its amazing alumni in their chosen field by running a social media campaign based on the "For the Love of Steno" theme, as well as a takeover of its Snapchat account by alumni so they can spread the word about court reporting and captioning. Other plans to celebrate include having a court reporting professional host a Facebook Live sometime during the week to spread the word about how important it is to practice in order to reach your goals, whether it's achieving exit speeds or your next certification. During the live Facebook event, CCR is also going to challenge their students and students at participating schools who use EV360 software to practice as much as possible. The top three students who practice the most will win prizes.
Remember to share how you celebrate the week by sending information about and photos of your event to NCRA's Communications Team at pr@ncra.org. Everyone is also encouraged to share his or her activities on social media using the hashtags #CRCW20 and #DiscoverSteno.
And don't forget, be sure to check out NCRA's resources for 2020 Court Reporting & Captioning Week for the most up-to-date materials designed to help you celebrate the week and beyond.