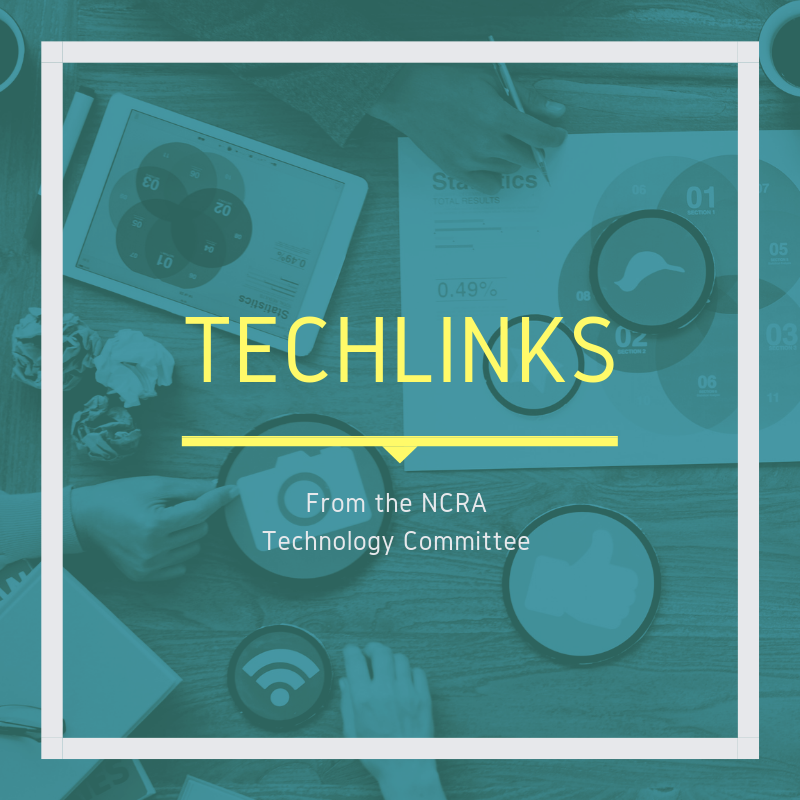 By Lynette L. Mueller
As we are now entering week three of self-quarantining due to COVID-19, I know our members are gearing up and learning how to handle remote depositions. Thanks to NCRA Immediate Past President Sue Terry, FAPR, RPR, CRR, CRC; Vice President Debbie Dibble, RDR, CRR, CRC; and Director Keith Lemons, FAPR, RPR, CRR; for stepping up and presenting an awesome webinar for our members at a moment's notice! For those of you who missed the webinar, it will be available as an e-seminar coming soon. Check your inbox and social media for announcements for more upcoming webinars!
In addition, our Technology Committee has written a few articles about reasons to use web conferences, best practices, gadgets to help the conference run smoothly, and the pros and cons of their platforms of choice.
Helpful how-tos for remote depositions
In this particular article, let's talk about exhibit handling. There's always advanced planning required when exhibits are introduced remotely.
Challenges faced with exhibits in remote depositions:
Passing of documents
Annotating of documents
Pointing the witness to a specific passage on a long document
Managing voluminous documents
One of the easiest methods that most of my clients have used up to this point is either sending me the physical exhibits or sending me a secure link where I can access them to be printed for the witness at the deposition. Some attorneys do ask that I not share the exhibits with either the witness or opposing counsel because they wish to preserve their legal and tactical strategies. I've adopted this policy on all of my remote depositions at this point.
If you do proceed with a deposition with physical exhibits in hand, the client who is attending remotely may ask the witness to share the document by holding it up with a steady hand and placing it in front of the webcam and/or the videographer's camera.
While dealing with exhibits physically is one methodology for a web conference, there are several paid applications in the marketplace that can handle exhibit marking and sharing, all online and in the cloud. A few come to mind: LiveLitigation, Agile, eDepoze, and TrialPad by Lit Software. Agile, eDepoze, and TrialPad are geared and marketed to attorneys for introduction of exhibits, managing the exhibits, and collaborating on the files. It's good to be familiar with these products, as a potential new client may wish to use it during one of your scheduled depositions. All of these platforms offer robust solutions for remote depositions, many helpful video tutorials, as well as desktop and mobile apps. Some of them offer a free trial and live demonstrations if requested.
https://www.litsoftware.com/trialpad
How does the court reporter get a copy of the exhibits when attorneys use the above applications? Simply ask the attorney to either email the exhibits or send them via a secure link.
Per eDepoze's FAQs: "Anyone else can log in on their laptop or iPad as a guest for free, and they will receive unstamped courtesy copies of each exhibit just as they do now."
Per Agile's FAQs: "All participants in the deposition receive an email with a link after the deposition is concluded that allows them to download PDFs of each exhibit. The download is secured by a PIN that is only shown to the approved deposition participants."
Per LiveLitigation's FAQs: "Files uploaded are shared with other members of your group. Group members can Preview and Exhibit and can also Download or Save to 'My Files' from the MyCal portal."
Remote depositions with all parties appearing in different locations
Next, let's talk about PDF-only unmarked exhibits that may be shared in Zoom or any other web conference application. Experienced attorneys are great at making their record when it comes to exhibits, especially in a scenario when attendance is remote. Their descriptions of the exhibits make it easy for the court reporter to go back in the transcript during edit to find each document to place an exhibit label on it. I utilize my Dymo and love it for in-person depositions and when I am with the witness.
When we find ourselves in a totally remote deposition where all parties are in different locations and we are working with PDFs only, court reporters really don't want to take the time to sticker the exhibits and then have to scan them. Why duplicate effort? Adobe Acrobat has a solution to this conundrum! E-Stickers. You can add a digital exhibit sticker directly to the PDFs with a click of a button. With the paid version of E-Stickers "All-In-One," each sticker is customizable with a choice of ten colors, custom title, prefix, and the ability to set a starting number or letter. If you don't wish to purchase the custom program, there is a free version offered as well. The free version offers a white digital Exhibit E-sticker with the manual entry feature and is fully functional.
Another paid option for stamping PDF documents is a solution called Final Exhibits.
The Final Exhibits viewport displays the first page of every PDF document in your selected folder.
Customize your electronic sticker (or page number) and drag it onto an exhibit in the viewport.
Final Exhibits will place sequential stickers in the same relative position on all the loaded documents – automatically.
Quickly scroll through and review every labeled exhibit. Edit individual stickers.
Move & Rotate them directly in the viewport, if they are covering up anything important.
Click Save and Final Exhibits automatically applies and flattens the stamps onto all the exhibits.
Check out this video showing how easy it is to stamp multiple exhibits at the click of a button.
For those reporters who have Adobe Acrobat Reader DC only and want an unpaid option for marking exhibits, you can still stamp the documents, but it will take a little more effort. First, open the doc, then Fill & Sign, select Add Text and complete all the information you wish to have on the exhibit "stamp." Next, grab that circle icon and drag it to your desired height and width, then drag it on top of the text. When you're finished, click Save.
When stamping your PDF documents or if a witness annotates a document during the deposition, you need to ensure that the file is "flattened" for the final transcript. There is no need to flatten the document during the deposition, as all exhibits marked during the proceeding are working copies. Flattening the document reduces the file size and also merges all the layers in the image. Essentially, it combines all the layers into a single background layer so that the file cannot be annotated or edited anymore. Please check with your tool of choice for flattening options. Some of the tools have flattening built into the program.
My method of choice for marking of exhibits during remote depositions when all parties appear in different locations
Over a decade ago I was handling remote depositions. I started out using Skype and have evolved to doing most of the remote depositions by Zoom today. As I've mentioned before, Zoom has an awesome advantage in that I can pay as I need the service. No depositions coming up next month where clients need to attend remotely? No problem. Simply suspend your account until the next time you need the service! The basic free account of Zoom allows up to 100 participants.
I am recommending to my attorney clients that we share exhibits with the box.com platform. When trying to share exhibits within Zoom using Dropbox or Google Drive, there are multiple clicks that need to be made in order for the other participants to either download or screen share the exhibit. When sharing documents via box.com, it's as simple as clicking the link and the exhibit opens immediately!
So I will request that the attorney send me ahead of time all potential documents that may be shown to the witness during the deposition. Then I will create a specific shared folder for the exhibits and send an invitation to the client. That way, he or she can access them on the fly during the proceedings. Be sure to add the client as a collaborator and enable the share link on all exhibits when creating your shared folder. The attorney should sign up a free account on box.com if their firm doesn't use this cloud service.
Sharing a link in the Zoom Chat box is a preferable method to sending the exhibit via the File option within the platform. Some of the reasons for sharing links rather than uploading the actual document or screen sharing include:
With a screen share, it may be more difficult for the attorney to direct the witness to a specific passage.
If uploading the file directly, it may be that the file size is too large to receive or slow to receive. This could be time-intensive and not a good use of the client's time.
Uploading documents directly with the File option can eat up bandwidth that you should save for the video portion of Zoom.
If annotations need to be made, it is a relatively easy process to do and all participants can see where the notations are being placed. The annotations may be saved in a folder on the local computer and shared later.
I've found that it is best to have the attorneys (not the court reporter) handle the marking of the exhibits during the proceedings. When the attorney is sharing the exhibit via the Chat, advise him ahead of time how to share the documents. Example: Exhibit 1 – (link of the exhibit). They know what exhibits they are looking for because of the file name associated with the exhibit — much easier and faster using this methodology.
Be sure to have the option selected in your Zoom account settings to automatically save the Chat. That way, it's an easy matter to go through the Chat during transcript production and check the numbering of exhibits. Then go ahead and place your exhibit stamp with your tool of choice!
Whew! That's a lot of information about some of the ways to handle exhibits during remote depositions. I'd love to hear more where you have landed on marking of exhibits. Remember, we are all social distancing together so that things can get better faster, and it's important that we share our knowledge.
Lynette L. Mueller, FAPR, RDR, CRR, is a freelance court reporter based in Memphis, Tenn., and chair of NCRA's Technology Committee. She can be reached at lynette@omegareporting.com.