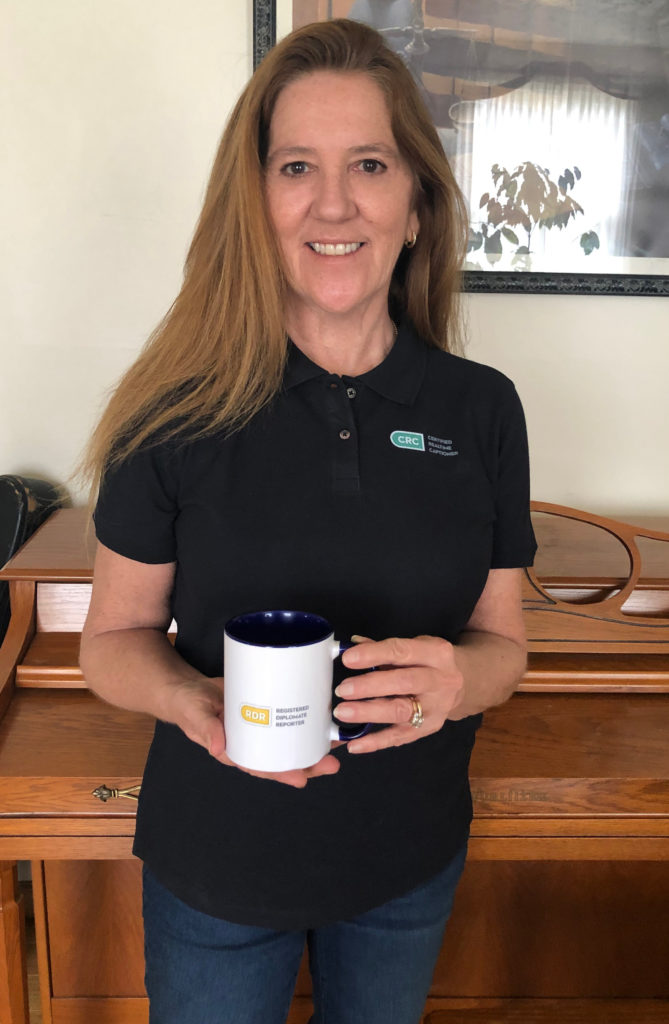 Celebrate your pride in your certification and save on swag during NCRA's 2020 Celebrate Certification Month. Take advantage of 15 percent off all customized items on May 7 and 8 in the NCRA Merchandise Store.
Choose from a variety of items such as clothing, accessories, gifts, and more, and customize them with your favorite NCRA, NCRF, I Love Steno, NCRA STRONG, or official certification logos.
"Navigating the store is easy. At first I looked at all the designs and the new products that are available. Then, I went back a day later and picked a design and made a choice of what I wanted to purchase," said Kimberly Falgiani, RDR, CRR, CRC, a captioner from Warren, Ohio, who recently purchased a customized polo shirt and coffee mug from NCRA's online merchandise store.
"When it comes to customizing, the way the site is laid out, you don't really have to do much. If you choose a design before proceeding, that design shows up on the product to be previewed, so it's simple. You may customize, though, on whatever you choose," she added.
Falgiani said that she received an immediate email confirming her order was placed, shipping was timely, and the items arrived in great shape. She also said the polo shirt she ordered was pretty true to size and was of the quality she had expected. She also noted that the coffee mug is sturdy and that running it through the dishwasher has not affected the colors of the logo at all.
"I saw some media about NCRA having a new merchandise store, so I took a look on the website at it. Go check it out! I was surprised at all the shirt styles and how easy it is to change around the logos on the different products," she added.
The online company that provides the items and customization, Spreadshirt, takes care of processing the orders and ships goods directly to the consumer at no charge. The company also offers customers an easy exchange and return policy. Members who purchase items from the merchandise store are supporting their national organization's programs and scholarships while showing off their NCRA pride.
Be sure to check back to the NCRA Marketplace on the homepage to see what new items and merchandise are being offered. NCRA will also announce new items and merchandise during special events.
Help advertise the NCRA Merchandise Store. NCRA members who do purchase items are encouraged to share photos of themselves sporting their swag. You might just get featured on the store site or in other marketing materials. Send your photos to pr@ncra.org. Happy shopping!