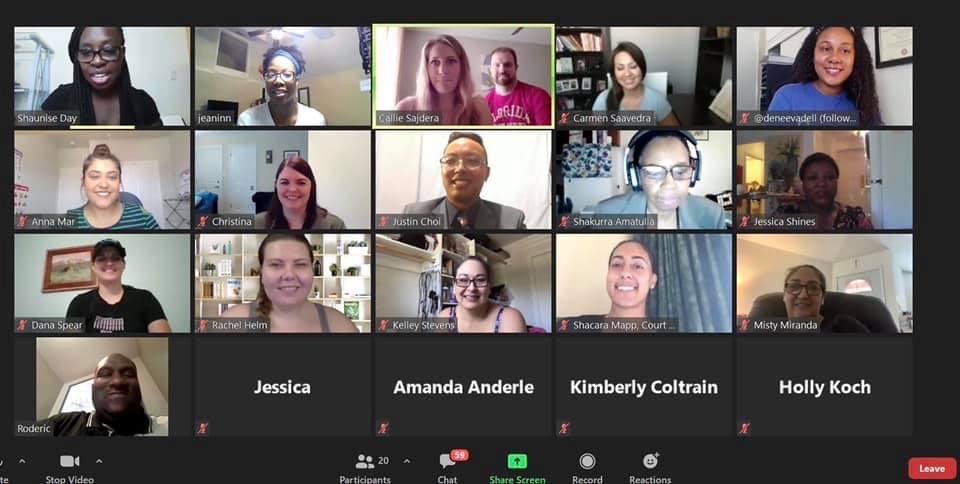 By Shaunise Day
On Saturday, Aug. 29, I decided to host a Lunch On Your Own with students. During NCRA'S annual Conferences, all attendees are given a lunch break for an hour and a half and during this time, most attendees have planned lunch dates to catch up with old colleagues or meet up with a new connection.
When I attended my first convention, I didn't have plans to lunch with anyone. I was shy, quiet, nervous, and overwhelmed with my first convention. I had plans to grab lunch and spend the lunch break in my car until the next session was set to start. Right when I was trying to figure out my exact plans, a few veteran reporters invited me to have lunch. I felt so relieved and happy that I didn't have to lunch alone.
In New Orleans, La., for NCRA's annual Convention, I was in charge in leading the welcome session for the students. I shared my story with the students about lunching on my own at my first convention and said if there were any students that did not have a lunch buddy, I would be more than happy to lunch with them. During the lunch hour, it turned out to be close to 12 students that wanted to lunch together. I was not expecting this large number. I thought it would be two or three students that may have wanted to eat lunch together. Since we were a large group with no reservations, we split into two groups, and it worked out just fine. I realized that there were students that felt how I was feeling during my first convention. I decided from that moment that I would continue to pay it forward and do what a few veterans did for me.
For the annual Conference in Denver, Colo., last year, I made reservations at a nearby restaurant. I did the same exact thing during the students' welcome session and advised that I had reservations made for anyone that did not have a lunch buddy. The turnout was larger than in New Orleans, and this time around I was able to invite a few reporters to lunch with the students. I can remember a student whispering that she was so happy about this lunch because she had no idea what she was going to do. That was my confirmation that this a great idea and to keep organizing a lunch for the students during the annual convention.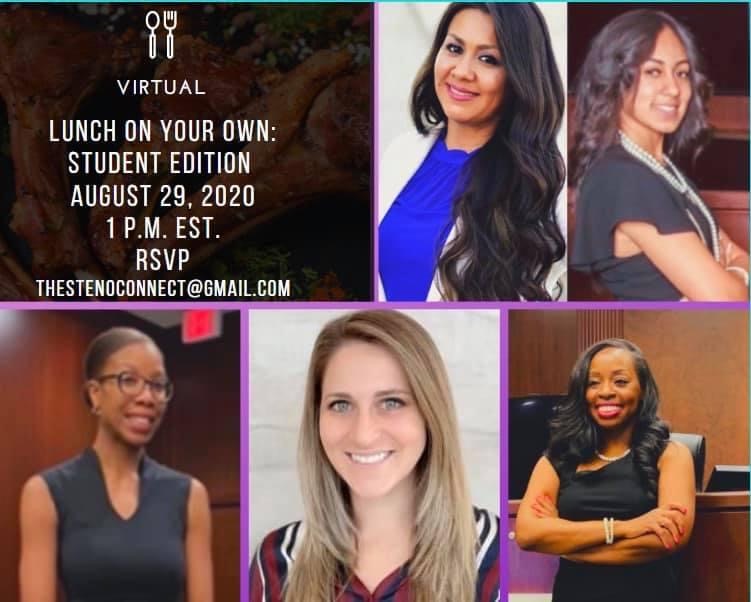 Due to COVID-19 and NCRA having its annual Conference online, I did not want to schedule a virtual lunch during the Association's Connect Virtual 2020. I thought it would be best to wait until after the meeting and plan something. I thought it would be a great idea to invite past lunch buddies and friends to this virtual lunch with the students.
Pushing through the process and finishing school. You can say this was the theme for our lunch, because the new professionals told the students about crossing the finish line and not giving up. Each new professional shared experiences.
Carmen Saavedra, RPR, a freelance reporter in San Tan Valley, Ariz., and I connected in Denver during our lunch. Carmen was able to share her experience and her journey with completing school. Callie Sajdera, an official in Denver, Colo., was another new professional who attended. Not only did Callie attend the lunch in New Orleans, but we also served on the Student/Teacher Committee that year in New Orleans. Jeaninn Alexis from Laurel, Md., and Shacara Mapp, a freelance reporter in Detroit, Mich., were also some of the new professionals who gave encouraging words to the students. They also shared how they overcame obstacles. From test anxiety to relocating to another state. Pushing through the process and not giving up no matter what will be well worth it. Denee Vadell, an official reporter in Edison, N.J., shared her testimony and what she had to go through to complete school. It all paid off because she is now in her winning season during this pandemic. Matt Moss, RPR, an official reporter in Thornton, Colo., was a surprise guest. Matt popped in and he spoke on how he pushed through school, and he also spoke on changing your mindset. I shared my story with the students and advised that if there is anything that they need as far as reliable resources and encouragement, I can help. If I don't have the answer, I can put them in touch with someone that can help. I am just a phone call, text, or email away. Right now is the time to stay as close to our students as possible. This year has been extremely discouraging for all of us. Now is the time to focus on becoming one team with the same goal for stenography. One way is motivating each other to keep pushing through the process with whatever you're dealing with. If it's school, Zoom depos, or homeschooling, now is the time that we stand together during these trying times.
I was happy with the feedback I heard from some of the students who attended:
Kim Coltrain from Grayson, Ga.: "This was a wonderful opportunity to give back to the vocation. Great insight, encouragement, and a free raffle to top it off. I felt like I was sitting at the 'cool kids' table in the cafeteria … but I got to stay in my bunny slippers."
Christina Cranford from Buffalo, N.Y.: "It was very inspiring and motivating, and I'm looking forward to Vegas 2021."
Rachel Helm from Poulsbo, Wash.: "I left the luncheon feeling more prepared and supported than ever to finally finish up my last speed and get out of school. At a time when everyone feels lost and isolated, the luncheon was a great way to connect with my fellow students as well as working reporters. Winning the raffle for a complete set of Monette Benoit's purple books was the cherry on top; it's an enormous blessing to know there are people out there who value our success so much that they're willing to donate so generously, both with their energy (looking at you, Shaunise!) and their resources."
Raffles and giving back
I also wanted to add a little fun to the lunch and gift a few students. I believe in sowing seeds in good soil. If it's in your personal life or professional life, it's always good to give back and that is part of my purpose in life. I wanted to gift a student who was in exit speeds with the purple books so that they can prep for the RPR written exam. I reached out to Monette Benoit, CRI, CPE, from San Antonio, Texas, and I told her what I was doing and I would like to purchase a set, and instead, she offered to donate the books. As I read her email I just cried because that is what you call teamwork.
I knew that I would have students from different speeds, and I wanted to make sure that I grouped them correctly. For the students that were not in exit speeds, I decided to maybe purchase a few drill books from Margie Wakeman Wells, CRI, from Los Angeles, Calif. I reached out to her and told her about the event that I had planned, and yes, another generous donation was made. I was not expecting any of this, and it just made my heart happy to have two amazing leaders in this profession donate grand prizes to the luncheon.
I personally wanted to sponsor a student a free NCRA student membership. I had close to seven non-members attend the luncheon, and one lucky winner was gifted a free membership. For the students that were just starting out within the profession and lower speeds, I held another raffle and gave out steno swag. I will continue to make this an annual event for the students that would like to have a lunch buddy during our annual conference.
The next luncheon will be held at NCRA's 2021 Expo & Conference in Las Vegas, Nev. For any students that are planning to attend,, you can contact me at thestenoconnect@gmail.com if you would like to lunch together.
Grand prize
Rachel Helm: The purple books for the RPR Written Knowledge Test by Monette Benoit
Amanda Anderle from San Diego, Calif.: Bad Grammar/Good Punctuation and All Things English textbooks
Jessica Shines from Chicago, Ill.: Bad Grammar/Good Punctuation and Word Pares, Pears, Pairs textbooks
Justin Choi from Tacoma, Wash.: NCRA Student Membership
Additional raffles
Roderic Walter from Detroit Mich.: Steno Swag T-Shirt
Shakurra Amatulla from Burbank, Calif.: Steno Swag- T-Shirt
Misty Miranda from San Antonio, Texas: Steno Swag- T-Shirt
Shaunise Day is a student from Oakland, Calif.