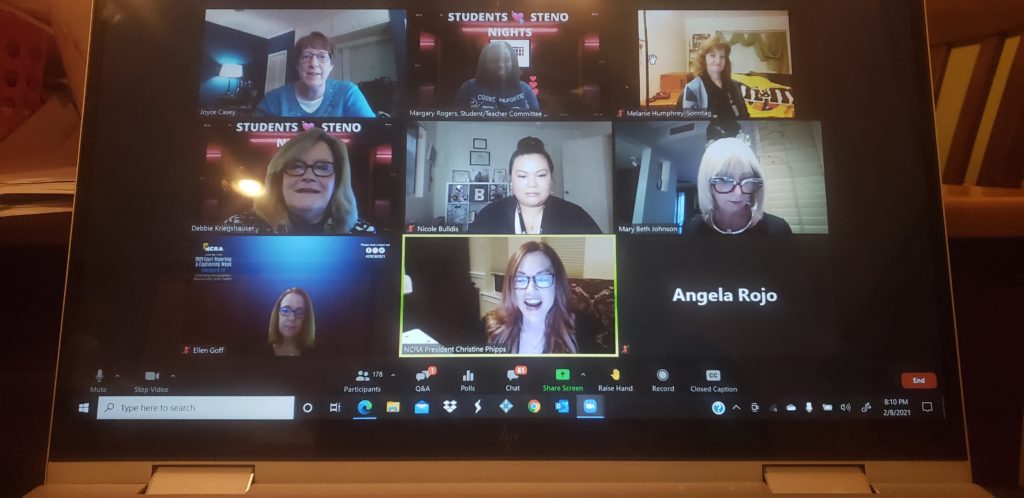 Court reporting students played a huge role in celebrating 2021 Court Reporting & Captioning Week. From virtual events held in their honor to activities hosted by schools, tomorrow's professionals were encouraged, honored, and inspired by working professionals and their teachers.
Members of the NCRA Student/Teacher Committee hosted two of its three Students Love Steno Nights Zoom sessions on Feb. 10. The sessions were open to students and anyone else who is interested in participating to observe NCRA's 2021 Court Reporting & Captioning Week.
While the first event held Feb. 8 drew more than 180 participants, the second in the series, which focused on bloopers and successes, drew even more, according to Amie First, RDR, CRR, CRC, CPE, an official court reporter and CART captioner from Orlando, Fla., who led the guests including Veronica Guerrero, a freelance court reporter from Woodland, Calif.; and Jennifer Marks, an official court reporter from Citrus Heights, Calif.
"The attendance this week has been amazing! I believe we had 193 participants for the second session. That would include the speakers, committee members, and some teachers, too," First said.
Also attending to encourage students were NCRA President Christine Phipps, RPR, North Palm Beach, Fla.; President-elect Debbie Dibble, RPR, CRR, CRC, Salt Lake City, Utah; Director Cindy Isaacsen, RPR, Shawnee, Kan.; and Jennifer Marks, an official court reporter from Citrus Heights, Calif., and a new professional.
"Jennifer is a new reporter. She is so relatable. She talked about how important it is to have support as a new reporter. For example, she's learned so much from her proofreader because there are things you just don't know starting out. It takes some time to become familiar with court jargon, and so on," First said.
Veronica Guerrero, a freelance court reporter from Woodland, Calif., is also a new reporter and was on hand to encourage students, First said.
"She has a wonderful message about how long it takes to get out of school, which is, however long it takes! All the students seemed to really relate to her discussing how painful school can be and her struggle to get certified. She said, when you're working, no one cares how long it took you to get through school or how long it took to get certified. I think that took some pressure off students," First added.
Others in attendance who shared advice with students included NCRA member Marjorie Peters, FAPR, RMR, CRR, a freelance court reporter and captioner from Alexandria, Va., who talked about starting out as an official and being around other reporters who she could learn from, then being a captioner, and now freelancing.
Dave Johnson, an attorney, and the husband of NCRA member Mary Beth Johnson, CRI, an instructor from Pittsburg, Pa., gave a quick talk about how important court reporters are to him. He said he's come to appreciate the training even more since he and his wife are both working from home.
"I believe the students were able to take away all of the various opportunities in the court reporting field and that a certain area can work at one point in your life and then you want to change to another area," First said.
"We also promoted the NCRA student newsletter and how important it is to get involved in your state and national organizations. I hope we can do more Zoom meetings to keep connected to students and give encouragement," she added.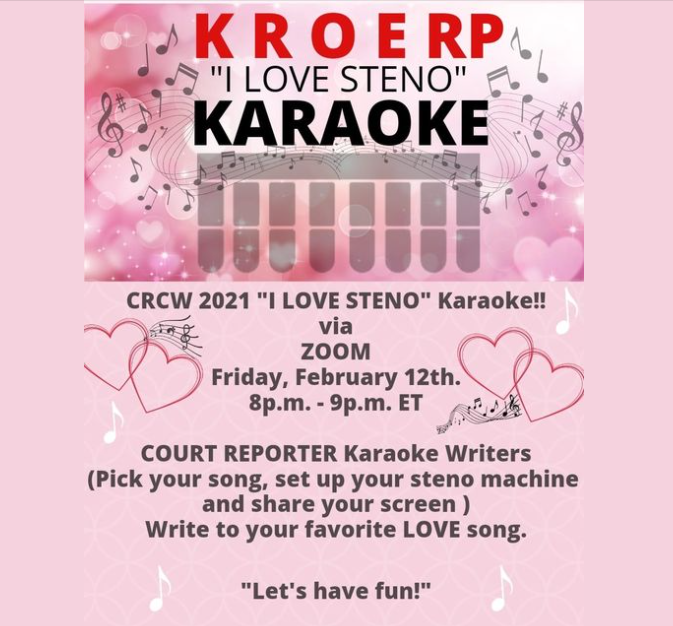 The week will wrap up with a special Court Reporter "LOVE" Karaoke Night Feb. 12 from 8 to 9 p.m. Eastern hosted by Margary Rogers, RPR, CRI, an official court reporter from Washington, D.C., and a member of the Student/Teacher Committee. Participants can expect a fun-filled time as they write and practice to all love songs. To sign up email StudentSteno@gmail.com.
In Phoenix, Ariz., students in the court reporting program at Gateway Community College were able to take part in several virtual sessions including one that featured NCRA member Karla Martin, RPR, a captioner and freelance court reporter from Phoenix, who shared her experiences writing the state governor's press conferences, the Arizona wildfires, and more, as a CART provider.
A second session served as a platform to discuss tools to use to help reach graduation and pass the Registered Professional Reporter certification, as well as getting certified in Arizona. A final session will be held Feb. 12 and will feature a talk on the pros and cons of working as a freelancer versus an official court reporter.
And don't forget Captioning Matchmaking
On Feb. 9, NCRA's Captioning Committee hosted "Captioning Matchmaking: You've got a question? We've got the answers!" via Zoom that featured panelists NCRA Director Heidi Thomas, FAPR, RDR, CRR, CRC, a captioner from Kennesaw, Ga.; Lindsay Stoker, RPR, CRC, a captioner from Fullerton, Calif.; Debra Bollman Farfan, RMR, CRR, CRC, a captioner from Los Angeles, Calif.; and Carol Studenmund, FAPR, RDR, CRR, CRC, a captioner from Portland, Ore. The panelists brought a variety of experiences and backgrounds to share, including their experiences with CAT software such as CASE CATalyst and Eclipse. They also shared their experiences captioning to a variety of platforms, historical captioning information, what companies are looking for when hiring a captioner, and the best ways to prep for sporting events.
"I thought it was great," said Bollman. "It's interesting to see the number of reporters who are interested in captioning but are worried about taking the leap or aren't sure how to make the change and get started. I think the matchmaking opportunity gave them an opening to make some connections with those of us who are already in the field. More captioners are needed right now and we have to find a way to make the information on 'how to get started' more readily available," she said. 
"In my opinion, it's really important for these reporters to have someone willing to be their champion, offer guidance, and mentor them. Not just talk the talk but walk the walk," she added.
If you know of other efforts that are not mentioned in this week's issue or in the story that ran in the Feb. 10 issue, we encourage you to share more about them at pr@ncra.org for inclusion in the final follow-up coverage slated for the Feb. 17 issue. Be sure to send any photos or graphics as well.