Once a month we highlight a different NCRA-approved school. The court reporter programs offered at these schools have met the General Requirements and Minimum Standards established by the Council on Approved Student Education of NCRA. This is a chance for members to get to know these programs and hear from their students and teachers.

The Northern Alberta Institute of Technology (NAIT) was established in 1963. It currently has 16,700 students enrolled in credit programs of which 2,200 are international students from 82 different countries. NAIT also has 6,600 students registered in apprenticeship training. The captioning and court reporting program (CCR) at NAIT was established in 1972 and has been an NCRA-approved school since that time. The CCR program has two intakes each year: An in-person delivery every September and an online delivery every January.
What is the mission of your school?
NAIT aspires to be the most relevant and responsive post-secondary institution in Canada and one of the world's leading polytechnics.
NAIT's promise to students is to provide a positive student experience that encompasses students' mental, emotional, and physical well-being and defines success broadly. NAIT prepares students to succeed in meaningful careers, find employment in their chosen field, and have the skills necessary to have an immediate impact.
NAIT's promise to industry is to produce an exceptional skilled workforce, aligned directly to industry needs. NAIT programs are developed with industry's input and our research is industry driven to create enterprises that compete worldwide.
What sets your school apart from other court reporting/captioning programs?
Student success. The CCR program has a historical graduation rate compared to other programs within the industry.
NAIT's strong positive culture that centers around respect, accountability, collaboration, and support, all of which foster an environment focused on student success.
Skilled instructors with practical experience. Instructional staff within the CCR program have extensive experience in all facets of the captioning and court reporting industry.
Strong student support such as competitive tuition rates with the ability to rent a modern shorthand machine from the school for a nominal fee, student advising, and professional counseling and other mental health resources.
Support from the industry. The CCR program has a close working relationship with industry members who support student success in various ways, including sitting on the CCR Program Advisory Committee, hosting student internships, placing graduates within their organizations, funding scholarships and bursaries, and providing financial support for curriculum development.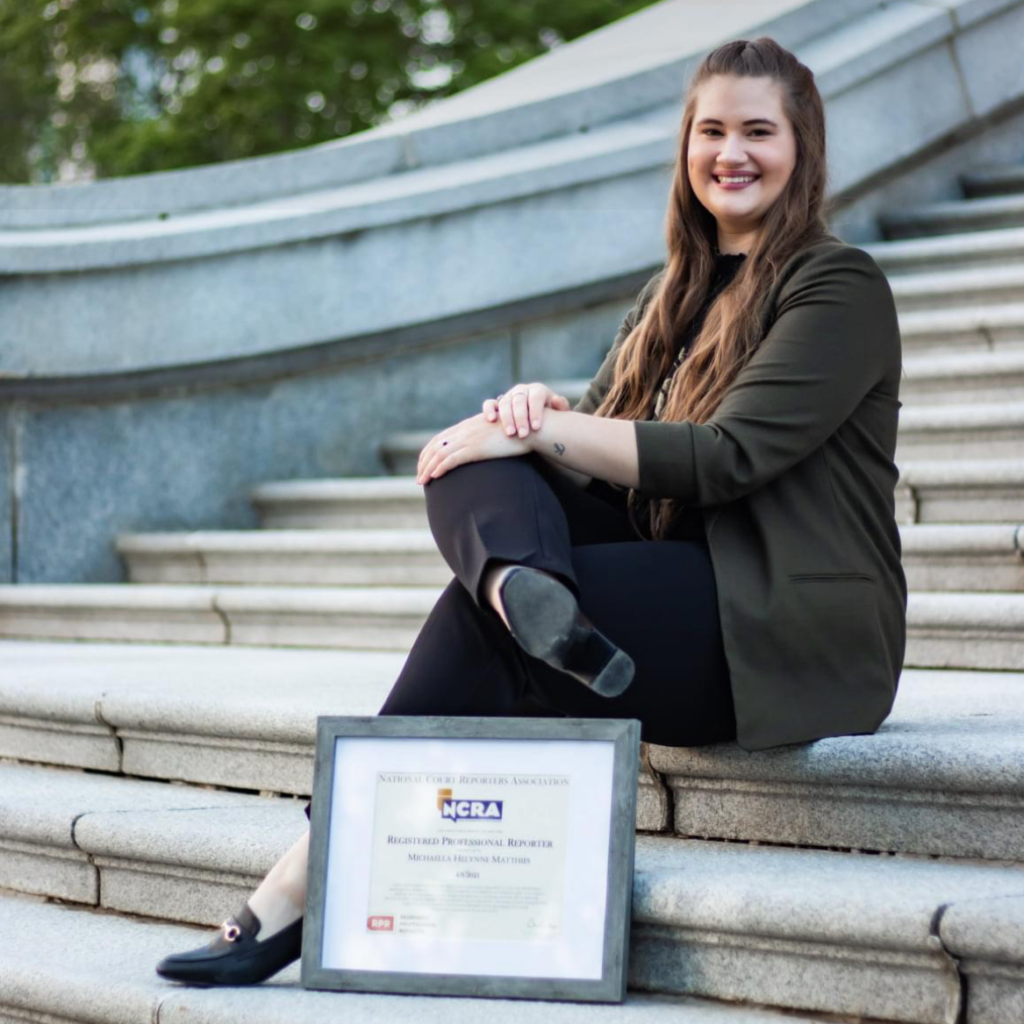 What do your students love about the program?
One of our students, Michaella Matthies, RPR, wrote this about her experience:
I am forever grateful to the captioning and court reporting program at NAIT, and I fondly look back at my time in the program. From the very beginning, it was clear to me that the instructors are so full of knowledge and that they truly care about each student's court reporting journey. I appreciate that the structure of the NAIT program does not limit students when it comes to going through the speedbuilding aspect. With hard work and determination, this structure allowed me to finish my speedbuilding journey in five months and to go on to achieve my RPR certification while simultaneously finishing the academic portion of the NAIT program.
It is no secret that starting out as a new court reporter in this industry can be nerve-racking, but I have the NAIT program and the instructors to thank for providing me with all the skills I needed to start my court reporting career confidently. The instructors there taught me everything I needed to know and more, and I can honestly say that I felt fully prepared when starting out my career. As a student, I was very grateful when my instructor invited representatives from court reporting firms across Canada to give presentations about what their firm had to offer. This helped open the doors to many different opportunities, and it allowed me to find the perfect firm to start my career.
Finally, I will always be grateful that I attended the NAIT CCR program for the lifelong friends I met along the way. I am now six months into this fascinating and unique career, and to this day I am very close with and talk to a few of my classmates every single day and consider them to be my closest friends. We began our court reporting journeys together at NAIT, and it is so amazing that we are now helping each other every step along the way in our careers. It is another gift that the NAIT program has given me. I will always recommend this program to anyone who is interested in becoming a court reporter!
Thanks to Len Sperling, CRI, chair, court transcription/captioning and court reporting, Northern Alberta Institute of Technology, for providing these NCRA School Spotlight responses.
Learn more about Northern Alberta Institute of Technology, or see the NCRA-approved schools and programs.