Once a month we highlight a different NCRA-approved school. The court reporter programs offered at these schools have met the General Requirements and Minimum Standards established by the Council on Approved Student Education of NCRA. This is a chance for members to get to know these programs and hear from their students and teachers.
By College of Court Reporting staff
The mission of College of Court Reporting (CCR), located in Valparaiso, Ind., is to provide state-of-the-art instructional systems technologies and quality teaching techniques to educate students in the fields of realtime captioning and court reporting in an online environment. CCR is committed to providing a quality education to students that meets or exceeds the standards of the national associations that represent and support court reporters, realtime writers, and related professions.

CCR has a rich history, philosophy, and reputation. CCR has been teaching court reporting for over 38 years. It started with the simple philosophy of providing students with the best faculty, resources, curriculum, and educational program possible. This philosophy was the brainchild of its founder, Kay Moody, who first and foremost is an educator, not a businessperson. CCR has always been about educating students, not making profits. This is still today the guiding principle of our approach to those seeking a quality education to enter the careers of the court reporting profession. We take a family approach to working together where each student's success is every individual on our staff's success.
CCR is very proud of its technologically advanced curriculum. In fact, CCR became the National Court Reporters Association's (NCRA) first online certified program in the spring of 2006. In 2017, CCR transitioned to a completely online program. Additionally, the use of EV360 technologies, which includes the novel minute-by-minute approach to speedbuilding, helps students build a strong foundation as they matriculate through CCR's various programs. Those programs include an Associate of Applied Science in Court Reporting, a Certificate in Court Reporting, and a Certificate in Voice Writing. Although the last couple of years saw many colleges turn to distance learning as an alternate avenue for educating students, CCR's vast experience as an online educator has allowed faculty and administrators to continue providing uninterrupted, state-of-the-art technologies, classroom instruction, and live speedbuilding classes.
CCR is pleased to report that its graduates work in every facet of court reporting across the U.S. and abroad. Many of our graduates work as officials in both state and federal courts, as freelance reporters for both small family-owned agencies and national agencies, while some have their own court reporting businesses. Additionally, CCR graduates are communication access realtime translation (CART) providers for several colleges and broadcast captioners working in the United States and abroad. Our graduates have worked on Capitol Hill, in grand jury rooms, and in South America. They accomplish these goals through incredible hard work, determination, a belief in themselves and what they can accomplish with support from family, friends, and CCR administrators, faculty, and staff. CCR's programs provide a multilayered education that serves our graduates well no matter what direction their court reporting journey takes them. Moreover, once a CCR student graduates, they always remain part of the CCR family. We provide career services for life; no matter where, when, or how they reach back out to us, we are there to help them succeed.
As part of CCR's mission to provide a quality education to its students, we try to motivate, encourage, and strategize with students using a variety of tools. Those tools include regular presentations from graduates and professionals in the field; motivational emails which include quotes or articles meant to encourage and uplift; seasonal fun challenges for students to complete in order to keep active with their skill development; a monthly newsletter that features a "Shining Star" student; and a campus-wide ALERT system utilized by our faculty that notifies our student success coordinator when a student is struggling academically so that she may intervene and help the student get back on track. These and other support devices are part of CCR's culture and meant to focus solely on the student and their ultimate goal of graduation.
It goes without saying that our faculty's hard work and commitment to excellence provide the basis for CCR's success year after year. Not surprisingly, our faculty and staff regularly receive national and state recognition for their dedication and passion to court reporting education. The faculty and administrative staff at CCR have been actively involved with numerous NCRA task forces, committees, and the Council on Approved Student Education (CASE) as members or chairs. Six CCR faculty members were granted the Award of Excellence by CASE as outstanding educators in the years 2020, 2017, 2015, 2010, 2006, and 2001. This award is given to one court reporting teacher annually who exhibits excellence in student engagement/mentoring, teaching/instruction, leadership, professional development, research, and overall contribution to court reporting education. Our faculty cares about each student, and this shines through day after day.
CCR's students and graduates are our legacy, and we could not be more proud of their accomplishments both during school and as professionals.
Here is what our students have to say about our program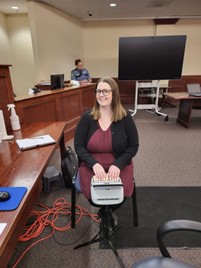 Whitney White, Clarksville, Tenn.
I like to believe I found my way to CCR through a bit of divine intervention. I was attending another court reporting school I loved which unfortunately faced closure. This led to me frantically trying to find an equally strong, if not better, court reporting school. At their recommendation, I attended a CCR webinar hosted by my old school with a Q and A session afterwards. I was blown away by how forthcoming and transparent CCR was with information, costs, and what to expect from all of their programs. Coupled with a staff that was seemingly eager to help with the transfer process, I knew this was the school for me. I am so grateful to have settled in nicely here.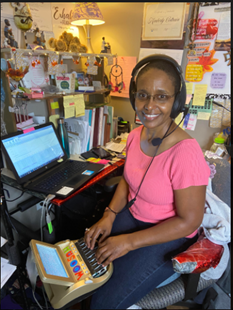 Kimberly Coltrain, RSR, Grayson, Ga.
In an era of selfish ambition and entitlement, CCR is the epitome of servant leadership. Each staff and faculty member is an integral link in ensuring the successful journey of every student. I remain forever grateful to CCR!
Thank you to the following CCR staff for contributing to this School Spotlight: Natalie Kijurna, director of compliance, Title IX coordinator and alumni relations; Alice Leonard, director of financial aid; Carlette Jennings, marketing coordinator; and Nicky Rodriquez, director of admissions.
Learn more about College of Court Reporting or see all NCRA-approved schools and programs.