NCRA exhibited for the first time at the American School Counselors Association annual conference held June 29 – July 1, in Orlando, Fla. More than 2,000 elementary, middle, and high school counseling professionals attended the conference. In addition to an information booth, several NCRA members and court reporting students volunteered to provide realtime captioning demonstrations on laptops, iPads, and Google Glass. NCRA was one of more than a dozen groups representing their respective professional and trade vocations that included opticians, accountants, pathologists, and concrete suppliers.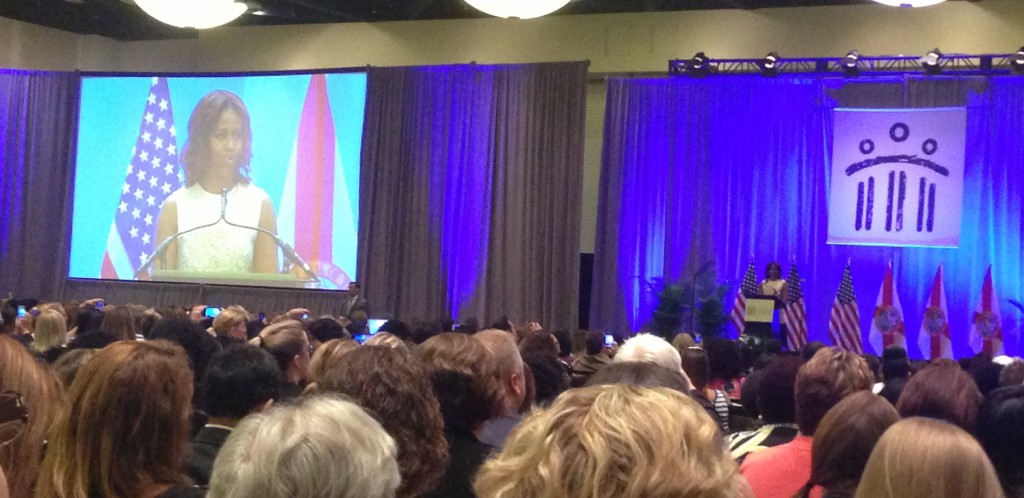 A highlight of the conference was keynote speaker First Lady Michelle Obama, who discussed Reach Higher, her latest initiative that focuses on inspiring all students in America to take charge of their future by pursuing and completing some form of higher education.
Christina Lewellen, NCRA senior director of marketing and communications, addressed attendees about the lucrative opportunities and favorable job outlook the court reporting profession offers as a prospective career, as well as the educational requirements needed to enter it, during a three-hour session called "Careers your students need to know about." The session was captioned as a benefit to the school counselors in attendance by NCRA members and volunteers Gayl Hardeman, RDR, CRR, CCP, Pinellas Park, Fla., and Anthony Trujillo, Kissimmee, Fla., RMR, CRR.
"Basically, the idea that stenography is an old profession is very true. It has very historical roots and dates back to shorthand writers with pen and paper," Lewellen told attendees. "But what we have now is a very viable, technology-driven career. It's not dead. In fact, it's growing."
During her presentation, Lewellen provided a look at some of of the areas of work available in the court reporting profession, as well as explained what stenography is and how it is taught. She also explained to attendees how her presentation was being captioned in realtime and provided some insight into expected areas of growth in the coming years. In addition, Lewellen encouraged attendees to strongly consider a court reporting career path for their students who are grammar geeks, have high curiosity levels, and have an interest in lifelong learning. She also suggested that students who are especially good with musical instruments might be candidates for court reporting, noting that there tends to be a correlation between musicians and the ability to quickly learn to use a steno machine. She also pointed out that on average, it only takes two years to complete court reporting school, that jobs are in highly professional settings and can offer flexible hours, and that the career is financially lucrative.
"We did just commission an industry outlook report independently and had researchers look at the supply and demand over the next five years. Right now, the demand for court reporting is in a relative state of equilibrium. We have enough reporters to fill the demand, for the most part," Lewellen said.
"However, in five short years, we have the situation pending where a lot of court reporters are going to retire, and we don't have enough students going into our programs, so there is going to be a shortage," she emphasized.
Lewellen also highlighted the fact that the captioning side of court reporting is a fast-growing area with opportunities being created by an aging populations and an increased number of rules and regulations calling for captioning services in school rooms, in churches, in movie theaters, and during sporting events.
"If you have students who are looking to do something good, and give back, and serve our late-deafened adults, our aging society, the deaf and hard-of-hearing community, then captioning as a profession is a very viable choice," she said.
According to Lewellen, NCRA volunteers fielded many questions about court reporting as a career, court reporting schools, career prospects, and more, including how a steno machine works.  School counselors were pleasantly surprised by the technology-forward profession, the work flexibility between captioning, CART, and freelancing, and the potential for a strong salary, she noted.
In addition to Hardeman and Trujillo, NCRA would also like to thank the following volunteers: Paulita Kundid, RPR, CLVS, Daytona Beach, Fla.; Darlene Herndon, RPR, CCP, Oviedo, Fla.; Emily Andersen, RMR, Altamont Springs, Fla.; Heather Jewett, Kissimmee, Fla.; court reporting students Julie Deal, Maria Puentes, and Cathy Carpenter, all from Sheridan Technical College in Florida; and Florida Court Reporter Association members Jessica Donnelly and Jill Percy.
Next year's ASCA conference is from June 28 – July 1, 2015, in Phoenix, Ariz., and NCRA will be looking for volunteers to staff the booth. Contact membership@ncra.org if interested in volunteering.