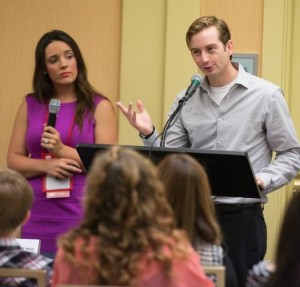 NCRA has issued a call for presentations for its 2015 Convention & Expo. NCRA is seeking topics that should be presented at the largest gathering of court reporters in the United States. Visit NCRA.org/presentations for more information or to submit a topic for consideration.
"Presenting at NCRA's Convention & Expo in San Francisco is one of my biggest accomplishments to date," says Clay Frazier, RMR, CRR, who spoke to students at the 2014 convention. "Having the opportunity to share my experiences benefited not only the future reporters in attendance but also myself. Knowing I can make a difference in the profession motivates me to become both a better presenter and a better reporter."
Another new speaker, Kensie Benoit, said the experience was a boon to her resume: "Being a presenter at NCRA's Convention & Expo last year was not only an honor but a wonderful opportunity to share my knowledge and gain a new perspective from others. As a result, my business life is excelling. Just this week I was offered an opportunity that may have never presented itself had that person not seen my name in last year's convention speaker lineup. You never know which opportunities will grow into even more exciting and prosperous opportunities."
Watch for more information on the NCRA Convention & Expo in the JCR Weekly.