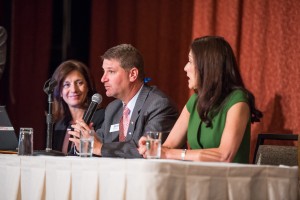 The Corrinne Clark Professionalism Institute – NCRF's newest initiative – officially launched at the 2015 NCRA Convention & Expo with a panel for students and new professionals (as well as veterans looking for fresh tips) on professional dress. Firm owners Jan Ballman, RPR, CMRS; Lisa DiMonte, RMR, CMRS; Rick Levy, RPR; and Ellen Grauer discussed the importance of a professional presentation, and a representative from My Stylist @ Macy's provided tips on building a professional wardrobe.
Court reporters are surrounded by lawyers, judges, and others who are highly educated and have high standards. In order to help court reporters look like they belong on the legal team, they need to dress the part. Choosing smart, quality, timeless pieces of business clothing will not only earn the lawyers' respect but also give the reporters more confidence. The panelists reminded the audience that reporters need to dress in a way that represents the firm's brand, and this can affect whether a reporter gets a job in the future.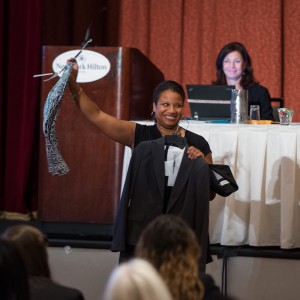 When choosing clothing, keep in mind that court reporters need to be comfortable while sitting in front of their machine or moving around to plug in equipment, etc. Conservative, classic pieces are always appropriate. Every reporter should have tailored button-down shirts, tailored pants, and a suit in black, navy, and/or gray. Men should expect to wear a suit and tie and polished shoes, a matching belt, and accessorize with a watch. Women should keep their hemlines and necklines modest and wear basic closed-toe pumps. Other basics for women include a black dress and a signature piece of jewelry, like pearls. Even with these guidelines, it's important to keep body type in mind to ensure that clothes fit well.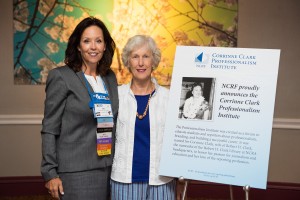 The NCRF Corrinne Clark Professionalism Institute was developed to educate court reporting students and new professionals about professionalism, branding, and building a successful career. The Corrinne Clark Professionalism Institute was created to honor Clark's lifelong passion for journalism and education, as well as her love of the court reporting profession. Corrinne Clark is the wife of Robert H. Clark, for whom the NCRF library is named.