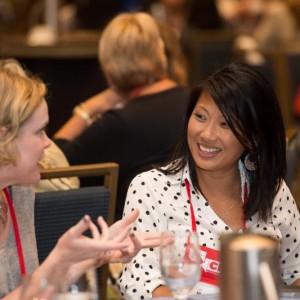 Networking can be intimidating, and for some people, it can be easier to think of it in terms of joining the conversation. Luckily, everyone already has a network at their disposal; the trick is to take advantage of that network.
Shy people may find it easier to talk to established friends at professional and social events, and those friends and colleagues can often be the best method of expanding your own network. "Oftentimes when I'm with colleagues and friends, I get to meet their acquaintances," said Linda Fifield, a firm owner from Boston, Mass. "If I find we're of like minds, I often ask for a business card." One of the added benefits to networking among mutual acquaintances is that a friend or colleague can provide some background information. "It's also important to ask my colleagues what they know about this person and if they're reputable," said Fifield. "Just because someone knows someone does not make them a good business partner."
Since so much networking now happens online, it's also important to have an established online presence. This can take many forms – Facebook, Twitter, and LinkedIn are all commonly used social media platforms for professional reasons. Keeping a regular blog can also function as a networking tool.
Chase Frazier, RPR, CRR, a CART captioner from Murietta, Calif., and Mirabai Knight, RDR, CRR, CBC, CCP, a CART captioner from New York, N.Y., both use Twitter to share when they are providing CART for an event using the event's official hashtag. Knight also added: "I started out using Twitter 100 percent for business, but over the years it's gotten to be about 60 percent personal, 40 percent business. I follow plenty of non-steno people, but I mostly post things relating to steno, captioning, and accessibility. I occasionally try to mix it up and post a few personal things now and then, though, just so I don't bore all my followers to tears."
Most platforms suggest potential connections based on mutual friends. Consider asking one of those mutual friends to introduce you electronically or if it's okay to name them as a mutual acquaintance when reaching out. When on the receiving end of a request, it's a good idea to still use a filter system to build a strong network. "I have a mental rule that a friend request needs to have at least ten mutual friends before I accept it, if I don't know them personally," said Frazier.
Once you've cultivated an online network, social media can be a good place to do a bit of self-promotion. Self-promotion can also come in the form of showing others that there's a real person behind that steno machine. "I post bigger accomplishments in the Facebook groups, such as what certifications I passed," said Frazier. "And on my wall I post little accomplishments or general posts about my job that will make people laugh or at least smile." It's also good to keep in mind that good social media etiquette recommends helping to promote others as well as yourself. Feel free to share and celebrate your colleagues' accomplishments as well.
Knight has also found success using a blog as a networking tool. She shares new blog posts on social media, which gets her some viewership. "But it's also really useful to have articles on my blog that I can link to specifically, either when making a case to clients or to colleagues," she added. "So if we're having a conversation via email or Twitter and something comes up that I've already written a post on, I can link it directly and not have to rewrite everything from scratch each time." If you're interested in starting a blog but not sure what to write, think about past conversations you've had with colleagues and write about those topics. Others have used blogs to write about a specific experience or goal. Find other blogs you admire and see what kind of content they share as inspiration.
Despite all the interacting that happens online nowadays, the human connection is still important, and opportunities to expand a network can appear in even the most mundane places. "I take the commuter rail to work," said Fifield. "It's amazing how many people I meet on a day-to-day basis. Oftentimes people ask me what I do. It's not unusual to meet someone who needs a court reporter or knows someone who could use our services." Don't forget – court reporting and captioning are interesting fields! Take advantage of having a unique job as a conversation starter.
Finally, the next time you are at a conference or other networking event, make a point to introduce yourself in person to people who you've interacted with through email or online. "If I bump into someone with whom I've networked with in the past," said Fifield, "I thank them for the referral and/or thank them for taking care of my client. That way, they can put a face to our agency."