By April Weiner
Sponsored by NCRF's Corrinne Clark Professionalism Institute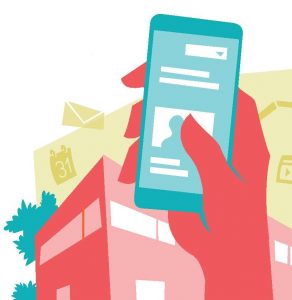 It's hard to imagine a time before social media had such a strong presence in our lives. It's become commonplace to share almost everything on social media — images of food, momentary insights, and weekend plans. But it is important to consider how social media influences professional image.
According to a PEW Research Center poll, 74 percent of Internet users use at least one social networking site. This means users range from personal friends, to family, to instructors, to hiring managers. Students can bet that anything they or their friends ever post can be seen by all of these people at any point in time. By the time that students graduate and are looking for work, they may have forgotten what they posted that first year in school, but rest assured that the Internet did not.
Avoiding social media, however, is not a good strategy either. The trick is to manage the risks and cultivate a professional image. Used properly, social media has professional benefits for students as well.
"Social media has allowed some graduates the opportunity to easily network with employers in different states and then, ultimately, relocate to another state," said Nicky Rodriquez, the director of admission at College of Court Reporting in Hobart, Ind. "Some of those opportunities may not have come about without social media."
Kensie Benoit, an official in Groves, Texas, found the ability to network with employers to be valuable when she was job hunting.
"I tried out for four officialships before [my current position]," said Benoit. "All of them were referrals from people I had only known online. I put the word out there that I was looking for an officialship, and people starting tagging me in all sorts of job postings online."
Another benefit of using social media professionally is access to online groups of like-minded professionals, which offer both the opportunity for skill building and camaraderie.
"I'm able to help new reporters when they have job-related questions and also debate some issues affecting reporters/captioners in general," said Laura Fowler, RPR, CRR, CRC, a firm owner from Modesto, Calif. "It's a great way to keep up on our profession. It's awesome when I or someone else needs help with anything and all we have to do is post the question and everyone responds quickly with great answers."
"It is our lifeline to the world," said Jennifer Bonfilio, RMR, CRR, CRC, a captioner from Delray Beach, Fla. "It baffles me how captioners were able to do their jobs before the Internet, not only from a research perspective but on human interaction perspective."
"The field has shifted so that our professionals now mostly work from their homes, with few, if any, interactions in an office setting," said Karen Yates, RPR, CRR, CRC, a CART captioner from Minden, Nev. "Social media now fills the role of a virtual break room. We vent our frustrations, get advice, seek recommendations on software and hardware." Yates also pointed out that online forums give professionals an opportunity to connect with people they would not be able to meet face to face.
The value of social media groups is not limited only to working professionals; joining these groups as a student can provide a bit of a leg up while learning about court reporting and captioning.
"[I] vet questions from working reporters on scenarios that I know I will one day face myself," said Katherine Schilling, a court reporting student at West Valley College in Saratoga, Calif. "I like to think that I can avoid making some mistakes when I start working by learning from those who have already gone through it."
There are so many benefits of using social media, but the key is being cautious with profiles and posts. Keep the "Ps" in mind:
Pause before you post
Sometimes, simply taking a few seconds to reconsider a post is enough to maintain a professional appearance. "Assume anything and everything will be seen by anyone and everyone," said Bonfilio. "If you wouldn't say or do it in front of your grandmother, employer, child, police officer, or competitor, then don't post it online. Once it's out there, you can't take it back."
A few moments of reflection is especially important for students who are making connections with potential employers. "Put [yourself] in the employers' shoes before commenting, liking, or sharing on social media," said Natalie Kijurna, coordinator of graduate and employer relations at College of Court Reporting in Hobart, Ind. "Would you hire someone who liked the comment, 'The last 12 minutes in the restroom were the most productive part of my work day'? Probably not."
Students who are interested in captioning, especially, should consider the accessibility of their content. "I think it's a huge disrespect to clients to post and retweet videos and media without captions," said Mirabai Knight, RDR, CRR, CRC, a CART captioner from New York, N.Y.
Proofread
Despite the popularity of text-speak online, court reporters and captioners should make sure to use more proper English in their posts.
"I know of individuals that were not given jobs based solely off of their punctuation and grammar online," said Benoit. "As petty as that may sound, would we hire a scopist or proofreader that didn't have good punctuation or grammar? No."
Positivity
It's obvious from any comments section online – people can be unkind on the Internet. "It still astounds me when I see inappropriate or just nasty posts online," said Schilling. "Some students think that the screen protects them from the consequences of their actions online, which will only result in a rude awakening down the line."
However, part of being a professional involves responding to others politely and compassionately. "A lot of people ask for help and people criticize them for that," said Angie Starbuck, RDR, CRR, CRC, a freelancer reporter in Columbus, Ohio. "We should help them out, not tear them down." After all, everyone needs help sometime — a student who has already presented themselves as a professional will more likely be treated as one by others.
Provocativeness
Even though many profiles are created for personal reasons, developing a more professional profile often means avoiding certain kinds of content. "Students should stay away from negative commentary about current or former employers, politics, religion, or anything that could potentially reflect poorly on your character," Kijurna said.
Each professional will need to determine where they draw the line on provocative content based on their priorities, comfort level, or even their position. Yates, for example, was careful with the type of language she would permit on her page not just from herself but from her contacts. "When I was on NCRA's board, I didn't permit anything with profanity on my Facebook page," Yates said. Yates was also concerned about being too associated with extreme religious or political views while she was such a public figure within the association. "I unfriended some family members and friends who posted very religious or political content. I would not permit anyone to tag me in a photo unless I could see it and okay it first."
Be aware of the message your pictures send as well. "Pictures say 1,000 words and can be someone's first impression," Starbuck said. "Unfortunately, it's hard to recover from a bad first impression."
Permanency
It is possible that posts from one, two, five, or ten years ago are still accessible online. Review old content to make sure potential employers will not come across anything embarrassing. "Whether you're looking for a job now or two years from now, you never know who's going to come across it," Starbuck said.
"Don't get caught thinking you can permanently delete a post," Rodriquez said. It is possible that the post had been captured in a screenshot prior to the user deleting it.
Privacy is an illusion
Facebook has a variety of privacy settings, and it is a good idea to learn how to use them, but nothing on social media is truly private.
"Remember, when you post something, even though you are posting it for your [online] friends' viewing, it is entirely possible that your audience is much wider than you anticipated," said Bonfilio.
Rodriquez adds that this is true even in closed, private groups. Anyone in the group can see posts or can screenshot a post and share it with an outside audience. Knight also points out that groups that are primarily for court reporters or captioners may have a wider membership. "I know a lot of deaf and hard of hearing people will join closed groups because they want to follow the profession," said Knight.
Plurality
Some people may find that the easiest solution is keeping personal and professional lives separate. "Consider setting up a separate identity that is strictly for work-related interactions, and carefully segregate your personal online presence," Yates said.
Bonfilio agrees. "It's a good idea to have one account that's just for business (or just for personal stuff)," she said. "If you do mix the two, take the time to configure the security settings so your personal posts are only seen by your family and friends."
Probe into the past
It's a good idea for student to audit their online presence a couple times of year by conducting a Google search of themselves (especially when done from a computer they don't use). This allows students to know what's out there with their name on it and take steps to remove or hide unwanted content when possible.
"This semester, I started to fill my YouTube channel with video tutorials on Eclipse features for students," Schilling said. "I'd forgotten about a video I'd made years ago that was unrelated … and didn't show me in the best light." Schilling has since been more conscious of her online content.
Personality
"You can't take yourself too flippantly online. Even if you create something intended for one audience, you can't always control who will see it," said Schilling. However, despite the fact that it might seem like there are a lot of rules to follow, remember to have fun and show a little personality behind that professional demeanor.
"There's a fine line between being professional and a corporate shell," Knight said. "You're not going to build lasting relationships if you're only thinking about driving business."
April Weiner is the Foundation Assistant for the National Court Reporters Foundation. She can be reached at aweiner@ncra.org.
What is NCRF's Corrinne Clark Professionalism Institute?
In 2015, the National Court Reporters Foundation established the Corrinne Clark Professionalism Institute, which is dedicated to aiding the education of court reporting students and new professionals about professionalism, branding, and building a successful career. Named for the late Corrinne Clark — wife of the late Robert H. Clark, NCRA's longest tenured librarian-historian — the Institute was made possible by a generous donation contributed by Donna Hamer, Santa Paula, Calif., Robert's cousin. In addition, Hamer also made a generous donation to the Foundation to support a scholarship in honor of Robert. The scholarship will be awarded in the amount of $1,800 annually through 2019 to an eligible court reporting student. The first scholarship was awarded by NCRF in October 2015.