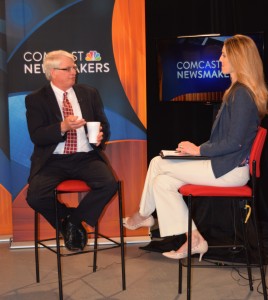 NCRA's CEO and Executive Director, Mike Nelson, CAE, was interviewed last month for a segment of Comcast Newsmakers, a program that provides news and information from elected officials, public servants, and community leaders to connect viewers to important issues, events, and organizations that impact the community.
Nelson provided host Elena Russo information about NCRA's members, their role in capturing the official record and providing other services to aid people who are deaf and hard of hearing, and the use of legal videography in the legal arena.
In addition, Nelson discussed the profession's flexibility, salary potential, and positive employment outlook as well as the Association's efforts to recruit more students into court reporting programs.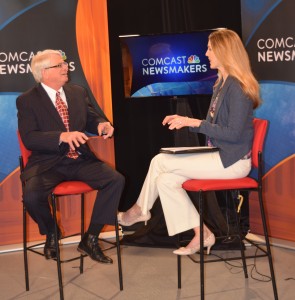 After the interview, Russo continued her conversation with Nelson and asked him questions about the court reporting and captioning professions, such as how steno works, the skills needed to ensure success in the field, and more about the nonlegal venues where NCRA members work. Nelson also noted NCRA's members' involvement in the National Court Reporter Foundation's Oral Histories Program and the Library of Congress Veterans History Project.
The Comcast Newsmakers segments are hosted on ComcastNewsmakers.com for up to two months, with select interviews appearing on Comcast's XFINITY On Demand service. The segments can also be viewed via desktop or mobile browser and can be shared through Facebook and Twitter.
View Mike Nelson's interview here.