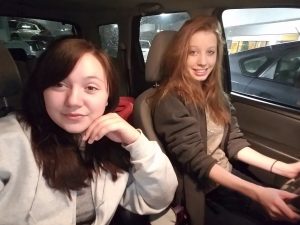 Court reporting students are much like the professionals in the business they are destined to enter: determined, hardworking, dedicated, and devoted. As with any profession, it can often be a long hard ride to the big time. But in the case of Kaitlyn Spurgeon and Rachel Otto, students at MacCormac College of Court Reporting in Chicago, Ill., the ride each day maybe long, but the support they have for each other in conquering school isn't very hard to come by.
Spurgeon, a resident of Antioch, Ill., and Otto, a resident of Genoa City, Wis., live about 15 miles apart, and each school day they spend up to two hours a day together commuting each way to MacCormac. Up-to-Speed reached out to them to find out what keeps them motivated and on course in regards to their studies, and why they make the long trek they do several days a week.
Do you find you motivate each other during your commute?
KS — We definitely do motivate each other during the commute. After a long day of work, we do get tired and the drive is difficult, but we try to keep a conversation going to keep us awake and if all else fails, I have my iPod with more than a thousand songs to keep us entertained. We also have a game to try to find license plates from all 50 states.
RO — Kaitlyn and I definitely motivate each other throughout the commute. We will talk about our class and the difficulties we are having, and we also distract each other by playing games.
Some people might think that choosing an online program would be better than committing to a four-hour daily commute to attend brick-and-mortar classes. What would you say to that thinking?
KS — Well, I've come to understand that court reporting isn't an easy skill to learn right away, and I was told by current court reporters that having an actual in-person class would be better for this skill than trying to learn it on my own through an online class.
RO — I like the idea of an online class just because I live on a farm and I am very busy here, but I also really love the school, and I learn best by being there physically and actually being able to see the teacher and ask questions. I think it is a better option for me at the moment.
What time do you leave for school each day and what time do you start your trip home?
KS — We leave for school after work at around 3  p.m. and arrive at school between 5 and 5:30 p.m. We leave school around 8 p.m. and get home between 9:30 and 10:30 p.m., as the traffic home can get pretty bad.
What is the most frustrating factor, besides the length, of your commute?
KS — I think one big downside of the commute isn't the frustrating part; it's the downright scary parts. You hear a lot about really bad car accidents, drunk drivers, and now there's even people shooting each other on the highway. We go pretty fast on the highway along with everyone else, and we've both seen how careless a lot of people are when they drive.
How do you make up practice time given that you are on the road so long each day?
KS — I squeeze practice time between my two jobs and school whenever I can. There's not much room for relaxation time in my world right now, but I'm totally okay with that. I love keeping busy, so whenever I have a chance to sit down, I have a steno machine in front of me.
RO — Practice time is at night. I stay up pretty late, until around 1 a.m., just to get practice in and then go to work at 6 a.m. Practice is very important, and we need time for it. Sleep is for later.
Do your classmates support your dedication to your program?
KS — To be totally honest, almost all of our other classmates have already given up on court reporting and stopped showing up. So Rachael is my only classmate. But yes, she is very supportive, and so is my teacher.
RO — My classroom is just three people including Kaitlyn. They support it and think it is crazy that we drive all the way over there for school.
How far along are you in your court reporting education?
KS — We are just about to wrap up our first semester, and I personally love it. Time really does fly when you're having fun, and shorthand has been such a blast to learn and use so far.
RO — I am in the first class: Machine Shorthand Theory 1. I am just starting school for court reporting.
What area of the profession do you hope to enter upon graduation: official, freelancer, or CART or broadcast captioner?
KS — Honestly, I'm hoping to dabble in anything I can. I definitely want to be in a courtroom and a lawyer's office for a while, but I would also love to be a captioner. I think I'll switch it up every few years.
RO — I am thinking of becoming an official.
What attracted you to a career in court reporting?
KS — Rachael's aunt has been a court reporter for more than 20 years, and she let us come to her office to see what she does. She pulled out the machine and started typing everything Rachael was saying, and as I watched, I fell in love. It was one of the coolest things I've ever seen, and right then and there I knew I wanted to learn that skill. Just like some people see someone play and guitar and think, "I want to be like that;" that was me.
RO — My two aunts have been court reporters for more than 28 years, and they absolutely love it. My one aunt kept pushing me to try it out and see if I like it or not. She helped me find a school and went with me to get check out MacCormac.
What would you say to encourage others thinking about entering the field?
KS — It definitely takes a lot of dedication and time, but once you start getting the hang of it, it's all you think about. Or maybe I'm just crazy. Court reporting is definitely worth it.
RO — I definitely encourage others to practice, practice, practice! Ask any questions you have if you don't understand anything. Always go to class; missing one thing for learning the keyboard or anything is very bad and will possible set you back.
Do you know a student or students who should be in the spotlight? Let us know. Students in the spotlight must currently attend an NCRA-approved court reporting program.