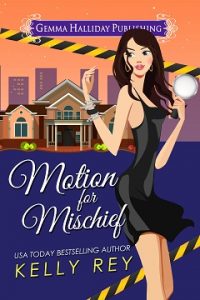 Jamie Winters, amateur sleuth, is at it again in Motion for Mischief, the recent installment of mystery novels authored by Kelly Nasuti, RMR, CRR, CRC. The latest installment, released Feb. 15, marks the fourth mystery by Nasuti, a full-time captioner who writes under the pen name Kelly Rey. The novel is published by Gemma Halliday Publishing.
In Motion for Mischief, Winters — a legal secretary at the personal-injury law firm of Parker, Dennis and sometimes-sleuth — thought she'd seen it all. Then, Oxnard Thorpe, the Adult Diaper King of New Jersey and one of her firm's most important clients, is found dead in the swimming pool of his sprawling mansion on his wedding night. Thorpe's bride gives Winters the green light to find the killer.
Suspects include a faded society maven, a bridesmaid for hire, a harried housekeeper, Oxnard's embittered twin siblings, a surly wedding planner, the groom's sketchy colleague, and even the not-so-blushing bride.
"It's another installment in the misadventures of legal secretary and part-time highly unskilled detective Jamie and her unbridled teenaged sidekick, Maizy," said Nasuti. "It's my hope that these books are as fun to read as they are to write."
Motion for Murder, Nasuti's first mystery novel released in 2014, introduced readers to Winters in a story laced with humor, wit, a dose of romance, and a murder. In Nasuti's second novel, Motion for Malice, released in 2015, Winters solved the murder of Dorcas Beeber, a psychic medium who was found dead from an apparent blow to the head by her own crystal ball. Motion for Madness, the third novel in the series has Winters tracking down clues to solve another murder mystery when Kay Culverson, a low-budget cable talk show host, is found dead in her office.
Nasuti, who recent became an official USA Today bestselling author, said she has no set number of books she plans to write in the series but plans to keep on writing as long as people are reading them.
"Along with the Jamie Winters series, I've also been incredibly fortunate to engage in co-authoring a new series, the Marty Hudson mysteries, with New York Times bestselling author Gemma Halliday. Presently I'm working on Motion for Menace, but I don't have release date info or cover art yet," she added
Nasuti, who has been a court reporter since 1989, operated as Regional Reporting Inc. until 2005 when she joined VITAC. Nasuti is also a member of Sisters in Crime, a group that promotes the ongoing advancement, recognition, and professional development of women crime writers.
All of Nasuti's books are available in e-book format for Amazon Kindle, Barnes & Noble Nook, iBooks, Kobo, and Smashwords. They are also available in paperback at Amazon.com, Createspace.com, and other online retailers.