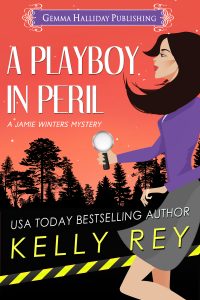 Jamie Winters, a legal secretary and amateur sleuth, is at it again in A Playboy in Peril, the recent installment of mystery novels authored by NCRA member Kelly Nasuti, RMR, CRR, CRC. The latest installment, released Feb. 20, marks the fifth mystery by Nasuti, a full-time captioner who writes under the pen name Kelly Rey. The novel is published by Gemma Halliday Publishing.
In A Playboy in Peril, Jamie Winters has never heard of Virtual Waste, a local New Jersey Pinelands area band, until their drummer is murdered backstage at a show and Jamie's teenaged sidekick, Maizy, sees the killer. While Jamie's landlord Curt fills in with the band, Jamie and Maizy must deal with the victim's disgruntled bandmates, discarded groupies, an ex-Marine bouncer, an unhinged Einstein look-alike, an emotionally overwrought agent, an ill-tempered giant, and even the Jersey Devil, as they track down the killer before Maizy becomes the next victim.
"I've written stories since I could write," Nasuti said about what keeps her motivated. "Writing has always been a constant for me, a source of both absolute joy and teeth-gnashing frustration at various times. At this point, writing about Jamie and Maizy and company is like revisiting old eccentric friends. And while I have other projects lined up, I'm really fortunate to be able to keep dipping into their lives and relating their latest adventure."
Motion for Murder, Nasuti's first mystery novel released in 2014, introduced readers to Jamie in a story laced with humor, wit, a dose of romance, and a murder. In Nasuti's second novel, Motion for Malice, Jamie solves the murder of Dorcas Beeber, a psychic medium who was found dead from an apparent blow to the head by her own crystal ball. Jamie tracks down clues to solve the murder of Kay Culverson, a low-budget cable talk show host who is found dead in her office in Motion for Madness, the third novel in the series. In Motion for Mischief, Nasuti's fourth novel, Jamie solves the murder of Oxnard Thorpe, the Adult Diaper King of New Jersey and one of her firm's most important clients, after he is found dead in the swimming pool of his sprawling mansion on his wedding night.
Nasuti, who is an official USA Today bestselling author, said she has no set number of books she plans to write in the series but plans to keep on writing as long as people are reading them. Along with the Jamie Winters series, she's also been co-authoring the Marty Hudson mysteries with New York Times bestselling author Gemma Halliday. The second Marty Hudson mystery, Sherlock Holmes and the Disappearing Diva, will be out in late 2018.
Nasuti, who has been a court reporter since 1989, operated as Regional Reporting Inc. until 2005 when she joined VITAC. Nasuti is also a member of Sisters in Crime, a group that promotes the ongoing advancement, recognition, and professional development of women crime writers.
All of Nasuti's books are available in e-book format for Amazon Kindle, Barnes & Noble Nook, iBooks, Kobo, and Smashwords. They are also available in paperback at Amazon.com, CreateSpace.com, and other online retailers.