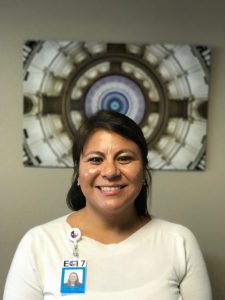 Official Court Reporter, 416th District Court
Currently resides in: Van Alstyne, Texas
Member since: 2013
Graduated from: Court Reporting Institute of Dallas
Theory: Sten-Ed
Favorite brief: I love using Brief It in CaseCatalyst! Use what makes sense to you. If it doesn't make sense and makes you hesitate, don't use it.
JCR | Why did you decide to enter this profession?
MOSES | I always loved the legal field but did not want to be a lawyer. I Googled six-figure salaries in the legal field, and court reporting popped up. I went and visited Court Reporting Institute of Dallas and just knew this was what I was supposed to do!
JCR | What has been your best work experience so far?
MOSES | Since becoming an official court reporter this year, working with the same wonderful staff day in and day out and creating the kind of courtroom environment we want has been the best experience.
JCR | What was your biggest hurdle?
MOSES | My biggest hurdle was learning to communicate with attorneys and court reporting firms and admitting sometimes I couldn't get the work out on the time line they requested. Communication is key. Always being honest with yourself and others about your workload and time lines is key to being successful.
JCR | What surprised you about your career, and why?
MOSES | I am the most surprised at how blessed I am to have found a career that I enjoy so much and can support my family with. I know I am one of the lucky ones!
JCR | What do you consider your greatest professional accomplishment?
MOSES | I don't think I've had it yet. I still need to earn my RMR, CRR, and RDR!