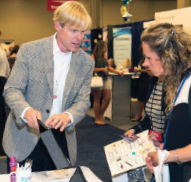 Dozens of vendors will showcase the latest in new products and services specifically for the court reporting and captioning professions at the 2018 NCRA Convention & Expo, Aug. 2-5 in New Orleans, La., at the Hyatt Regency New Orleans. Vendors will offer products that include software, equipment, support services, new products, and more.
Below is a complete list of the 2018 exhibitors.
Advanced Depositions
Advantage Software
Alpha Innovation
College of Court Reporting
eCourt Reporters
Elite Reporting Services of Tennessee
Emerald's Gifts of Distinction
Epiq Court Reporting
Ergoprise
Esquire Deposition Solutions
Expedite
Expert Depos
Firstlease
Henderson Legal Services
Infinite Beauty
Injury Care Solutions
IST Management Services
K & V Designs
LitUp Legal LLC
Louisiana Court Reporters Association
Mercer
NCRA PAC
National Court Reporters Foundation
Nexdep
Padcaster
Pengad
PohlmanUSA
ProCAT
Protranslating
Realtime Coach
Remote Counsel
RepAgencyWorks
Ruby Ribbon
Russian Blue Diamonds
Statim Corp.
Stenograph
Stenovations
StenoWorks
StreamText
Thomson Reuters
TransPerfect
S. Digital Media
S. Legal Support
Veritext
Wide Awake Business
To learn more about each of the 2018 NCRA Convention & Expo exhibitors, visit NCRA/exhibitors.org.
Other Learning Zones that will offer attendees added opportunities to mingle and network. Throughout the Convention, attendees can earn up to 2.3 CEUs.
Online registration closes July 23 for NCRA's Convention & Expo. Onsite registration fees will be $100 higher. For more information about the 2018 NCRA Annual Convention & Expo, or to register online, visit NCRA.org/Convention.