by Celeste Poppe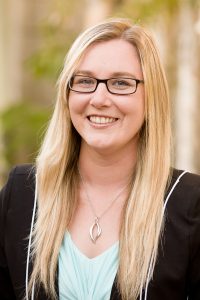 I started taking the legs of the RPR in November, 2016 and achieved my RPR in April, 2017. I started with the hardest leg first and worked my way down: 225 Testimony, followed by the 200 Jury Charge, then the 180 Literary, and finally the WKT, passing each leg on my first attempt. During this time period, I also took the California CSR, which is 200 wpm, four-voice. Taking some of the legs of the RPR before taking my state CSR was hands down the best decision I made in my testing journey for two reasons. One, I passed the 225 Testimony and the 200 Jury Charge legs before going into the January California CSR, which really boosted my confidence. I remember thinking during the test, "If I can pass a 225, I can pass this." Two, it helped my nerves because then my state exam was "just another test."
While practicing for my tests, I only used one method, which was created by my dear friend (and "big sister") Monyeen Black, Past President of the Deposition Reporters Association of California. We call it Mo's Speedbuilding Method, MSBM for short.
All you need is Windows Media Player and a desire to reach 200 wpm. Here's how it works:
In Windows Media Player, you are going to adjust the play speed settings. When you open Windows Media Player, right click anywhere in the box, select "Enhancements," then click "Play Speed Settings." Adjust the play speed setting to 0.9 to make it 180 wpm.
Write the dictation for one minute. Analyze your steno for any briefs you might want to create or have but maybe have forgotten. Write those down in your notebook and work on those during each take.
Go back into "Play Speed Settings" and adjust the setting back to 1.0, making it a 200 wpm. Write that SAME 1-minute take again, only now at 200 wpm.
Now adjust the speed setting to 1.1 (220 wpm), write; adjust to 1.2 (240 wpm), write; adjust to 1.3 (260 wpm), write; adjust back down to 1.1 (220 wpm) and try to NAIL IT! You want to nail a 220 wpm if your goal speed is 200 wpm.
When you are going 240 and 260, drop the punctuation, write slop, and just get something down for everything.
To recap: Take EACH 1-minute increment of a five-minute dictation at 180, 200, 220, 240, 260, and 280. Once you have finished this five times, then do the entire five minutes at 220, a notch above your goal speed. Doing this entire method only takes 35 minutes to complete. The best part about this method is that you can do it with any five-minute dictation and be at any speed in school.
So there you have it! That's how I passed the RPR. I wholeheartedly believe that this method is so beneficial to building speed and overall improving your writing. Now get out there and go pass some tests!
Celeste attended Bryan University online, and graduated in October, 2016. She received her RPR in April, 2017 and her California CSR in March, 2017. She is currently working for the Los Angeles Superior Court as a floater.