By Jessica Wills
Jessica Wills, a student at the College of Court Reporting in Valparaiso, Ind., volunteered to boost her school's recruiting efforts by putting on a realtime demonstration at a local high school career fair. She was nervous at first, especially when she found out her realtime was being projected on a large screen. But she soon won over her audience with her speed and accuracy.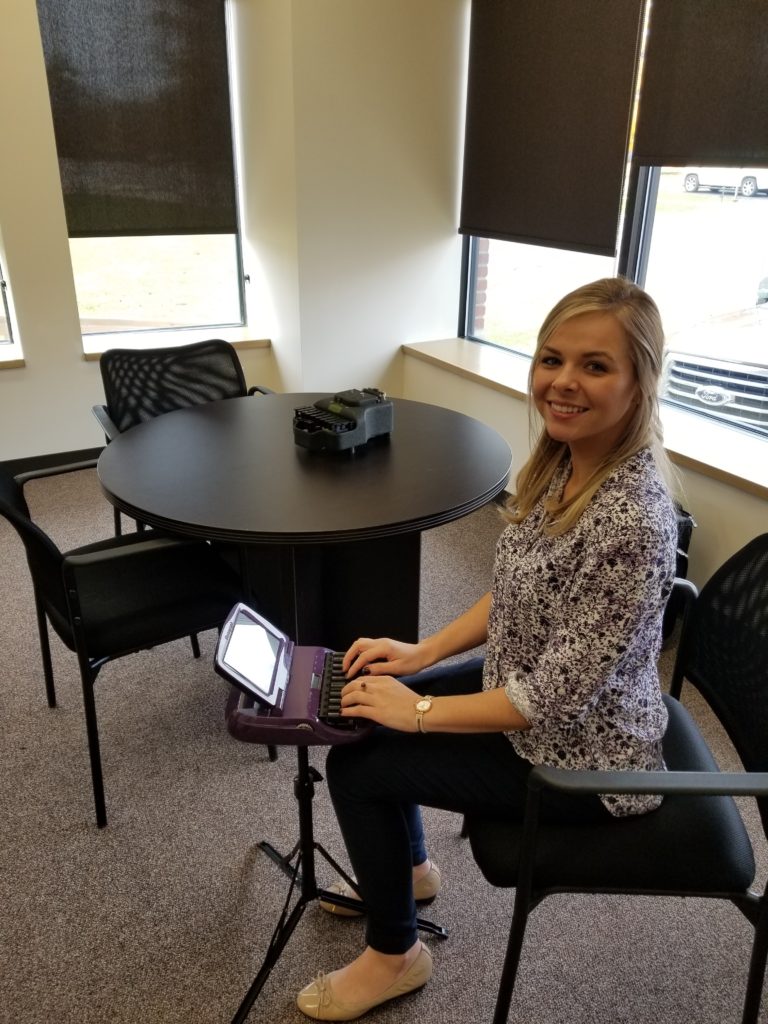 I attended Wheeler High School's career fair on behalf of my school, College of Court Reporting (CCR) in Valparaiso, Ind. I wanted to help promote the profession and help students get a better understanding of what court reporters do. Upon agreeing to speak at the career fair, I thought I would set up a booth and provide information to the high schoolers about court reporting and, of course, bring my machine along to show them what it looks like. Little did I know that I would be providing realtime while Nicky Rodriquez, the Director of Admissions for CCR, did all the talking!
As a student, I have never had the need to have my CAT software enlarged on a projector to show my realtime. I don't think I have ever been so nervous! However, Nicky assured me it would be just fine, and that translation and realtime capability is part of what interests students so much and will hopefully draw them in to wanting to learn more about the profession.
While Nicky explained the role of a court reporter, I wrote every word she said while the realtime came up on the overhead board. I found that although my notes weren't perfect, the students hardly knew because they were so fascinated by the skill and how steno woks. I explained to them that I can typically read my misstrokes and correct them, or I can define them in my dictionary so that they will come up correct next time.
With each round of students, I began to feel a little more comfortable. To impress them even more, we had a competition by having them pull out their cell phones and write along with me to a 120 wpm dictation. At the end, I read my notes back, which were clean and exact, while they found they dropped whole sentences! They were amazed by how accurately I recorded each word. I think I did a good job of demonstrating how accurate and efficient court reporters are in capturing verbatim dialogue.
Although I knew that writing realtime would not be easy, I managed to get over my nerves and present a clean realtime feed. I told the students that I take pride in this profession because it's a unique career and a challenging skill. I truly love explaining to others how shorthand works and what I will be doing for my career. I am proud to say that I've worked hard to be where I am today and will always look to better my writing and improve my skills as a reporter. Through court reporting school, I gained a feeling of self-accomplishment, and I look forward to achieving even more throughout this journey.
Jessica Wills is a student at the College of Court Reporting in Valparaiso, Ind.