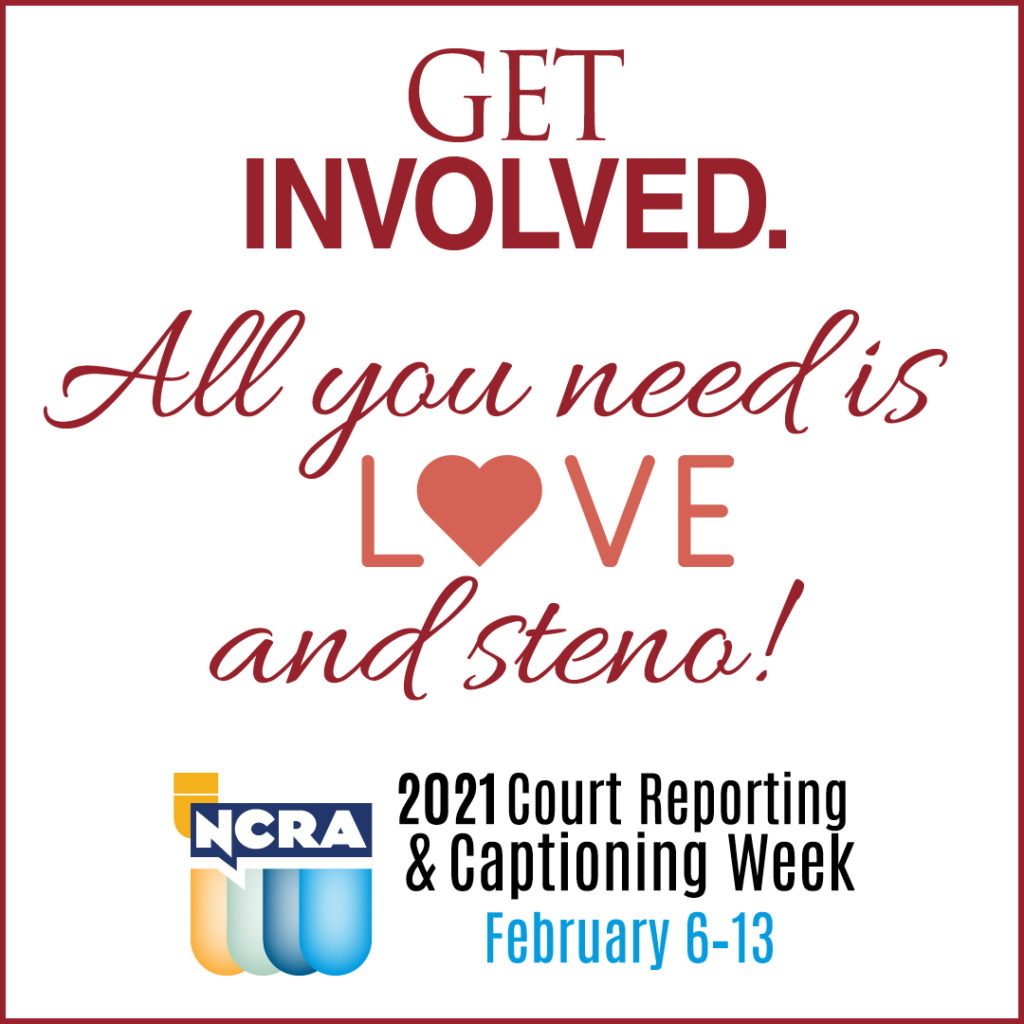 NCRA's 2021 Court Reporting & Captioning Week, observed Feb. 6-13 by members, state associations, and schools, embraced this year's theme All you need is love and steno. From virtual gatherings to social media to contests to media outreach and more, the love for the profession was spread nationwide.
At the national level, U.S. Rep. Ron Kind of Wisconsin recognized the week with the submission of an official proclamation that was recorded in the Congressional Record on Feb. 8, while U.S. Rep. Rodney Davis of Illinois recognized the week on Feb. 11.
This year, the following states also secured official proclamations:
Alabama
Colorado
Florida
Kentucky
North Carolina
South Carolina
Vermont
Virginia
Wisconsin
These states were entered into a drawing to win a free registration to NCRA's 2021 Conference & Expo happening July 29-Aug. 1 in Las Vegas, Nev. And the winner is Virginia!
States also actively promoted the week among their members and hosted a variety of online sessions, events, and more to help celebrate.
The Florida Court Reporters Association took advantage of the week to help recognize up-and-coming members by distributing videos of them via emails to its membership sharing why they entered the profession and why they love what they do.
Read more about what other state associations did to celebrate.
Court reporting students played a huge role in celebrating 2021 Court Reporting & Captioning Week. In addition to a number of activities to observe the week reported by court reporting schools across the country, a major highlight of the week were three Students Love Steno Nights Zoom sessions hosted by the NCRA Student/Teacher Committee.
The events engaged more than 350 court reporting students, NCRA leaders and directors, teachers, seasoned professionals, new professionals, and more. The sessions included a Q & A with a panel of seasoned professionals, a fun-filled discussion that focused on bloopers and successes, and a special Court Reporter "LOVE" Karaoke Night where participants practiced writing to love songs.
Here's what some of the attendees had to say:
"Christine (Phipps, NCRA President), thank you so much for those words! I do get really nervous with my grades. I even cried tonight and told my husband 'No one is going to want a court reporter like me who doesn't get the highest possible GPA' and he looked at me and said, 'They will want you because you work hard, and you have the ability to do the job.' And you affirming that was gold for me." Emily Steele.
"Going to school for court reporting is the most challenging thing I've done in my life so far. Other students can probably relate, especially having to do it all online now. It's super hard, but I know it's gonna be worth it in the end." Rhianna Yocum.
"I absolutely LOVE looking at the panelists and realizing MANY of them are practicing right now. I'm with y'all, ladies! I can't keep up, but I'm trying my best!" Kristi Garrett.
"This has been such a great experience. We are so lucky to be able to be a part of this." Loretta Berrigan.
"This has been the BEST (by far) student Zoom that I've ever attended; so many great reporters with so much great experience. Thank you all for being so open and honest and bringing so much to the table!" Candice Kielion-Radam.
And finally, from Tygerr Recchia to Margary Rogers, RPR, CRI, an official court reporter from Washington, D.C., and a member of the Student/Teacher Committee. who was influential in setting up the student Zoom sessions:
"I just want to thank you for the fantastic week you put together. You inspired me with your energy and your enthusiasm. I learned so much and was able to connect with several captioners, which was amazing…I have only wanted to be a captioner since I entered the program, so thank you for allowing me to connect with so many beautiful people who lit up my life!!! You truly are a rock star!"
Read more about how 2021 Court Reporting & Captioning Week was celebrated.
We are still collecting stories about how members, states, and schools marked this year's event. Send your information and photos to NCRA's Communications Team at pr@ncra.org.
And don't forget, just because the week is over, there are still plenty of resources located at the Court Reporting & Captioning Week resource page that can be adapted for use to promote the court reporting and captioning professions year-round. In the meantime, mark your calendars and make plans to celebrate 2022 Court Reporting & Captioning Week scheduled for Feb. 5-12.