The JCR provides newsworthy information on reporter-related products and technologies. This column is for readers to use in their research; neither NCRA nor the JCR endorse or critically review these products and services in any way. Statements of fact or opinion are the author's unless they are specifically identified as NCRA policy.
Drumroll, please … USB! But it's not your ordinary USB: SanDisk has released its "SanDisk Connect Wireless Flash Drive." Here are a few of its features:
Wirelessly store, share, and stream movies, photos, music, and documents across your smartphones, tablets, and computers.
Simultaneously connect and access data stored on up to eight devices via Wi-Fi.
Works for up to four hours of video streaming on a single charge.
Use a free app (compatible with iOS 5.0 or later, Android 2.3 or later, and Kindle devices) to connect without an Internet connection, cables, or router; works on all Wi-Fi enabled devices.
Access also available through an Internet browser, compatible with all Wi-Fi enabled devices.
Charge and access with USB 2.0 connection interface or higher.
Uses optional Wi-Fi password protection and 128-bit AES encryption.
16GB $49.99
32GB $59.99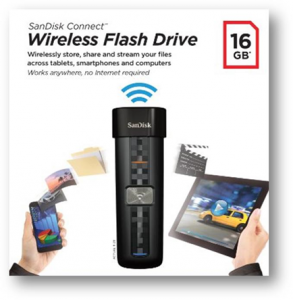 Christine Phipps, RPR, is an agency owner in West Palm Beach, Fla., and a member of NCRA's Technology Review Committee.