In the fall of 2015, Suzanne Rafferty and Kristina Carmody, court reporting students at the Cuyahoga Community College (Tri-C), Cuyahoga, Ohio, co-founded a Court Reporting and Captioning Club with a mission to connect fellow students, support the profession, and help increase awareness about court reporting and captioning as viable career choices. Since the club's launch, members have worked tirelessly to meet those goals. Recently, the club hosted its second Write-a-thon, a fundraising effort to raise monies to support court reporting students. In a recent interview, Rafferty, on track to graduate in 2017 and planning a career path in captioning work, talked about Tri-C's Court Reporting and Captioning Club and the success it has had.
How long has the Captioning and Court Reporting Club been in existence?
Since 2015. We are the first club to include both online students and on-campus students. We have had students from Illinois and Pennsylvania travel to the campus to participate in person and connect with their fellow club members, too.
What is a Write-a-thon exactly?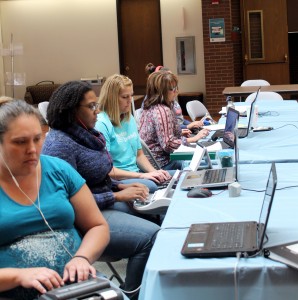 Club members that signed up for the Write-a-thon were asked to obtain sponsors that would give money based on the number of hours the student would be writing. For example, I would get $10 for every hour I would write for the four-hour period. If I wrote for the entire time, I would collect $40 from the sponsor. We had a 10-minute break at the end of each hour. Sponsors were also able to donate a flat donation if desired. This year we did ask that everyone reach out to professionals as well as family and friends for sponsorship. All funds raised by the club are then matched by the college as well.
This is the club's second Write-a-thon. How did the idea get started?
The idea came up at the beginning of last year when the officers and club advisors had a meeting and started brainstorming about what we could do to raise money for the club. It was a great way to earn money and bring exposure to the captioning and court reporting department.
Are there other aspects to the Write-a-thon event that help generate funds?
Our bake sale generated $370 this year, which is $100 more than what we generated last year. The bake sale runs concurrently with the Write-a-thon.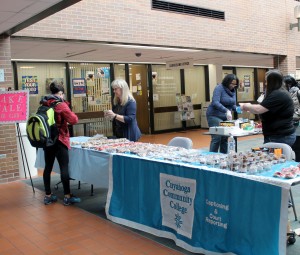 Do students from other departments in the school support your events?
Yes, other students support our events by purchasing bake sale goods at the bake sale table. It was held in the main concourse of our school.
What are the funds being raised for?
We are raising funds to go toward student memberships in state and national organizations, as well as helping cut the costs of required software and to attend court reporting conferences or conventions.
What other types of activities does the club partake in or sponsor?
Last year we had then-NCRA President Steve Zinone come out to talk to the group during Court Reporting & Captioning week. We had a CART provider do a webinar and talk to the students about what her job was like. We also had an adjunct psychology faculty member from Tri-C, Dr. Michelle Nicopolis, PCC, NCC, present a workshop about testing anxiety and lead the group through a guided imagery session. This month, we also collected socks to be donated to a shelter in conjunction with the counseling department.