By Brianna Uhlman
The NCRA Convention & Expo is like the Shangri-la of court reporting. The things you learn, the relationships you build, and the experiences you take with you are irreplaceable. You leave motivated to finish school and determined to make the most out of your time in this profession.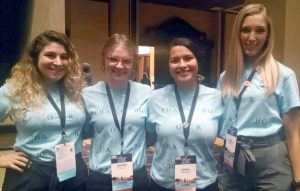 The Expo Hall at the NCRA Convention is truly a magical place. Even as a student, the exhibitors are so willing and eager to talk to you and show you all that is new in the world of court reporting. In the Expo Hall, you can learn so much about the newest technology, whether it's machines, updates in software, etc. You get to test out different machines from all different vendors. You have the opportunity to learn about several different companies that are involved in the court reporting world. You have the opportunity to talk face-to-face with some of the business owners and representatives who you will be working with for the rest of your career. And you can win so much free stuff!
Getting the chance to mingle with some of the top reporters around the country and the globe is such an invaluable experience. Talking with members of the Board, speed contest champions, and the like is extremely motivational. For me personally, I come from a small town with small dreams and not a lot of opportunity. When first enrolling in court reporting school and joining the court reporting community, I had no idea where this career could take me. But at events like the NCRA Convention, you get to know these amazing and successful people who may have come from a situation similar to yours. But because of this profession and all of the opportunity and their personal hard work and dedication, they have taken themselves so far. It makes you dream bigger and work harder for those dreams. It shows you that no matter your background or your current standing, there is no limit to where this profession can take you. If you work hard, stay motivated, and keep pushing yourself to get through school, you can have a very successful and fulfilling career.
Having the opportunity to talk to other students from all over the country is so encouraging. It really makes you realize that you are not alone in the struggles of court reporting school. There is a whole community of students who are having difficulty with speeds, getting stuck in similar areas, and experiencing the same discouragements you are experiencing. But being able to discuss these experiences and learn about other people's techniques and tricks is so helpful. They are there to encourage you to keep going. Seeing the resilient spirit of other students is inspiring. Experiencing the genuine care and comradery from other students creates such an honest atmosphere of support and sincerity. It truly is a community of people that want to see you succeed in this profession, and that is just not something you see very often.
I am so thankful for the court reporting community. And I am so thankful for the NCRA Convention & Expo that creates the opportunity for this community to come together and create positive, long-lasting impacts on its members and their profession.
Brianna Uhlman is a student at MacCormac College in Chicago, Ill. She can be reached at brianna.uhlman@gmail.com.
Read "Highlights from the 2017 NCRA Convention & Expo: A student's experience" by MacCormac student Ariel Kraut.
Read all the news from the 2017 NCRA Convention & Expo.