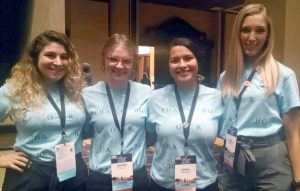 By Ariel Kraut
I am very appreciative for the time I got to spend at the 2017 NCRA Convention & Expo in Las Vegas. What a fun and vibrant location for court reporters to come together and connect as a community!
On our first day, we visited the Expo Hall and got to explore many innovations in reporting technology. Things that I never even thought of, like ergonomic machines, different types of travel bags, all kinds of software, and much more, were on display. We got some great swag and were able to connect with vendors from all types of companies related to the field. I loved the neon light-up writer!
It was amazing to see all of the different types of new technology associated with the Stenograph machines knowing that I will soon be purchasing my own when I finish school. I really enjoyed watching a demonstration involving the audio-recording capabilities of the Luminex writer. Not only can you direct it to go back to the last question you asked in a testimony dictation, but the audio-sync feature allows you to listen to the actual dictation in addition to seeing the question on your screen. If only I had that available during tests!
My favorite part of the Convention was the being able to speak with reporters from all different fields. It was exciting to have so many people come up to us, knowing that we were students, and introduce themselves. All of the pros were so warm and welcoming to us. People from all over the country were so happy to see us students and had nothing but the most encouraging things to say. I even spoke with the President of NCRA multiple times and felt great about it. It was inspiring to see that many of the people we spoke with actually won awards for the Speed and Realtime Contests and were honored during the luncheon.
An especially good time for networking was in the "Steno Speed Dating" part of the first day of the student track. We got to sit with very successful reporters, including speed contest winners, realtime writers, captioners, and even a court reporter who worked in the House of Representatives. It is inspiring to see the places that this career can take you if you apply yourself. I also appreciated hearing about these professionals' school experiences and what the biggest struggles were for each of them. I got some practice tips and some great advice as to how I can clean up my notes and build my speed at the same time.
Another very beneficial session was "Business of Being a Court Reporter." There, we got to see a mock deposition take place with a panel of professional reporters pausing to explain certain parts of the process. They would also tell us what they would do if something unusual would happen and frequent issues that may come up on the job.
I am very thankful that I was able to attend this Convention as I found it reinvigorating for me as a student. School can be stressful sometimes, but seeing all of these successful women and men in the field made me feel like I was on the right track and I have a great life to look forward to in this field.
Ariel Kraut is a student at MacCormac College in Chicago, Ill. She can be reached at akraut@maccormac.edu.
Read "Finding court reporters' paradise" by MacCormac student Brianna Uhlman.
Read all the news from the 2017 NCRA Convention & Expo.