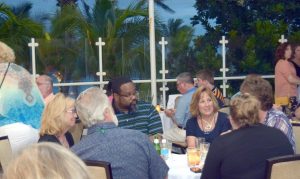 Lisa Colston, RPR, a freelancer and owner of Sworn Testimony, PLLC, in Lexington, Ky., is already registered to attend the 2018 NCRA Firm Owners Executive Conference, saying she's looking forward to "getting my creative juices flowing and thinking outside the box." The 2018 event is Jan. 28-30 at The Don CeSar in St. Pete Beach, Fla. This business-focused conference is designed with two key elements in mind: 1) giving attendees real-world educational sessions with pragmatic tips they can take back and implement into their business immediately and 2) providing lots of time to network with a friendly, open community of like-minded professionals.
This year, attendees will work with John Spence, one of the top 100 business thought leaders in the nation. During his keynote address, Spence will focus on what he does best: making complex business ideas "awesomely simple." Later that afternoon, he will lead an in-depth, two-part workshop focused first on business planning and execution and then on strategic thinking and planning. Since Firm Owners is a smaller, more intimate event, attendees will have the opportunity to address their specific individual business challenges during this workshop.
Colston said that marketing tips and tricks are some of the most valuable things she's learned at past conferences. And 2018 will continue that trend with Steve Scott's session, "Marketing your Business on the Web." Scott brings longtime experience with search engine optimization (SEO) and website design, fields he's been working in since 1998. SEO is one of the current buzzwords in online marketing, and attendees will come away with greater insight on how to use SEO to get their name in front of potential clients.
Colston said that the most enjoyable part of attending Firm Owners is "the feeling of community and friendship" and that she's been able to "develop business relationships that are built on the foundation of confidence and trust." Furthermore, "the ability to collaborate on business strategies to help grow and strengthen" her business are why she keeps coming back. Plenty of networking time is built into the schedule, including a fun "Build-it, Mix-it, Who Will Win-it Networking Event" that will kick off the conference.
Freelancers and firm owners who are thinking of attending this conference for the first time will find a warm and welcoming community. "As a first-time attendee, I fully anticipated feeling like an outsider or fifth wheel. I was so sure that I would have to insert myself into conversations and wedge myself into long-forged friendships. I'm happy to say I was completely wrong," said Constance Lee, RPR, a freelancer and owner of Constance Lee & Company in Baden, Pa. Lee attended for the first time in 2016 and then returned the very next year.
Finally, attendees will get access to the annual NCRA State of the Industry. This session will look at how the court reporting and captioning industry is doing now, what areas firms are developing, and what successes they're finding – all based on solid, current data. Having a real-world sense of what the industry looks like nationwide will help attendees know where their individual businesses fit into the big picture.
The motto for the 2018 event is "Connect. Learn. Energize." for good reason. "A network of professionals that you can rely on through the year will make running a small business effortless," said Colston. "We are one united group of professionals working together to maintain a professional court reporting industry overall." Come join the 2018 NCRA Firm Owners Executive Conference in January and discover what connection or tip will be the one that makes 2018 your best business year yet.
Don't miss your chance to register
The NCRA website will be running routine maintenance on Thursday, Nov. 16, but attendees can members who register for the event and book their stay at The Don CeSar on Nov. 24 will be entered into a drawing for a free spouse registration for the event as part of NCRA's Best. Friday. Ever. on Black Friday. Don't wait – registration prices increase on Dec. 16.