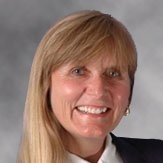 By Sandy Bunch VanderPol
Every day, day after day, when we set up our steno machine, we do what we are trained to do: report the proceedings; create a verbatim record; and provide the record to the client. We are the "Guardians of the Record;" we are often the only neutral, disinterested person in the proceeding; we are trusted by all parties to be a professional in the room, a protector of their record. This is our job. We all understand the importance of our job and why we are an integral part of the judicial process. But what if there's more to our job? Is there even more to our job? I think there is, and this other part of the job is truly why I'm passionate about court reporting.
In the 1980s, doing my job every day, I became restless and even bored. Boredom with the job and uncertainty about the future of court reporting became a part of my thoughts every day.
Today, 35 years later, I'm still reporting and passionate about court reporting. What changed? The purpose of my job changed.
Opportunities abounded with the introduction of technology into our profession. This was a chance to market something new to my clients, value-added services that, I was hoping, all of my clients would certainly be desirous of and be eager to pay for. This was a chance to speak up about what I could do for the attorneys, what I could add to the litigation process beyond the creation of the verbatim record. I was super-excited and rejuvenated in my job, stoked about the prospect of adding value to the litigation process, becoming an integral part of the "team" in the litigation process — not just the silent person at the end of the table.
Now the hard part — moving forward with the marketing, first, of rough draft transcripts, which would soon include interactive realtime reporting, remote realtime streaming, litigation support programs, videotaping of proceedings, syncing the videotapes, transcript repositories, electronic delivery of transcripts, hyperlinking exhibits to the transcripts, marking and distributing exhibits electronically at depositions, and on and on. This is a new world for court reporting, I thought, and I wanted to be the first in my area to market this technology. I had to learn to market to attorneys. Without any education beyond high school and court reporting school, I wasn't sure what to do. I guess you could say I was a bit tongue-tied.
My plan was a simple one at the time, a three-step process: a plan to educate, demonstrate, and sell my clients and potential clients on the new technology. At every job, every day, there was an opportunity for me to implement my plan. At each deposition I was reporting, I took the time to set up the equipment for realtime, electronic exhibits, or whatever value-added service I was marketing. At the appropriate time, the education process began with a simple explanation of the service I was selling, the time and dollars it would save the attorney/litigant, and a free demo day of the service. I'm sure many of you are thinking: "I can't speak up and have this kind of conversation with attorneys. I'm too nervous. It's not my job, it's the firm owner's job to market. I might not have the answers to all the questions. I don't entirely understand the nuances of the technology to market it." All of these concerns are legitimate and concerns that I personally had. Don't let the concerns or fears stop you from implementing your plan. Your reward is just around the corner.
I want to share some of my tips for success in marketing our value-added services. Hopefully they may be of help to many of you. I'm sure some of you may have other tips to share, and I would encourage you to write to our NCRA editor, share them with her, so we can all benefit from them. [Ed. Note: Sandy is right; we're always looking for business tips. Send them to jschmidt@ncra.org.]
PREPARATION: Have a plan for each day you market your technology. What technology are you marketing? Who is the audience (corporate counsel, IP counsel, workers' comp)? An example of my preparation for interactive realtime usually includes bringing my iPads to the deposition, setting them up before counsel arrive, outputting on my CAT software in the "realtime output options" to my remote streaming account (in case there are attendees appearing remotely via telephone, I can send them the link and session code/password to the stream), and creating a job dictionary for the deposition.
IMPLEMENTATION: When counsel enter the room, confidence and professionalism should exude from you. Some reminders to ensure this professionalism are to stand when counsel enter, shake their hands, introduce yourself and the firm you are representing. Always dress in a professional manner. I like to be one of the best-dressed people in the room. Once the introductions are made and the lawyers now have a feeling of trust, I've found this may be the best time to state to them that you have realtime set up and ask if they would like to use the service. My experience has been that more than 50 percent of the time they do decide to use the service. Most counsel nowadays know what realtime reporting is, so the educational process may not be necessary, other than to quickly show them the few needed features of the realtime viewing software they would need to browse and restart realtime. Have a document prepared for those who are not familiar with realtime, touting its benefits to the litigation process.
After the deposition/proceeding has concluded, the opportunity arises for you to sell a rough draft transcript. Attorneys in our current time want information now, including our transcripts. Use this time, at the end of the deposition, to announce that a rough draft is available upon request and can be delivered within 15 minutes, or whatever time you can get it to them. If one side orders a rough, it is likely the other side will too. I would highly recommend attending the seminar on "Creating the Demand for Drafts (Life in the Fast Lane)" by Ed Varallo, FAPR, RMR, CRR. Varallo has a wealth of knowledge on this topic and has had great success in selling rough drafts at his depositions.
In my marketing to attorneys over the last three-plus decades, I have found some things are consistent in what attorneys are looking for:
• Focus your marketing on what attorneys need: saving them time and money.
• Information now! Sell your value-added service(s) with this slogan.
• Continuing education: Set up brown bag lunches with continuing legal education credits to educate attorneys on your services.
• Professionalism: You are a part of the "team," and professionalism ensures the trust you deserve.
• A sense of humor: Make 'em laugh with an anecdotal story when promoting a technology. We all have those "funny" stories about our technology.
• Attorneys usually follow what others have done. Share the success stories of the attorneys who have taken advantage of the services you offer.
Remember, if you don't speak up about your value-added service, they won't know about it. Step out of your comfort zone and be the marketer you can be.
Sandy Bunch VanderPol, FAPR, RMR, CRR, is a freelancer in Lotus, Calif. She also holds NCRA's Realtime Systems Administrator credential. She can be reached at realtimecsr@calweb.com.
Sandy VanderPol, who is an NCRF Trustee, wrote this article on behalf of the National Court Reporter Foundation's Corrinne Clark Professionalism Institute. Established in 2015, the Corrinne Clark Professionalism Institute is dedicated to aiding the education of court reporting students and new professionals about professionalism, branding, and building a successful career. Named for the late Corrinne Clark, wife of the late Robert H. Clark, NCRA's longest tenured librarian/historian, the Institute was made possible by a generous donation contributed by Donna Hamer, Santa Paula, Calif., Robert's cousin.