Firm owners are once again answering the call to ensure that students who attend the 2018 NCRA Convention & Expo in New Orleans, La. in August, get a little something extra.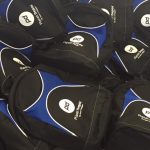 Last year, firm owners generously donated special drawstring bags, flash drives, ear buds, USB cables, highlighters, candy, and more. In addition to the exciting experience of attending a national Convention, and the opportunity to network with the top professionals in their field, students walked away with a bag full of Las Vegas swag.
This past February, another request went out to firm owners for donations to fill special bags to give out to students during their orientation at this year's Convention. The response was very positive and the bags are filling up.
The Student/Teacher Committee would like to thank the following donors who have already volunteered to contribute to this year's student swag bags:
Alaris
Benchmark Reporting Agency
Doris. O. Wong & Associates, Inc.
Hanson Renaissance Reporting & Video
Jack W. Hunt & Associates
Kay Moody, MCRI, CPE
LNS Court Reporting & Legal Video
Memory Reporting, Inc.
O'Brien & Levine
OrangeLegal
Planet Depos
Rider & Associates, Inc.
Schmitt Reporting & Video, Inc.
Streski Reporting & Video Service
Summit City Reporting
U.S. Legal Support
West Coast Court Reporting & Video
Wood & Randall
YOM
More donations are always welcome. For questions, or to donate, contact Ellen Goff.
Don't miss your chance to save on 2018 Convention registration fees. Register by July 23 to save!