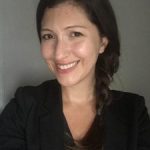 by Nicky Rodriquez
While a student at the College of Court Reporting (CCR) in Valparaiso, Ind., Kyra Kustin studied general education, medical terminology, legal terminology, machine shorthand, and court reporting technology courses. She developed a strong background in English and communications. Additionally, Kustin received numerous honors and high honors throughout her schooling.
Kustin had this to say about CCR: "First off, the program at CCR is amazing. I'm so confident going out working and knowing that I am totally prepared in every way. Second, making a meticulous schedule held me accountable for keeping up with the plan I had made for getting through school. Lastly, to be honest, I'm super competitive, and when I set goals, there's not much that I will let get in my way."
Kustin acknowledges that she completed school in such a short amount of time because of her support system. "I have three daughters. My oldest two are 8 and 6, and my youngest was born in June 2017, right in the middle of my time at CCR. She's another reason I credit for my success. I found out I was pregnant a few months into school. I knew what was coming in the months ahead, so I really pushed myself as hard as I could to get my speed up as much as I could before she was born. I made it to 140/160 speeds in that first year. My husband was the best support I could have had. He never complained a single time about giving me whatever time or resources I needed to succeed. It was extremely difficult, and there was a lot of trading the girls back and forth, but without his support, I couldn't have finished school, and definitely not in the time that I did."
In addition to developing a strong academic background, Kustin learned CCR's EV360 Realtime Theory to master the ability to write with virtually perfect accuracy on a stenographic machine at 225 words per minute. As a result of her education and skills, she is capable of working in a variety of fields, such as official reporting in state and federal courts, broadcast television captioning, educational reporting for the deaf and hard-of-hearing, and freelance reporting for attorneys.
Before starting classes at the College of Court Reporting, Kustin worked as a medical transcriptionist. Unfortunately, that profession did not adapt to industry and technology changes, which resulted in less work and dwindling income. The scarcity of work, combined with her children getting older, opened the door for Kustin to change careers and go back to school. A family member familiar with court reporting suggested the profession. Although very different from transcription, it was similar enough to catch her eye. She was also intrigued by the variety of opportunities (freelance, official, captioning, CART) and availability of a flexible schedule.
This led Kustin to research schools. She diligently proceeded to educate herself to make the best decision for her future. "I spent a really long time researching schools, and never heard anything but overwhelming praise for CCR, which made it an easy decision and by far the best decision I made. The support from all of the teachers and staff, and the overwhelmingly comprehensive education you get at CCR was more than I could have asked for," Kustin stated.
Kyra Kustin is a resident of Wading River, N.Y., and now works as a freelance court reporter in New York. She passed her final tests and received her A.A.S. from the College of Court Reporting (CCR) in Valparaiso, Ind., in less than 24 months.
Nicky Rodriquez is the director of admissions for the College of Court Reporting, based in Valparaiso, Ind. She can be reached at nicky.rodriquez@ccr.edu.