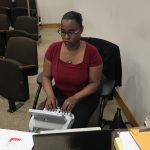 by Nicole Johnson
When I first began my internship journey, I was scared. I was stepping out of my cozy comfort zone of court reporting school and into the "real world" (school is real too!) of lawyers and judges. I was also very close to some dangerous folks who've committed serious offenses, as well as funny witnesses who put the jury at ease. As a more introverted person, being around strangers every day is a bit stressful in itself. Then I realized I'm not the official reporter yet. I'm only here to learn how a real reporter handles situations, study how a courtroom works outside of television, and practice talking to unfamiliar faces in an environment that I am slowly easing my way into. Most importantly, I'm here to gain experience past what school has taught me and to put what I've been studying for the past six years to good use.
The first day I interned was a calendar day, and it went by really fast. It's a room full of people and a judge going over all of their cases; the defense attorneys usually said their names at breakneck speed sans spelling. Lucky for me, I had a reporter who would give me a list of names when I would sit in with her. Those days are the most intense but still not as difficult as trying to pass all my 200 wpm speed tests.
Here in court, the bailiffs were cordial, the attorneys respectful, and the judges more than happy to talk court reporting shop with you. Everyone always seems genuinely interested in what you're doing with that "funny looking machine."
On top of interning in a courthouse, I've also participated in a few mock trials given by University of California, Berkeley, School of Law. Those were honestly terrifying, and I didn't know what I was walking into. In a mock trial, I was the reporter. Though I had a mentor who would occasionally come in the deposition room to see how things were going, this felt real. I had to produce a rough draft transcript, constantly interrupt an attorney who always spoke at 260+ words a minute unless he was addressing the jury, and had to keep track of all the different soon-to-be lawyers coming in and out of the room. It was a dizzying but great experience. The student lawyers were always happy to have a court reporter there. Once I was asked by an attorney for read back (thank goodness I had it), and she actually used what "Madame Court Reporter" said in her closing arguments (and won). It was gratifying to feel this job's importance. It's also satisfying to know that others rely on the words I'm taking down. I wouldn't trade that experience for the world.
I gained a lot of confidence doing mock trials and sitting in with reporters, gaining their knowledge, and learning new briefs. The real world, I realized, isn't as scary as it seemed. It was actually better than I imagined. While I'm not a perfect writer, here is the perfect place to make mistakes, to try again the next day, to overcome any mental roadblocks, and to ask all the questions you want. You'll end up working with the same attorneys, clerks, judges, and so forth, and everything will slowly fall into place.
I've realized that court, especially a trial, feels easier than school. I mean, school definitely prepares you, but nothing beats being there. You get accustomed to the way certain people speak, and there are a lot more pauses than in speed class.
I'm almost finished with my hours, and I'm going to continue sitting in with reporters even afterwards; because it's fun, because I know I can do it, and because I can see myself in the reporter's chair. My internship has given me more fire and motivation, and it's the last step that will help me reach my full potential towards becoming an official reporter.
Nicole Johnson is a high-speed student at West Valley College in Saratoga, Calif.