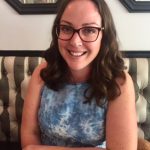 Molly Cooper's background in linguistics was a definite plus in helping her relate to the stenographic theory. Molly started the court reporting program at South Coast College in Orange, Calif., in October 2017, and in less than a year has already passed her 200 wpm speed test.
I graduated from University of California Santa Cruz with a BA in Linguistics in 2012. My love for language then took me to Mexico and Thailand where I taught English as a Second Language for about five years. I became fluent in Spanish and briefly studied a handful of other languages along the way.  In 2017, I craved a new challenge and found one. I limited my teaching to one-on-one tutoring and began studying stenography at South Coast College.
The experience I had gained analyzing language patterns and structures and the real-life application of acquiring a foreign language prepared me immensely for learning the realtime shorthand theory at South Coast College. I jokingly respond when students ask me how I progressed so quickly in speeds that my linguist brain is busy breaking down words into word parts.  It helps in writing the shorthand and in editing transcripts. My linguist brain is fully activated and thriving during the entire process.
UTS | How did you get interested in court reporting?
COOPER | I majored in linguistics and had been told that becoming a stenographer could be a good career route. Then last summer, a paralegal student/friend of mine made the recommendation to me. The seed from college had been sprouted by this suggestion, so I started looking into it. It turns out that capturing language through shorthand is something I'm extremely interested in.
UTS | What kind of support system do you have at home or at school?
COOPER | My parents have always been incredibly supportive. They've given me the support, confidence, and space needed to indulge my curiosity, explore the globe, and never stop learning new things.
UTS | Do you have a mentor?
COOPER | My teacher Beckie Remsen has really guided me since my very first day of school. I am extremely grateful to her. There are also a few professional reporters that have been so helpful and encouraging since I've started shadowing and reaching out.
UTS | What do you enjoy most about court reporting school?
COOPER | The fact that language is at the center of everything we do. The constant challenge that brings continual growth and self-improvement. The fact that each reporter can build on their theory foundation to create a personalized dictionary that specifically benefits them.
UTS | What's the best advice you've been given so far?
COOPER | So many watchers and professionals have offered great advice!
UTS | Who or what inspires you?
COOPER | People who live life to its fullest.
UTS | What is your dream job?
COOPER | Being an international court reporter.