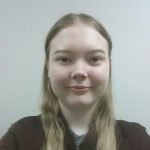 Sydney Lundberg, a student from Des Moines Area Community College in Des Moines, Iowa, was named recipient of the 2018 Robert H. Clark Scholarship. This $2,000 scholarship is named for the late Robert H. "Bob" Clark, a court reporter from Los Angeles, Calif., who was dedicated to preserving the history of the profession. Lundberg is the fourth recipient of this scholarship.
In 2015, Clark's family made a generous donation to NCRF to honor him, and NCRF created the new Robert H. Clark Scholarship. Students are nominated by instructors or other officials at their schools. To be eligible, nominees must be NCRA members, must be enrolled in an NCRA-approved court reporting program, must have passed at least one of their program's Q&A tests at 200 words per minute, and must possess a GPA of at least 3.5 on a 4.0 scale, among other criteria.
"Receiving this scholarship means to me that I will be able to finish school and begin working as a reporter even sooner. I am currently in the last part of my program, and this support will allow me to purchase professional equipment that will give me the last boost I need to graduate," said Lundberg.
Lundberg heard about court reporting as a career through a family member. "My aunt is a captioner, and I was inspired by how she was able to capture the spoken word, work from home, and be so successful. After I graduate, my plans include working for a freelance firm in Des Moines, Iowa. I also plan on continuing to learn things about the profession, building my dictionary, and continuing to work on speed," Lundberg said.
To learn more about NCRF's scholarships and grants, visit NCRA.org/NCRF/Scholarships.