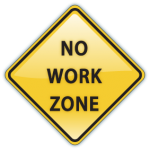 By Forrest Brown, FAPR, RDR (Ret.)
How would you like a job that you were in for 50 years and yet you never went to work? I began my court reporting career on Feb. 2, 1959, in the Stone Mountain Judicial Circuit in Atlanta, Ga. Then in April 1961, I moved to the Atlanta Judicial Circuit and remained there until November 1968, deciding to become a freelance reporter instead of an official reporter. If we define work as a task one performs that is not enjoyable, then I can truthfully say that I never went to work.
Yes, I had a job. Sometimes it was hard because the subject matter was unfamiliar and the attorneys were volatile and interrupting each other at times, but it was always fun. Yes, the judge was a good-spirited and well-meaning person who was quite personable and a pleasant person to work with and always told a personal story to each set of attorneys who came before him. The "trying" part about hearing the story is that when you're the court reporter in court and you are assigned to a particular judge, then you hear the story dozens of times before a new one takes its place.
Then, on the freelance reporting side of my years, it was always enjoyable to report a deposition and hear another story about a subject that was interesting and entertaining to the extent that, more than a job, it was somewhat socializing with your clients' associates and their fellow attorneys. Most always the attorneys were friendly and responsive to the needs of the reporter, whether it was yours truly or someone else. There were always back-and-forth conversations: "How'd it go in court last week? Oh, too bad your company representative settled the case when you had it won." "How's your son doing with his broken arm? Oh, he wet the cast when he fell in the pool and his arm cast had to be redone." Always try to be friendly and helpful: "I'm over by the coffee; may I pour a cup for you?"
The doctor whose deposition you are preparing to take is explaining to the attorneys in the case the intricacies of an intense situation in the operating room last Wednesday and the extremely complicated circumstances surrounding the procedure. Very interesting preamble to the deposition job, but not work for sure.
Why is the witness talking so fast, so low, and sometimes swallowing his words, turning his head at an angle that prohibits you from seeing his face and mouth so that you have trouble distinguishing what he's saying? Somehow you live through it and when you sit down to begin to put this word puzzle together, it makes sense. It was challenging at the time, but it wasn't work because it is now gratifying and you are convinced that you actually did a good job; and you're doubly pleased when the jurat is returned with no errors noted.
I have taken the testimony of a financial expert who's explaining in his deposition the definition of borrowing short, meaning borrowing funds on a long-term basis to pay short-term debt. An educational exercise for sure, but certainly, it's not work.
As a beginning reporter, I would stress that you always arrive at every appointment or in court at least 15 minutes prior to the time of your appointment, that you are a person of humility and caring, that you're always courteous, polite, and willing to accommodate any situation with which you're faced.
I have reported depositions sitting in the back seat of an attorney's automobile with a steno machine in my lap; also with a steno machine balanced on the hood of a car; and also sitting on the back porch of a farm house with a bad housefly problem. That one required writing steno and swatting flies at the same time. You can do this. It's fun, it's a job, and it's never work. You're gonna be a great reporter and you're going to be very successful. Hold our head up high and face whatever situation because you are now a professional court reporter and your record will never forget!