NCRA member Penny Wile, RMR, CRR, owner of Penny Wile Court Reporting in Norfolk, Va., has been a court reporter for more than 30 years. Recently she showcased the court reporting and captioning profession to students in a paralegal course taught at her local community college.
By Penny Wile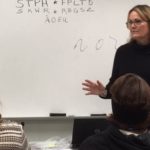 Approximately three months ago I took the deposition of a risk management specialist for a national chain of stores. It was a run-of-the-mill 30(b)(6) document production deposition stemming from an accident that resulted in a personal injury claim being filed. Plaintiff and defense appeared via video-teleconference, and the witness and I were together at the deposition site.
The deposition took most of the day, and during breaks the witness asked me questions about court reporting. We chatted about my profession and hers. Not only is she a risk management specialist, but she teaches a paralegal course locally, at Tidewater Community College on Thursday evenings.
At the conclusion of the deposition she asked if I would be interested in speaking to her class about court reporting. I eagerly agreed! Anytime I can attempt to recruit others to join the profession, I am happy to help.
We set several dates for me to appear, but there were delays. (Note to self: Don't plan speaking engagements during hurricane season!)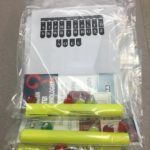 I reached out to NCRA and asked if they could provide tools for me to use in my talk. I quickly received literature to download and print. The next day I received a box of print media and goodies for the class. I purchased some clear bags with handles and filled them with important information about court reporting:  History, training, career rewards and challenges, in addition to the goodies.
On Nov. 29, I spoke to the classroom of paralegal students. The students were eager to learn about the reporting profession. I started with a once-upon-a-time story of how I entered the profession. It's not a glamorous story but one that should be told. They appeared to appreciate how I entered the profession. These students work during the day, have family obligations, and attend college at night. They are real people with busy lives trying to receive an education. They asked me many questions and seemed to be engaged. I spoke to them about my work abroad, some of the more rewarding assignments I have covered in my career, some of the unusual assignments I have covered, and gave them court reporting 101 in two hours .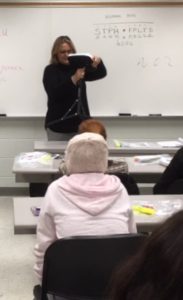 Two students in particular were very interested in training with the NCRA A to ZTM Program.  They were excited they could "try out" reporting and see if it would be a good fit for them. I provided my contact information and told them I would be happy to help them if they pursued training in the profession.
When my talk wrapped up, I couldn't believe I had spoken for two hours! I have been invited back to be a guest speaker for the upcoming semester, and I look forward to the opportunity to inform and encourage others to enter the field of court reporting.
You can also read Career Days are great ways to promote the profession.
For more information about career day resources that are available from NCRA, contact pr@ncra.org, or visit the 2019 Court Reporting & Captioning Resource page.