By Lynette Mueller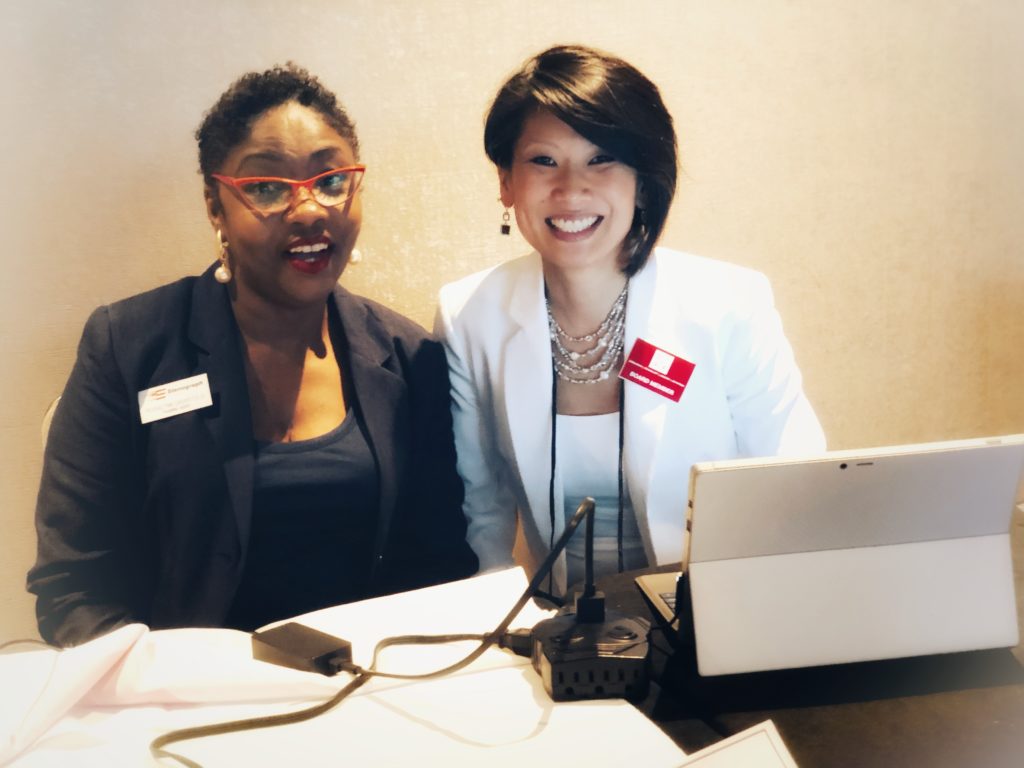 As I reflect on my professional educational journey, it seems I have a habit of attending the same conferences and seminars each year. I wanted to do something new and different. I heard some buzz about computer software user groups and decided I should take a deeper dive by attending STARtech 19 in Nashville, Tenn. I definitely had high hopes for an amazing experience, and I was not disappointed. The in-depth CAT software training was topnotch, and there were free 30-minute one-on-one sessions with certified trainers! I totally took advantage of that huge perk. In the interest of keeping everyone up to date on the latest tech news, I also took the opportunity to interview Cindi Lynch, Stenograph's trainer extraordinaire; James Kuta from Stenograph; and Lauren Lawrence from Stenovate.
Case CATalyst – RealTeam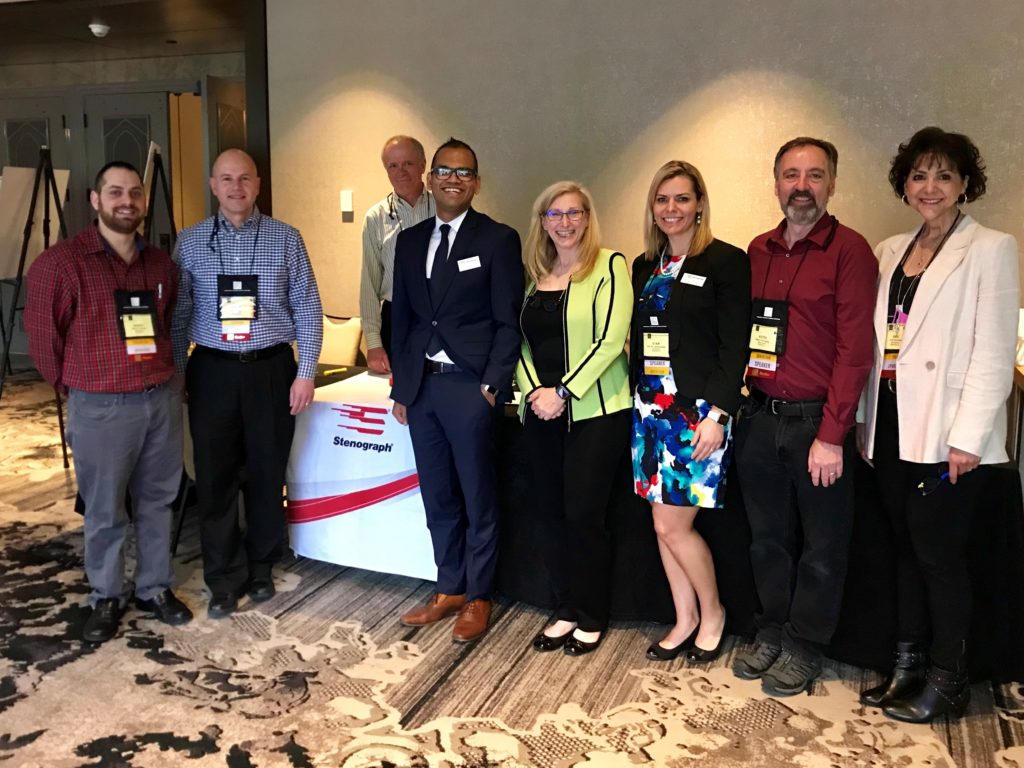 Cindi Lynch from Stenograph gave me the rundown on this new feature for Case CATalyst.
LM | Give us an overview of the new feature of Case CATalyst — RealTeam.
CL | RealTeam is Stenograph's simultaneous editing feature. It enables sharing of text, audio, and globals in real time. All of the RealTeam participants have access to all text, audio, and globals. For example, a reporter can be writing and translating in realtime while one or more scopists edit and/or proofreaders proof the same file; or, outside of realtime, two or more scopists and/or proofreaders can work simultaneously on the same file. This feature can significantly speed up the process of transcript production by enabling multiple parties to edit the same file during realtime or post-translation. Also, if the realtime is being output to CaseViewNet or a CARTView display, any party receiving a realtime text display also gets the benefit of more accurate translation.
LM | How is this a game-changer for aspiring realtime court reporters?
CL | This is a game-changing feature for everyone involved in transcript production — reporters, scopists, and proofers — as it enables editing and proofing to be done far more quickly. A reporter with a reliable partner, or multiple partners, can count on those partners to assist in the accurate editing of the file. This means more accurate realtime translation display and the ability to deliver the finished product more quickly than ever before. For a reporter who is not yet providing realtime, having a trusted partner who can correct on the fly could mean the difference in quality of output that could mean being confident enough to be able to provide realtime translation services to the other participants in the proceedings (vs. not providing those services). They can compete with their colleagues and out-deliver competitors.
LM | What are the main requirements for a court reporter and a scopist as far as software to utilize this new feature?
CL | All members of the team must be using Case CATalyst Version 20 and have an internet connection.
LM | What do you feel are the top three benefits of this new feature?
CL | These are my top picks:
1. Speed of delivery. A good team can provide more accurate translation during realtime and a final transcript very quickly after the conclusion of the proceedings. Instead of taking weeks or days, the transcript can realistically be completed same day or next day. That makes the clients happy and impressed with the service provided (which is also good for the profession as a whole).
2. Better schedule coverage/opportunities to earn more. Instead of dedicating one or two days a week to write and the rest of the week to edit, a reporter and scoping/proofing team has time to take more jobs. Realistically, a reporter could write 4-5 days per week, earning the income from those additional jobs.
3. Quality of life. Reporters working alone typically devote 3-4 hours of editing for every hour that they write. With teamwork, the job can be completed in far less time. That means a significant increase in the amount of time available to each person who works on a job. A reporter no longer must assume his or her job may eat up the weekend as well as the week. A scopist no longer has to miss his or her kid's soccer game or forgo dinner plans with the significant other because he or she has hundreds of pages to edit and return. Firm owners and office managers from firms will have less stress because the jobs they are responsible for getting to the client are available to them faster than ever before. Getting the job of transcripts edited and delivered faster means more time to enjoy life beyond work. Less stress means greater satisfaction with life and work, which in turn has positive effects on one's health and happiness. RealTeam can be the ticket to all this!
LM | Do the changes appear on a client's realtime screen immediately?
CL | To a client viewing a CARTView window – yes. To a client viewing via CaseViewNet Browser or iCVNet or CaseViewNet PC – yes, ifthe reporter has a CaseViewNet license and thus has access to the Rapid Refresh feature that ensures that editing changes display immediately. A client viewing output via some other viewer or the product of a reporter without a CaseViewNet license would not have the same capabilities.
CaseViewNet
James Kuta from Stenograph offered more details on CaseViewNet.
LM | What is CaseViewNet and who should use it?
JK | CaseViewNet is a software platform for the realtime delivery of text to clients. CaseViewNet is used by court reporters and captioners to provide the delivery of text to attorneys, judges, and CART customers in realtime. CaseViewNet is useful in any situation where a client wants to receive a realtime text feed from a court reporter or broadcast or CART captioner.
CaseViewNet is a software platform that allows for both local and remote delivery of text through a local area network or the internet. There are three CaseViewNet viewing software platforms available:
CaseViewNet for Windows is a fully featured viewing software that allows for both local and remote viewing. It has tools clients can use to mark, annotate, search, and create text reports.
CaseViewNet for iPad is a lighter-weight viewer that is available for the Apple iPad devices. It has tools clients can use to mark and search text.
CaseViewNet Browser Edition is a browser-based text viewer that is compatible with most any device that has internet capabilities. Text can be marked and searched.
LM | What are the three most important features of CaseViewNet?
JK | There are many, but if I had to choose, these are the three I'd pick:
CaseViewNet has a Rapid Refresh feature that updates the text on the CaseViewNet viewing software with all editing changes made by the court reporter or scoping team during the realtime connection.
CaseViewNet allows court reporters to wirelessly send realtime text to clients, both locally and remotely, either through a local area network or through an internet connection.
CaseViewNet allows attorneys and CART clients to search for text, connect late and still receive a full feed of all text from before they connected, and save a copy of the transcript (if court reporter allows) in common litigation software formats.
LM | Does a court reporter need additional equipment besides a writer and laptop to get started?
JK | It is possible a court reporter will need a WiFi router. It depends on their work environment. If the reporter works where there is already a WiFi router available for use or other means of internet connection, no addition equipment is needed.
LM | Is your product user-friendly from a client perspective?
JK | We believe it is. The CaseViewNet for Windows and CaseViewNet for iPad viewing software are free to download and use. The CaseViewNet Browser Edition software does not even require download or installation. The client simply goes to caseviewnet.com. Connecting to a realtime feed is as simple as clicking connect and then selecting the court reporter in the connect dialog, in the case of a local area connection. For a remote internet connection, a client will be provided with a "session code" by the court reporter.
LM | What if a client wants access to realtime but they're in a different location? Will CaseViewNet be a viable option?
JK | Absolutely. CaseViewNet has remote connection capabilities through an internet connection.
LM | Can a court reporter using different CAT software utilize CaseViewNet?
JK | Yes. Court reporters using CAT software other than Case CATalyst can still use CaseViewNet. There are two connection types available to reporters on other CAT software: a wired connection using serial cables or a wireless connection using the internet.
Stenovate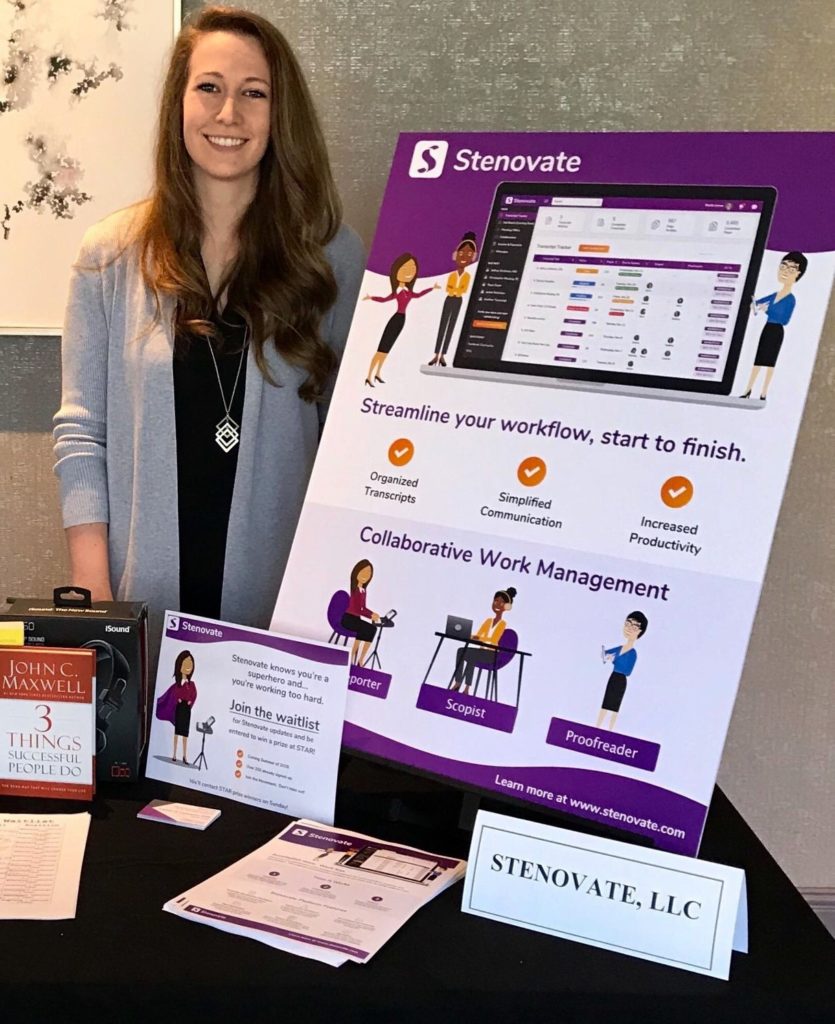 I spoke to Lauren Lawrence about Stenovate, a work management tool featured at STARtech19.
LM | What is Stenovate, and who should use it?
LL | Stenovate is a business admin and collaborative work management tool designed for the transcript community, a/k/a court reporters, scopists, transcriptionists, and proofreaders. Currently, we all have our own business "system." We're savvy enough to piece everything together and produce accurate verbatim records, but it's so much more work than it has to be.
I've talked to countless transcript gurus and asked how they organize their work, find help, communicate with their team, transfer files, invoice, pay, and get paid. I listen to their "system," and then I repeat it back to them to make sure I understand. "So you're telling me you…" xyz, xyz, xyz. When I'm done repeating it back, they proudly say, "You've got it! That's what I do!" as if I've cracked their code. It shouldn't be that difficult.
We're building Stenovate to give everyone a better system — one system. By doing this, we remove inefficiencies that have been slowing us down. Getting everyone on the same page (pun intended) will be a game-changer for this community.
LM | What problem does your product solve for court reporters and scopists?
LL | There's plenty of fancy tools for when we're on the record. Stenovate is for everything off the record. It's for when you go home and need to prioritize, communicate who's covering what, transfer files around, track invoices, etc. I've always said attorneys don't realize that time on the record is only half the job. There's a whole backlog of things to do from home, and that's where Stenovate solves problems.
LM | If productivity is the ultimate goal, how much time will I save?
LL | Since we're a brand-new technology solution in a space that's never had a platform like this before, it's hard to give you statistics without a history, but we can give you some really solid data from "Driving Strategic and Operational Agility with Modern Work Management" featuring research from Forrester, one of the most influential research and advisory firms in the world.
The article explains that Collaborative Work Management (CWM) is a new way to organize, track, and manage work. It's built to "encourage agility and clarity so everyone, regardless of their role, can successfully plan, manage, and deliver business-critical work." The report claims that "companies that adopt a CWM solution" like Stenovate "realize significant positive impacts," especially with increased productivity and improved cross-functional execution.
Even if you don't have a bunch of employees and hold weekly meetings, you are running a business. Stenovate recognizes and respects your hustle. We're really excited to be serving this incredible community, and we're looking forward to saving you time, providing the opportunity to earn more, and helping grow your business.
LM | What tools that users currently use will be replaced with Stenovate?
LL | The right tool can give you the rocket fuel you need; however, a bundle of disconnected tools can hinder momentum. Here's a list of what we've seen the community using to organize, communicate, transfer files, or create/track invoices:
Excel, Word, Google Calendar (or any calendar), Depobook, Trello, WhatsApp, Facebook (Messenger or Groups), LinkedIn, Scoof, Slack, Viber, We Transfer, Dropbox, Gmail (or any mail), Share File, PayPal, Freshbooks, Wave, Quickbooks, Reporter Suite, and/or Stenaura.
I'll stop at 20. There are others, but I'm sure you can see why the current "system" can be a headache, especially if you're collaborating with multiple people who use different tools.
LM | What's the learning curve to use this software?
LL | We've worked with some amazing user-interface and user-experience designers to be sure that Stenovate is user-friendly for anyone, even those who are not "techie." If you can use Facebook, you can use Stenovate.