By Lynette Mueller
The pandemic of 2020 changed our legal landscape forever. Court reporters and all legal professionals found the inner strength, perseverance, and innovation this past year to keep working and moving forward. Whew! We've made it through the last year learning and honing our remote deposition skills.
In recent months, the landscape is changing once again for some parts of the country, and there are different levels of reopening for depositions, trials, and hearings. "Hybrid" proceedings are becoming the norm for a lot of court reporters and are here to stay for a while it seems. The needs of attorneys are evolving as we work through this pandemic, which is why the hybrid model is becoming more the norm. There are many variations for the hybrid proceedings, for sure, while remote proceedings are still here and going strong. The Technology Committee will talk more about the hybrid model in the coming months.
My most recent hybrid deposition consisted of the witness appearing in person with me, the taking attorney, and a videographer. Several attorneys appeared via Zoom.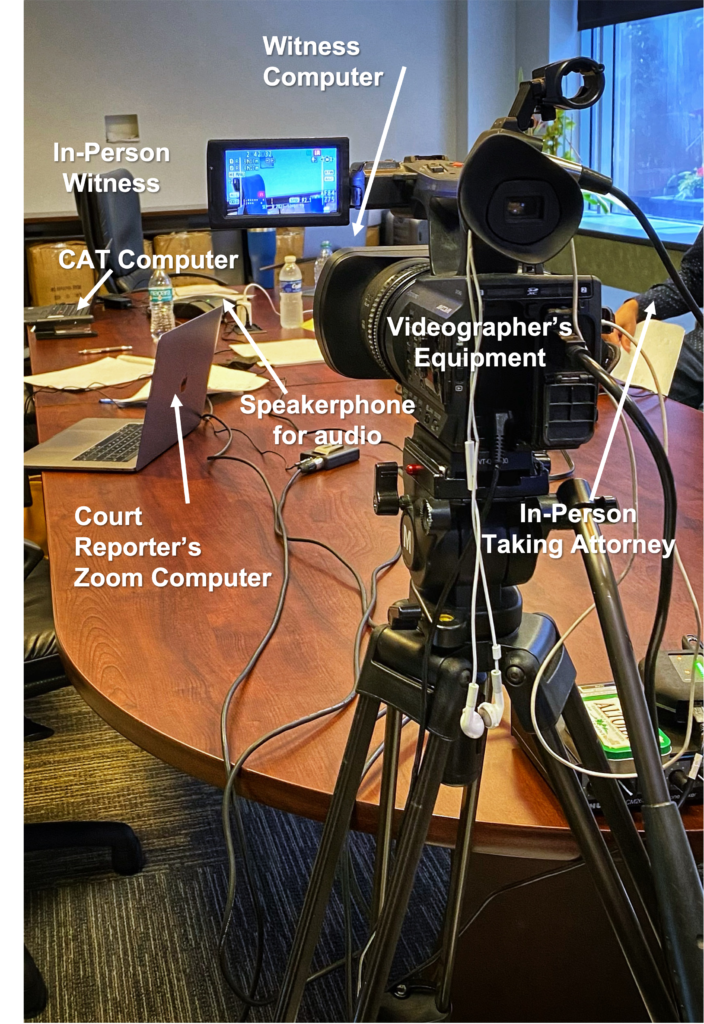 Why would you want a hotspot?
Let's talk about hotspots and how to navigate and enhance the hybrid remote proceedings and the remote depositions as well.
What is a hotspot, you may ask? It's a place where a wireless internet connection is available. One of the perks is that you can use something portable to create a hotspot of your own.
I personally love using my iPhone 13 for a hotspot when needed in a pinch. Of course, the smartphone is perfect for this because it's always in your handbag or writer bag! The smartphone can be so useful for getting work done. It's so convenient and versatile.
You can communicate instantly
You can surf the web
You have a camera at your fingertips
You can download productivity apps to get things done
You have access to a handy GPS
That having been said, though, it's sometimes helpful to have a dedicated device for a specific task and also for a backup option. I have the Nighthawk hotspot. Court reporters know the importance of a good backup plan! When an internet connection is lost on the hybrid or remote proceeding, having another device can get everyone back into the meeting ASAP. Our clients are important, and we always strive to make their experience as seamless as possible for them, so having some redundancies at our fingertips makes us look like rock stars!
How to find the right hotspot for you
PCMag is one of my go-to resources for keeping up with technology, and I love that they have the "best of" series on gadgets and hardware that's relevant to court reporters, including this one. According to the article, "Hotspots can connect more than just laptops to the web. They'll work just fine with a tablet, a camera, and pretty much any other WiFi-enabled device. They support more devices at one time than your phone's hotspot mode, don't drain your phone's battery, they can be hooked up to better antennas than your phone has available, and they can have separate service plans paid for by your company."
Factors to consider when researching which hotspot to purchase, according to PCMag:
Best mobile hotspot plan
Do you need 5G?
Hotspots can't replace your home internet
Best hotspot hardware
To tether or not to tether (smartphone)
There are several hotspots reviewed in the article. The graphic below demonstrates and compares their four hotspots rated "excellent" in addition to the iPhone 13 (my smartphone of choice) and the Pepwave MAX. I'm drooling over the Pepwave for when I'm on the road in the RV and doing a Zoom hearing or deposition. I haven't taken the plunge and purchased it yet but it's definitely on my radar!
(download a PDF of this chart)
According to the Pepwave website: "The Pepwave Mk2 will broadcast a private WiFi network in and around your RV that only you and your family will have access to while also broadcasting a guest network for those you wish to provide internet access to. With Dual SIM card slots, you can load your Pepwave MK2 with Verizon, AT&T, T-Mobile, Sprint, or International SIM cards, and switch between carriers at a tap of a button using the easy-to-use iOS or Android applications that are included with your purchase. What's more, the bundle includes GPS functionality allowing you to securely track and monitor your RV via the secure cloud Incontrol Portal. Setup and installation assistance and training is available as well."
More info about the Pepwave.
Another buying guide you may want to check out is the one from Best Reviews.
Other court reporter favorites
Alan Peacock, FAPR, RDR, CRR, CRC, a captioner from Mobile, Ala., and member of the Technology Committee, currently uses the Verizon Jetpack MiFi 8800L, as does Suzanne Trimble, RPR, CRR, an official court reporter from Sanford, Fla., another member of the Technology Committee.
Trimble said: "I use the Verizon Jetpack MiFi 8800L. I am an official, and as most federal officials do, I must provide my own internet connection. I use this because it has its own supply of data apart from my phone (apparently, I'm a data hog). I've had great luck in having connections in almost every courthouse and courtroom, plus my office. This way, I can use my phone on breaks and such without having to disconnect my CaseViewNet Cloud or computer from WiFi and then reconnect, which can cause unneeded stress."
Alan makes a good point about hotspots overall: "I used to do realtime trials in Florida, and I was at different courthouses in different cities. In some, Verizon had a stronger signal. In some, I could only get through with AT&T. For that reason, I have MiFi devices with each vendor."
Lynette Mueller, FAPR, RDR, CRR, a freelance court reporter based in Memphis, Tenn., chairs the NCRA Technology Committee. Questions about hotspots or other technologies can be sent to the Technology Committee at jcrfeedback@ncra.org.
Read previous JCR.com articles about Zoom depositions:
Basic Zoom tips, tricks, and advice
How to optimize internet connections for remote depositions
Helpful how-tos for remote depositions
TechLinks: Improving your dual-monitor setup
Zoom depositions and court reporters: Seven lessons we've learned since March
What a 100 percent remote trial is really like: A court reporter's view