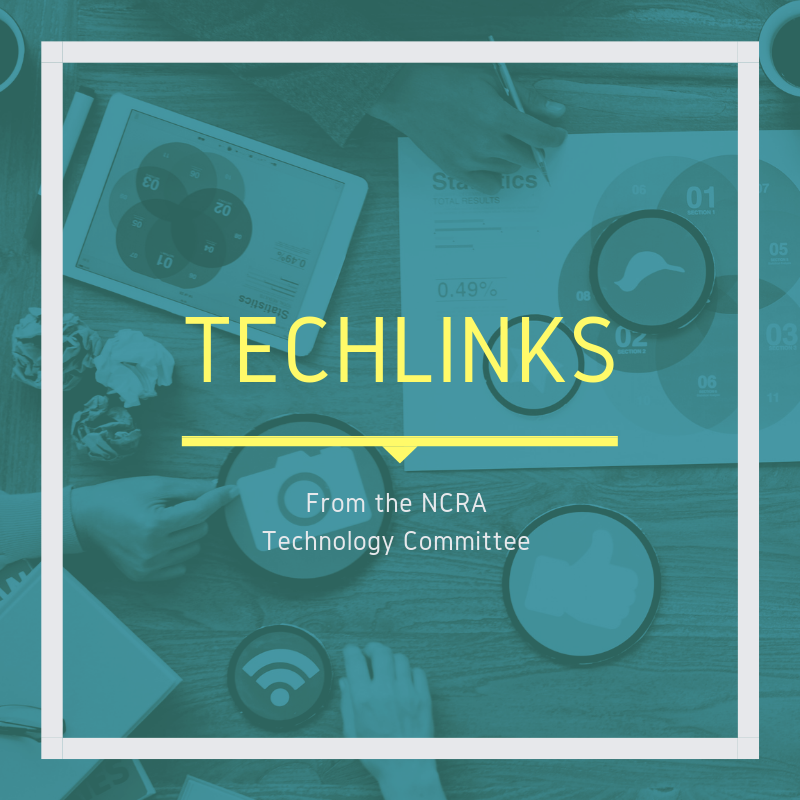 By Lynette Mueller
Your NCRA Board of Directors and Technology Committee were hard at work at the beginning of this 2020 COVID-19 pandemic by creating and presenting webinars and content for our members regarding remote depositions and best practices. Speaking as a member of the Tech Committee, we felt strongly that information, resources, and tools needed to be dispensed quickly to the membership to get court reporters up to speed with our changing environment and our "new normal."
Here's a list of some of the articles written about remote depositions that are still relevant today:
Basic Zoom Tips, Tricks and Advice
Five tips for looking great in remote depositions
How to optimize internet connections for remote depositions
Handling of exhibits for remote depositions
What states allow remote and/or online notarization?
Conducting meetings and depositions by remote means
Office setups and remote preparation part of downtime
Ask the Techie: Do you need a new chair?
COVID-19: Looking back through the lens
Learning is knowledge, and knowledge is power! To that end, I use several different tools to keep abreast of changes in technology so that I may know how to troubleshoot different scenarios I'm faced with as I report each new Zoom proceeding.
Set up Google Alerts: This is such an easy thing to do! Google Alerts is a content change detection and notification service. The service sends emails to the user when it finds new results that match the user's search term. Start your first Google Alert now. (Find instructions here.)
Follow industry leader blogs: There's so much great content put out by some great court reporters! Do a Google search to find the reporting blogs of your choice and sign up to receive new content sent directly to your inbox. In the alternative, you can use a handy app I recommend called Feedly to have all the information in one central location. It compiles news feeds from a variety of online sources for the user to customize and share with others. There's an iOS, Android, and web-based application. Learn more about Feedly now.
Sign up for Facebook and Twitter: Yes, social media, believe it or not, is a great resource to gain valuable information and knowledge to keep up on best practices for Zoom proceedings. As for Twitter, again, follow the industry leaders to gain their insights. With Facebook, some people may have a love/hate relationship. If you choose to use it for business and court reporting knowledge, some of the Facebook groups can be so helpful! My top Facebook groups that are welcoming, positive, and supportive are: Court Reporter Helpline, Court Reporters and Zoom learn and share, and Court Reporter Technology (NCRA). When you see a Facebook post that may be useful and you wish to read it later, use the save function. To save a post: Click in the top right of the post. Select Save Post, Save Event, Save Link, or Save Video. You may create your own category/folder of your choice. My folder is named Zooming! This is an easy way to go back later if you encounter a similar issue as a fellow colleague.
Finally, become a member of NCRA and take advantage of all the technology articles posted on TheJCR.com by the Tech Committee! You may add TheJCR.com to the Feedly app as well to find everything at a glance and at your fingertips. Remember that the JCR is a premier resource as well. I've been a continuous member of NCRA for many years and can't imagine not having the support and resources the Association provides daily.
Next, let's talk about seven lessons we've learned and/or tips for your next Zoom proceeding. While I haven't personally experienced each of the following issues in Zoom, these questions and the answers are quite timely and may assist you with perfecting your remote deposition setup.
Scenario #1:
Q. When using a cellphone as primary output for Zoom because the laptop connection is not solid and the court reporter has external speakers, what should the court reporter do when reporting a long proceeding and the cellphone needs to be charging?
A. Use your cellphone cable and plug into your laptop or use a wireless charger.
Scenario #2:
Q. How does one mute a microphone using keyboard shortcuts?
A. Try following these instructions from bouncegeek.
Scenario #3:
Q. Does Zoom have a noise-cancellation feature?
A. Yes! This link through Zoom will provide information to get started.
Scenario #4:
Q. What can a court reporter do to prevent a situation when the power goes off and Zoom kicks you off the deposition?
A. Purchase a Battery Backup & Surge Protector for your router and your laptop. There are lots of great options available at an affordable price. Lifewire has a list of their nine best picks for 2020.
Scenario #5:
Q. What can a court reporter do to add an extra layer of security to prevent Zoom bombing?
A. When you are the host and all participants are admitted, announce that you are locking the Zoom meeting to prevent anyone else entering the meeting. Remember to lock the meeting! In the event a participant gets kicked out of the meeting, stop the proceedings, alert the attorneys, and unlock the meeting so that that person may be readmitted by you. Once that errant participant is readmitted to the meeting, lock it down again.
Here's additional information from the Zoom Help Center: "The Security icon in the meeting controls allows the host or co-host of a meeting to enable or disable options during a meeting to secure the meeting and minimize disruption during the meeting. Most of the settings can be controlled from Account, Group, and User settings prior to the meeting. If applied at the Account, Group, or User level, these settings will be applied in meeting by default. The Security icon combines them all in one place for easy access during the meeting."
When you're in the meeting, click Participants at the bottom of your Zoom window. In the participants pop-up box, you will see a button that says Lock Meeting. Click on Lock Meeting, and you're ready to go!
Scenario #6:
Q. May I use a dual-monitor setup during a Zoom deposition, so that the participants are on one screen and the exhibits are on the other screen?
A. Yes. The dual-monitor display feature allows the video layout and screen share content to be placed on two separate monitors/screens. Gallery or speaker view can be displayed on one monitor while the other monitor displays a content share. Click this link for specific instructions on dual-monitor setup for a Mac and a PC.
Scenario #7:
Q. How does one set up a "hybrid" deposition when a remote attorney client asks the court reporter (as the host) to ensure all counsel, the witness, and the court reporter have a device in the conference room and on camera so as not to encounter audio feedback and/or echoing?
A. This is my personal setup for the above "hybrid" deposition scenario.
* Create and email the Zoom invitation to all participants
* Arrive 45 minutes early to the deposition location to allow enough time to effectuate all steps to ensure no audio feedback during the proceedings.
* Set up Zoom laptop for the witness and log in as the host.
* Rename the Zoom box reflecting the witness name and add the word "witness" behind the proper name.
* Mute the witness's Zoom laptop. Additionally, click the audio tab at the bottom of the Zoom window and select leave computer audio.
* Set up an iPad, iPhone, or other tablet device as the court reporter Zoom screen.
* Click on the Zoom link to join the meeting on the court reporter Zoom screen.
* Mute the court reporter device. Additionally, click the audio tab and select leave computer audio.
* Rename your court reporter window to reflect your name and then the word "Court Reporter" or "Stenographer" behind your name.
* Use a Polycom or speakerphone and dial in using one of the telephone numbers provided in the Zoom invitation.
* Then, go to the witness zoom laptop where you initiated the meeting. Go to the participant box for the telephone number and rename it to something like Conference Room Audio. That way, all counsel know who is in the meeting.
* When other counsel arrive, instruct them to log into the Zoom meeting, mute their device, click the audio tab, and select leave computer audio.
So, there you have seven lessons we've learned about Zoom depositions since the pandemic hit early this spring. Attorneys look to us sometimes to be their personal resource for these remote depositions — and that's okay. This is our opportunity to shine and show the extra value we provide to them with our technological savviness! As the guardians of the record, we court reporters provide an extremely valuable service to the legal community not only with our stenographic skills but also by paving the way for our clients so that they can keep on fighting and working for their clients. The wheels of justice can keep turning because of how resilient court reporters are, rising to each challenge the legal community has faced, and searching and finding truly great solutions these past several months.
Look for another series of lessons learned coming soon. The Tech Committee is working hard and has so much more to share with you!
Lynette L. Mueller, FAPR, RDR, CRR, is a freelance court reporter based in Memphis, Tenn., and a member of NCRA's Technology Committee.
If you have a question for the Technology Committee, please send it to jcrfeedback@ncra.org.