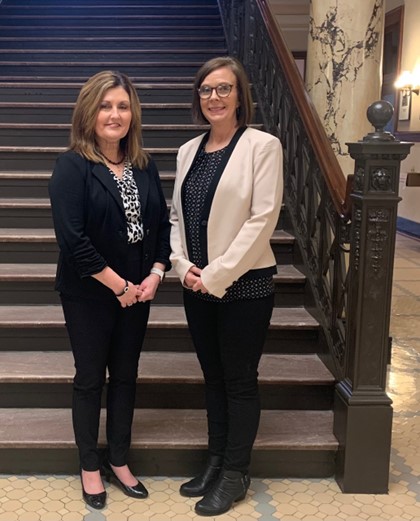 Mississippi Court Reporters Association President Phyllis K. McLarty, RMR, and President-elect Melissa Grimes, RPR, at the Mississippi capitol.

Celebrations for NCRA's 2023 Court Reporting & Captioning Week ran the gamut from virtual 5K runs to steno karaoke to webinars, free training, and more. State associations, schools, individual members, and vendors let NCRA know how they were celebrating.
NCRA member Darlene G. Robison, RPR, a freelance court reporter and agency owner from Belleview, Fla., said she celebrated the week by posting nine times on her Facebook page and another seven times on her LinkedIn page. But she said her celebration of the profession will continue as she has plans to participate in a number of local high school career fairs beginning next week.
"Right now I am signed up for three and am working on recruiting other local reporters to fill in where I may not be able to attend. I will be utilizing NCRA's flyers and PowerPoint presentations for the table," she said, adding: "I have also accepted an NCRA mentee. Sharing the love."
If you missed any of the JCR Weekly stories about the celebrations happening nationwide, you can catch up by clicking on the following links.
2023 Court Reporting & Captioning Week kicks off Feb. 4: Are you ready?
Midweek update as the celebrations continue
Celebrate Court Reporting & Captioning Week by transcribing the Freedmen's Bureau Records
Plans, challenges, and savings to celebrate Court Reporting & Captioning Week
I Love Steno Karaoke #CRCW2023
Celebrate the court reporting and captioning professions in style
2023 Court Reporting & Captioning Week celebrates: STENO always in my heart
#CRCW2023 — Dispatches from the field
State proclamations
The following states have submitted copies of their official proclamations marking the week:
Alabama, Colorado, Florida, Indiana, Mississippi, New Mexico, North Carolina, Ohio, South Carolina, Virginia, Washington, and Wisconsin.
The deadline to submit an official proclamation is Mon., Feb. 20. States that send a copy of their proclamations to pr@ncra.org are entered into a drawing to win a 2023 NCRA Conference & Expo registration. The winner will be announced in the Feb. 22 JCR Weekly.
From the bench
Several judges also weighed in during the week about the important role stenographic court reporters have in accurately capturing judicial proceedings. See what they had to say below.
In the news
As always, there were press releases issued celebrating the week and a number of articles generated by the excitement. Read more below.
While 2023 Court Reporting & Captioning Week may be over, promoting the profession any time an opportunity presents itself is not. Many of the resources found on the Court Reporting & Captioning page are customizable and can be used for events outside of the week. The resources page offers an array of downloadable promotional materials ranging from press release templates, flyers, presentations, and social media tips to messaging, posters, yard signs, business cards, and much more. In celebration of this year's week, NCRA also released a Career Day Tool Kit that has a variety of downloadable materials suitable for promoting the profession at any event.
In the meantime, mark your calendars for 2024 Court Reporting & Captioning Week being observed Feb. 3-10.
Reminders
The NCRA Merchandise Store is running specials in February. Save 15 percent off everything from Feb. 23-27. These sales offer a great opportunity to save money while also purchasing a range of items from clothing to gifts and accessories that sport the official 2023 Court Reporting & Captioning Week logo as well as other NCRA and NCRF logos and artwork.
Send a picture of yourself modeling your customized swag to pr@ncra.org by March 1 and be entered into a drawing for one of three prizes.

State associations, schools, individuals, and vendors: Please share with us photos and stories about how you promote the stenographic court reporting and captioning professions and send to pr@ncra.org.