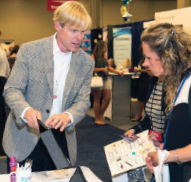 The purpose of this section is to provide newsworthy information on reporter related products and technologies. This column is for our readers to use in their research. NCRA does not endorse or critically review these products and services in any way. The following briefs were provided by the companies and manufacturers. This section is a recurring feature, and the JCR invites parties interested in making announcements to send their news items to JCR advertising and editorial coordinator Amy Law at alaw@ncra.org.
 ACCULAW
800-251-5529 / www.acculaw.com
Acculaw has been in business for 28 years, and for the past 20 years, it has provided billing and scheduling software for agencies that want to manage their business in a more efficient and easier way. Acculaw's recently released version of its software is now Web-based and compatible with the latest Windows operating systems. EZ Schedule, one of the software features, produces a printed schedule on confirmed and unconfirmed jobs for any date range, as well as job announcements for subcontractors via email, smartphone, or computer. EZ Invoice produces invoices, past due bills, and statements in each company's own format. In addition, it produces commission amounts for a company's subcontractors automatically. EZ Store produces content complete with descriptions such as ordered, completed, delivered, and notes from agency, client, and subcontractors. EZ Manage generates many reports, including by amounts, time constraints, and performance. EZ Share uses free software to send compressed/encrypted content to clients.
ADVANTAGE SOFTWARE

800-800-1759 / sales@eclipsecat.com
The Passport Touch, the newest innovation from Advantage Software, made its debut at NCRA's 2013 Convention & Expo. The Touch offers a touch screen that can be tucked away while writing, a built-in microphone, a keyboard with adjustableheight vowel, and StenoMagic keys, not to mention sleek lines and a broad skin selection. In addition, the Touch allows the user to visibly track shadows and adjust the sensitivity of keys in the middle of a job. It has built-in Bluetooth and wifi, 32 GB of memory, and multiple audio backups for extra security. Advantage also displayed the Touch's Re-Writer, which lets the user change antistacking and key-sensitivity settings even after writing a job – and automatically rewrites it with the new settings. Eclipse can run on a Windows 8 tablet that fits perfectly atop the writer. Finally, the Passport Touch comes with free software upgrades.
APTARA
302-864-0664 / www.aptaracorp.com
Deposition summary provider Aptara professionally summarizes more than 400 transcripts per day for court reporting companies nationwide. The company also summarizes medical records for its court reporting clients. According to company representatives, Aptara brings its medical legal expertise to negligence, medical malpractice, workers' compensation, disability, environmental, medical device, pharmaceutical, toxic tort, class actions, and multidistrict litigation. Aptara routinely prepares detailed, targeted, and price-effective medical record summaries, including:
Clean and organized scans of medical records
Medical bills itemized by provider
Medical record timelines
Medical care summaries
Aptara will customize medical records summaries depending on the specific needs of the case or project and phase of litigation, ensuring comprehensive analysis.
COLLEGE OF COURT REPORTING
866-294-3974 / nicky.rodriquez@ccr.edu
The College of Court Reporting's ev360 Professional platforms offer students and working professionals an educationally sound and proven approach to skill and speed development. According to company representatives, v360 Professional is the product of more than 30 years of authentic court reporting educational practices. The platform was designed and developed by highly trained educators and professionals who are responsible for producing hundreds of successful court reporters and realtime writers.
INSYNC LITIGATION SUPPORT
212-233-4040 / www.insynclitigation.com
inSync Litigation Support unveiled its synchronized litigation support offering to the New York City area. inSync's synchronized streamlined processes, which are aligned with a case's lifetime and allow trial attorneys to remain focused on a winning litigation strategy, ensure better productivity and improved cost-efficiencies for plaintiff and defense attorneys, paralegals and legal secretaries at law firms, insurance companies, government agencies, and financial institutions.
inSync's offerings include process service, court clerical, investigations, efiling, concierge, customized services, and courier services, each available a la carte or as an integrated package. inSync covers the steps in a case's lifetime by initiating the case and supporting all the essential filings and appearances. This includes buying an index number in court or electronically; serving a complaint or subpoena; filing an affidavit; tracking the case; conducting investigations, such as signups and skip traces; filing, copying and retrieving motions, notices, and judgments; and providing daily pickup and delivery services.
MYREALTIMECOACH
www.myrealtimecoach.com
MyRealtimeCoach simultaneously launched new Certifi cation Prep resources, Web videos, and monthly payment options at the NCRA Convention & Expo in Nashville.
MyRealtimeCoach is designed to help reporters and students Start Smart, Build Speed & Accuracy, and Be Confi dent through effective practice. New features in the latest release include Daily Warmup, practice sessions served up each morning to start the day off right; Prescriptive Plan, a guided, six-week plan to prepare users for their next certifi cation; and mySpeedPath, a visual dashboard that helps you set and achieve your own goals. According to company co-founder Jared Carman, when Realtime Coach launched in 2006, myRealtimeCoach quickly became the single best way to prepare for a skills test, and now boasts thousands of members worldwide and more than 1.6 million hours logged. In addition, the company claims that 78 percent of those who pass a skills test have used myRealtimeCoach.com.
PROCAT
800-966-1221 / www.ProCAT.com
ProCAT introduced the Impression II writer at the NCRA's 2013 Convention & Expo. The Impression II writer offers a mini keyboard so that users can input global entries into the job dictionary directly on the machine without the need for a computer. The Impression uses a screen like an iPad — simply swipe a fi nger across the screen or double tap an outline to lineup either steno or English after searching. With shallow stroke and complete redesign of the keys, ProCAT has developed a light touch for the user. The Impression can use up to 64 Gig SD cards. The Impression II also offers hidefi nition stereo audio recording.
In addition, ProCAT introduced Case- Pad, which allows users to send a realtime feed directly and wirelessly to an iPad.
RB WEB MOBILE ON
650-544-2147 / omti.com / sales@omti.com
RB Web Mobile On allows users to give clients their transcripts and other information on their mobile devices. While it acts like an app on iPhones, iPads, and Android devices, it is actually accessed through the browser, making it easier for an agency's clients to fi nd. Instead of searching through an app store, users type in a URL. They can then bookmark the page to their mobile device's home screen. Whenever they click the icon, it opens what looks and acts like an app but is really a mobilized website. In addition to its low-hassle factor, it also requires less power to run than an app. Benefi ts for agencies include the lower cost of one RB Web extension versus one for each mobile OS (currently iPhone, Android, BlackBerry, and Windows Phone), and there are no installation, update, or maintenance issues.
OMTI's other court reporting business applications include RB offi ce management software, RB Web online offi ces including case repositories, a PDF transcript creator, and mobile apps.
STENOGRAPH
800-323-4247 / www.stenograph.com
Stenograph announced three new color options for its top-selling Diamante – Blue My Mind, Black to Basics, and Totally Red-ical. These stylish colors, along with Lunar White, make up the writing machines' current color choices. The Blue Ice and Platinum Gray Diamante writers will still be available while supplies last. "Already on the market for the past four years, the Diamante has proven to be one of the most dependable writing machines Stenograph has ever produced," says Judy Wolf, Stenograph's product manager. "Time and time again we've heard users of the Diamante experience cleaner writing, higher productivity, and decreased errors and less fatigue at the end of the day." Current Diamante owners may modify the top shell and lid of their writing machine to one of the new colors by contacting the company for further information.
THE VARALLO GROUP
508-753-9282 / www.thevarallogroup.com
The Varallo Group offers a network of first-rate reporters to cover tough assignments anywhere in the world, according to company representatives. The Varallo Group's suite of business development services also can help secure a brighter future within budget. The company's business advisors present solutions to increase their clients' bottom lines. As a company founded by court reporters, The Varallo Group understands both the current needs of the clients of court reporting services and the tools they'll need to grow and evolve in the future. The Varallo Group provides agency management services, administrative support, business development strategies and training, website development, and online campaigns that compliment and strengthen individual efforts. Freelance reporters and fi rm owners alike can grow their business – or enjoy some well-deserved downtime.
Specializing in networking agency- to-agency assignments, The Varallo Group's reporters offer clients the utmost professionalism by delivering the deposition or trial transcript services, whether interactive realtime or draft transcripts, expedited delivery, videography, and expert testimony.