The JCR Awards were created as a way to highlight the innovative and forward-thinking practices of NCRA members and to recognize how court reporters, captioners, and legal videographers are leading the profession.
These individuals and organizations are being recognized as being the best-in-class for the noted categories.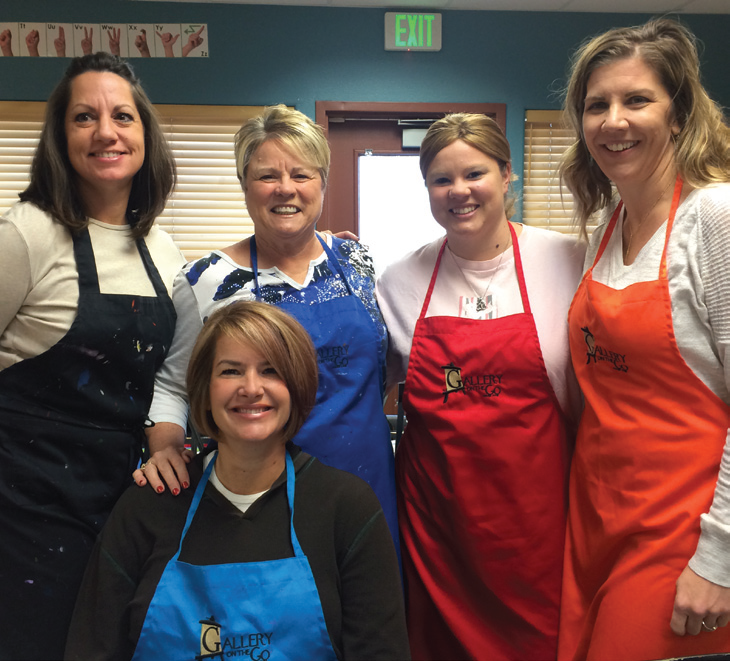 Leadership and team-building
Judy Stevens, RPR, CMRS, CPE
Lakewood, Colo.
Judy Stevens, who owns Stevens-Koenig Reporting, was nominated by several reporters and staff members, who shared stories of her leadership and drive. "I'm one of four reporters who are tag-teaming an unusual trial case. Judy's help in guiding me through what is outside of my comfort zone is quite reassuring," wrote Becky Collings, RPR. "I recently passed the Colorado Realtime Certification test, and Judy is getting me ready to start that next journey of my career." Several of the nominations also spoke about the meetings, often held at her home, where reporters can get together to socialize and ex- change steno briefs. Stevens has also brought in realtime trainers or motivational speakers for her staff and reporters for these gatherings, which have built a strong support network for everyone.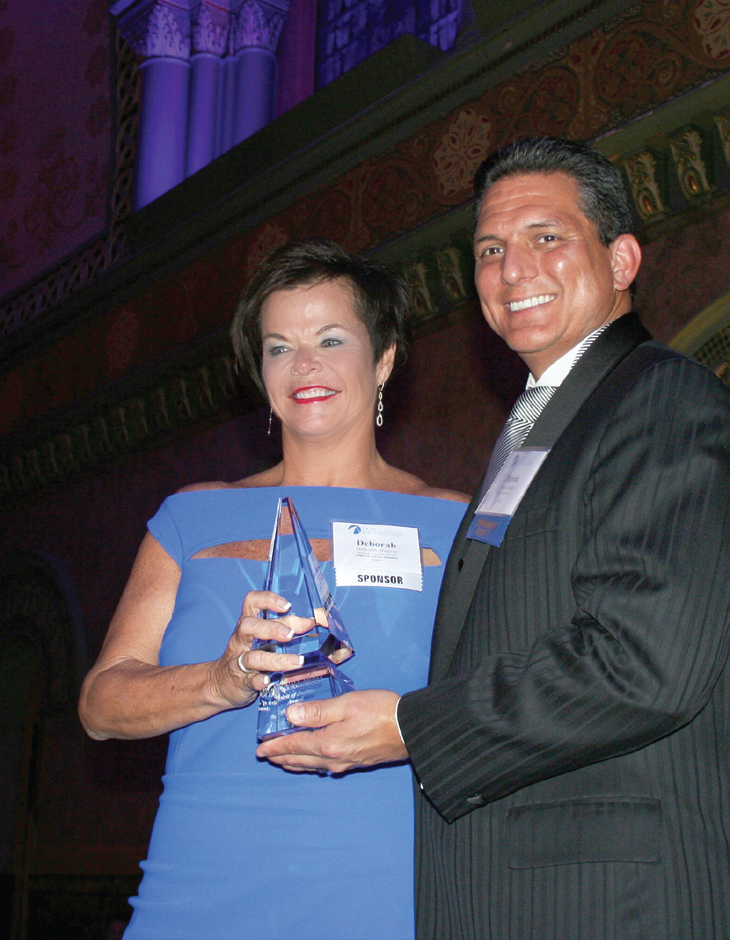 Community outreach
Midwest Litigation Services
St. Louis, Mo.
Debbie Weaver of Midwest Litigation Services has been actively involved in supporting equal access to justice through a number of pro bono organizations in St. Louis. One of the organizations the company supports is Let's Start, a program dedicated to assisting women and their children in the transition from prison life to society. The company supports this group by volunteering at annual fundraisers and supplying packed lunches for a bus ride to take the children to the local prison to visit their mothers. In addition, the company has participated with the Bar Association of Metropolitan St. Louis in Read Across America, a literacy program; Motion for Kids, a party thrown for children who have parents affected by the criminal justice system; and other events.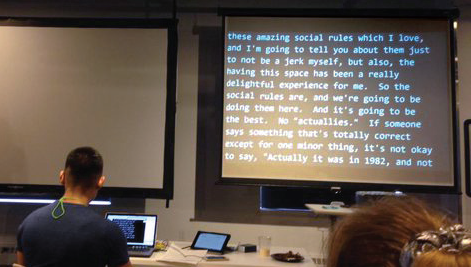 Service in a nonlegal setting
White Coat Captioning
Saint Albans, Vt.
White Coat Captioning has been expanding its business to captioning several technical conferences, including a last-minute conference where the company replaced a group that was providing "nonsensical captions." "People were very unhappy with the captions," wrote Mirabai
Knight, RDR, CRR, CRC, who nominated the company (for which she works). Knight said that the company was able to completely turn around the comments. "As soon as we came on board, the entire social media reception to the captioning had completely changed. People started talking about how helpful the captions were and how impressed they were with the quality and accuracy of the captions, even saying that they wanted captioning at all their conferences in the future! It was a total reversal of the previous reception."
Knight went on to explain that the company has been focused on the conference captioning work because it hopes to change the status quo, where the only way to get captioning was for a person who was deaf or hard of hearing to invoke their ADA rights. "One in seven people has hearing loss," notes Knight, "so in an audience of 100 people, at least 14 will benefit from captioning." White Coat Captioning seeks to make captioned conferences the new standard for conferences.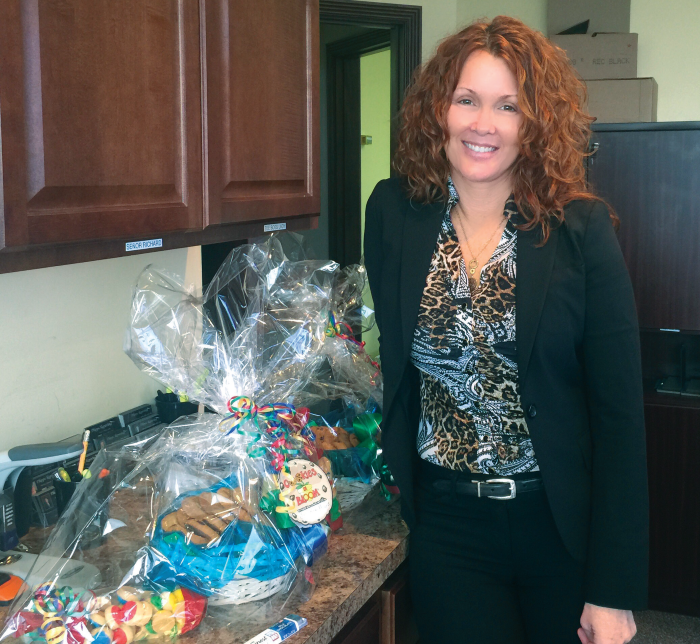 Individual member
Christine Phipps, RDR
North Palm Beach, Fla.
Categories recognized: Leadership and team-building, marketing and customer service, use of technology, community outreach
Dedicated. Hard-working. Determined. Tech- savvy. These are the words used to describe Christine Phipps by those who nominated her. "Christine Phipps is the type of person who will go out of her way," wrote Jacqueline Andujar in her nomination. It was what inspired Andujar to go into business with Phipps, back when the company was run out of a bedroom in Phipps' house. "Christine's main goal is always to make her clients happy. She takes the time to listen and care."
"Her passion is so contagious!" wrote Sherry Laurino in her nomination of Phipps. Laurino went on to say that it was Phipps who inspired her own entrepreneurial skills. "No one has more passion and love for court reporting and is committed to the growth and longevity of this industry," Laurino said.
When she is preparing to meet a new client and show what her company has to offer, Phipps will go above and beyond to make sure the client understands and is satisfied. Even with other reporters, Phipps takes the time to update them with anything new and explains it. In addition, she has taken the time to write several articles on technology for the profession to make sure that everyone is aware of the latest trends and news.
"She is dedicated to teaching while not forgetting where she came from," wrote Laurino. One of Phipps' passions has been to help students of the profession and new profession. She led a charge to provide a number of students with memberships to NCRA in 2015 with posts about "Paying it forward" to the next generation, as well as donating several of the memberships herself.
"As her employee now, I have nothing but admiration and respect for her. She has been nothing but supportive, respectful, loyal, open-minded, and just an amazing person to work for," said Andujar.
Honorable mentions
The Varallo Group
Worcester, Mass.
Categories recognized: Leadership and team-building
During 2015, the Varallo Group offered its employees a fitness program, which gave them the opportunity to establish health goals and meet and work with a personal trainer. The program was a huge success and produced immediate results that were clearly measurable, including weight loss and decreased absenteeism. An added benefit was that the employees grew closer through their shared experiences; for example, several employees ran together in their first-ever 5k race.
Cuyahoga Community College
Cuyahoga, Ohio
Categories recognized: Use of technology
The nomination for Cuyahoga Community College noted its use of technology to enhance students' academic success, realtime writing achievement, and program satisfaction. From attending an introductory webinar before deciding to sign up for the program to its Blackboard Learning Management System, from using computer-compatible steno machines from the first day of class to accessing drills through Realtime Coach, the court reporting and captioning program uses technology to increase student satisfaction and eventual success.
Paradigm Reporting & Captioning
Minneapolis, Minn.
Categories recognized: Community outreach
Paradigm Reporting & Captioning donates to many local organizations, particularly legal associations and nonprofits that support the deaf and hard-of-hearing community. The Paradigm CART Captioning division provides many hours of pro bono services, including, in September, the captioning for the local Walk4Hearing that benefited the Hearing Loss Association of America. In addition, the company assembled 22 walkers to participate as "Team Paradigm."
Caption First
Monument, Colo.
Categories recognized: Service in a nonlegal setting
Caption First, a company that offers remote and on-site captioning in a secure environment, established a call center that would offer stenographic relay services to people with hearing loss. The company used this as both a way to hire new stenographic professionals to hone their skills and a way to demonstrate stenographic skills to a broad audience. "It was a 'court reporting continuum' as it allowed new folks to work and provided relief to those who are winding down and don't want to produce transcripts," wrote Lesia Mervin, RMR, CRR, in her nomination. "And it, of course, highlighted realtime skills — always realtime skills."

Schools: Leadership and team-building
Kelly Moranz, CRI
Cleveland, Ohio
At the Cuyahoga Community College in Parma, Ohio, Kelly Moranz spearheaded a mentoring program among all of the students, as well as with professionals. In addition, Moranz has supported the students in creating a new Captioning & Court Reporting Club. The club organized a Write-A-Thon (where all students had sponsors donate money as they wrote for five hours) and a bake sale. As Kristina Carmody wrote in her nomination, Moranz "generously donated and contributed time, money, and service to our fundraiser and even stayed the entire time and helped sell the baked goods while we wrote."
Moranz is also in charge of recruiting new students for the program. Among the places that the school presents is a program called Women in Transition, which addresses women changing occupations or getting second careers later in life.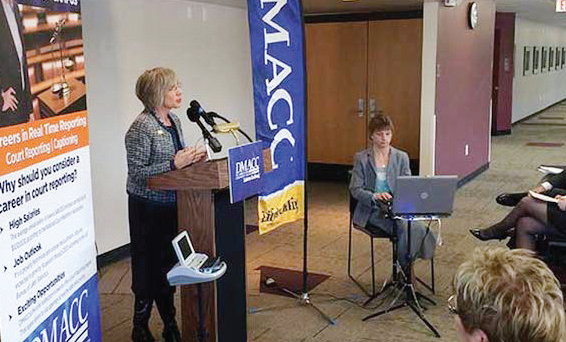 Special collaboration
DMACC and the Iowa Court Reporters Association
When Iowa court reporters received the news that AIB College of Business, which had been in place since the 1930s, would phase out the court reporting and captioning programs, the Iowa Court Reporters Association (ICRA) immediately went to work. The ICRA Board of Directors engaged Cathy Penniston, RPR, CRI, to investigate the matter, compile a report on successful court reporting schools throughout the country, and suggest a school in Iowa that could teach court reporting.
Penniston recommended contacting Des Moines Area Community College (DMACC), a well-established Iowa community college, to determine if it could create a court reporting program. When Stephanie Early, RDR, ICRA's president at the time, and Bill Wimmer, its legislative representative, approached the school's officials, they assured the school that ICRA was fully committed to assisting with the implementation of a court reporting program at DMACC.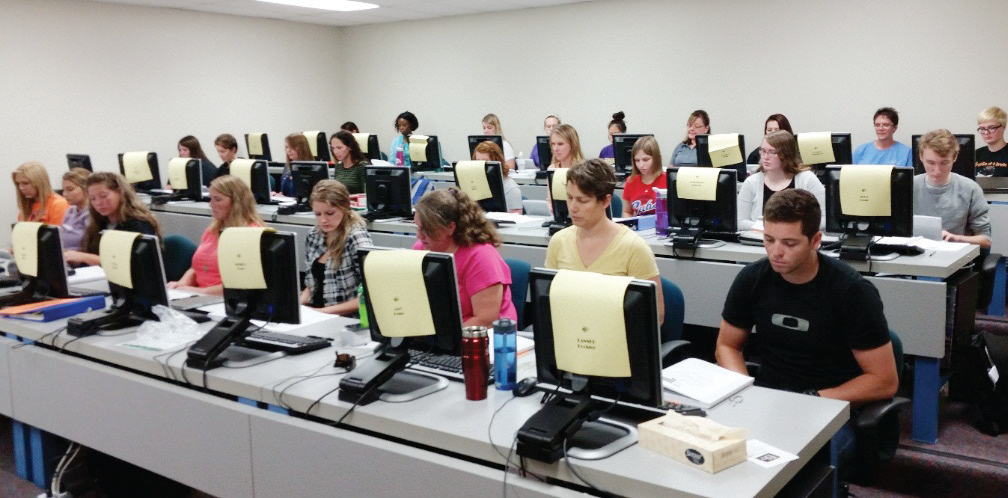 The DMACC school was interested in the concept and contacted other community colleges that offered court reporting programs. They also gathered more information about the curriculum and endorsements that would be needed to put such a program in place. In February 2014, the DMACC Board of Directors and the Iowa Department of Education approved the court reporting program. Then, in March, the DMACC Newton campus hosted a press conference to make the announcement about the new program: "DMACC has been working with the Iowa Court Reporters Association for more than a year to develop the curriculum, hire the faculty, and work out other details related to starting a new program."
In 2014, Dr. Patricia Ziegler, CRI, CPE, was hired as a professor and program chair for DMACC's new court reporting program, and in September of that year, eight students began classes at the Newton campus.
Through 2014-15, Iowa court reporters and AIB's former vice president of admissions actively promoted the new program. More than 300 visits were made to Iowa high schools, career fairs, libraries, mock trials, and the Iowa State Fair. Through the Adopt-a- County project, Iowa court reporters marketed the profession and this new program in 26 of 99 Iowa counties. In addition, ICRA sponsored a student scholarship, and individual ICRA members mentored individual students. And in September 2015, a new class of 27 students enrolled.
The program is a success story stemming from the commitment and dedication of many, from the Iowa Court Reporters Association to the new DMACC court reporting program staff. As Penniston wrote in her nomination, "Because of the efforts of the Iowa Court Reporters Association and the hard work of everyone involved, court reporting education is alive and well in Iowa!"