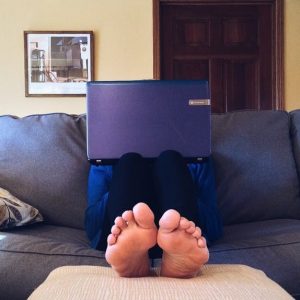 Court reporters and captioners understand the value of continuing education and always improving one's skills, but it can be challenging to attend in-person events. With NCRA webinars, you can learn more about your profession from the comfort of your own home or office (not to mention that you can attend them in your slippers – no one will know!).
NCRA has a wide variety of topics coming up in the next month. The JCR Weekly reached out to the presenters to help whet your appetite.
On Oct. 18 at 8 p.m. ET, Tori Pittman, FAPR, RDR, CRI, will present "NCRA members performed very well in the competitions), and the next event is in 2019 in Sardinia, Italy.
On Nov. 6 at 7 p.m. ET, Lisa Jo Hubacher, RPR, CRI, will present "Training for Realtime Writers grants in 2014 due to its curriculum redesign. In this webinar, Hubacher will discuss this curriculum model, including the redesign's impact on the program, what's working, and what needs tweaking. As she describes it, the webinar will cover "how to design a program based on student needs without any curriculum-design knowledge." Hubacher says she'll also talk about why "'But that's the way we've always done it' doesn't fly anymore." This is a must-attend webinar for anyone involved in training reporting students!
On Nov. 9 at 6 p.m. ET, Santo J. Aurelio, FAPR, RDR, will present "Legal Terms, Part 1." Aurelio has presented several language-related webinars recently, including "What Reporters Must Know about Punctuation" and "English Grammar Gremlins: Ways to Conquer Them" (now both available as e-seminars). Aurelio will present on more than a hundred and fifty terms, but he admits, "I really get a special kick out of four of them: alibi (in another place), durance vile (imprisonment), eleemosynary (charitable), and Esq." He adds, "If I must pick one, then I guess it would be Esq., which is merely a title of courtesy, but attorneys think that it means 'one who is an attorney.'" Aurelio will provide "economical but cogent explanations" for the words that he hopes each attendee will easily remember.
Finally, on Nov. 15 at 7 p.m. ET, Erminia Uviedo, RDR, CRR, CRC, will present "won her the NCSA challenge not just once, but twice in a row; in 2015, she organized participation in 13 career fairs in 15 days in San Antonio. "It is so easy and rewarding volunteering for a recruitment event," says Uviedo. "You have the potential to reach hundreds, even if you only talk to 50." Uviedo has also found the value in promoting the profession over social media, and she hints that "one cool thing I'll talk about is having attendees take selfies of themselves in front of their court reporting machines and having them spread posts about court reporting."
Members who attend the webinars will be able to ask questions directly to the presenter and get them answered right away. But if you are not able to attend the live webinar, they will be available as on-demand e-seminars after the fact. Keep an eye on NCRA's e-seminar library for these and other topics to help grow as a professional.