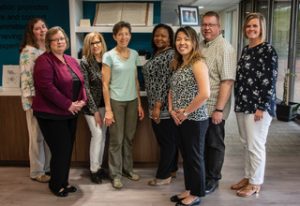 On May 4 and 5, members of NCRA's Written Knowledge Test (WKT) Committee worked with Cindy Cheng from Pearson VUE to update questions in the Association's item bank for the RPR and RDR certifications. Six of the committee members met at NCRA's headquarters in Reston, Va.
Committee members who gathered at NCRA's headquarters to update questions included:
Geanell C. Adams, RMR, CRR, CRI, Raymond, Miss.
Laura P. Brewer, FAPR, RDR, CRR, CRC, Los Altos, Calif.
co-chair Wade S. Garner, RPR, CPE, Edmonton, Alberta, Canada
co-chair Allison Kimmel, RDR, CRR, CRC, Marysville, Ohio
Lynette L. Mueller, RDR, CRR, Germantown, Tenn.
Angela R. Starbuck, RDR, CRR, CRC, Columbus, Ohio
Susan Veres, RMR, CRR, CRC, Viroqua, Wis. (attended remotely)
Over the course of the meeting members reviewed, reworked, reworded, or completely revamped over 423 questions. Committee members also worked remotely prior to the meeting reviewing hundreds of items in the bank in preparation for the group review.
NCRA also thanks those committee members who were unable to attend but who have contributed remotely throughout the year:
Vonni Rae Bray, RDR, CRR, Laurel, Mont.
Jessica Lynn Davis, RPR, Brandon, Miss.
Carrie Marbut Robinson, RPR, CRR, CRI, Hokes Bluff, Ala.
Katherine Schilling, RPR, Richmond, Va.
Sheri Smargon, RDR, CRR, CRC, Riverview, Fla.
NCRA's premier certifications rely on the hard work of our volunteer subject matter experts. Please join us in thanking the WKT Committee and consider volunteering your time and expertise for an NCRA committee.