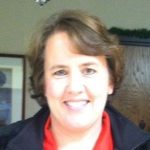 One hundred and fifteen students and faculty from the College of Court Reporting, Valparaiso, Ind., welcomed Tammy McGhee, RMR, as their guest speaker in the I-Auditorium on Monday, May 21. Tammy took time out of her busy captioning schedule to speak to all in attendance. Tammy addressed many topics of interest including why she chose court reporting as her career, a day-in-the-life of a captioner and freelance reporter, the importance of understanding and using her software, the benefits of being involved in and volunteering for the profession, the qualities of a new reporter, and some great reporting stories. Her love and enthusiasm for the profession was inspiring!
The College of Court Reporting knows what a few inspiring words from our professionals can do for the spirit of the student body.  Ashleigh Wiesman, a transfer student, said it best: "I just wanted to say that last night's presentation was just what I needed.  I feel like I'm really struggling lately, so I needed that!" Lois Schoenbeck, CCR instructor, summed it up on behalf of all in attendance: "I love your enthusiasm for the profession. Thank you for giving us your time and knowledge."
Tammy is currently vice president of the Ohio Court Reporters Association. She has also held the position of district representative and secretary. Tammy was an official court reporter in both Common Pleas and Municipal Court in Ohio and has been a firm owner. She currently works for VITAC as a broadcast captioner and loves to caption sports.
The students and faculty at the College of Court Reporting would like to, once again, thank Tammy for enlightening all and sharing her knowledge, experience, passion, and love for the court reporter profession. Thank you so much for sharing your great tips, taking time away from your busy captioning schedule to be with us, and giving back to the profession.  Awesome presentation, Tammy!